In Latin America, parks and plazas are a central part of life. Instead of back yards, people go to public spaces to be outdoors with family, friends or significant others. Most of these spaces are public squares, less of a place to bring the dog and have a picnic in the grass than a place to see and be seen with restaurants and cafes. This list also includes grassy parks for when the concrete jungle of Lima has you yearning for some green space, denoted by the *.
Below are the most touristic parks and plazas of Lima. For more ideas, see the Parks and Plazas tag.
Downtown / Central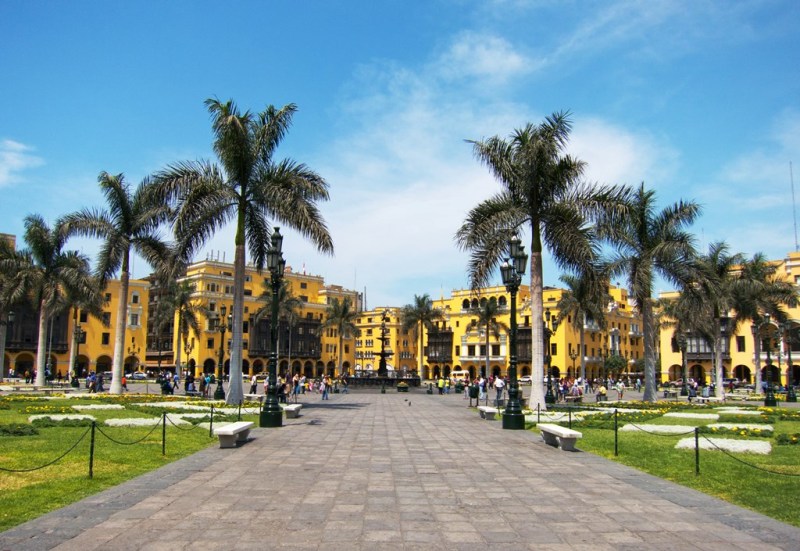 Plaza de Armas — Also called Plaza Mayor, is home to the Cathedral of Lima, the Archbishop's Palace, the Government Palace and the Municipal Palace of Lima.
Plaza San Martin — Named for Jose de San Martin, the Argentine military general who declared Peru's independence and is displayed on horseback in the magnificent statue in the center of this white, baroque plaza. 
Alameda Chabuca Granda — a pedestrian strip behind the Government Palace featuring street entertainment and snacks.
Parque de la Exposicion * — Built in the 19th century to host a modest World's Fair showcasing Peruvian progress. The park is home to the MALI Lima Art Museum and much more.
Parque de la Reserva * — Home to the Magic Water Circuit, Parque de la Reserva features magnificent fountains and structures adorning Greek columns.
Campo de Marte * — Large green space in Jesus Maria, just south of downtown Lima, a great park for sports and plenty of children's activities.
Parque Mariscal Ramon Castilla * — commonly known as "Touring," this popular park in Lince has a plenty of children's activities, a 700-meter jogging track, a bodyweight exercise center and more.
Plaza Bolivar of Pueblo Libre — The central plaza of Pueblo Libre is home to the National Museum of Archaeology, Anthropology and History, and surrounded by some of city's most authentic Peruvian restaurants and bars.
South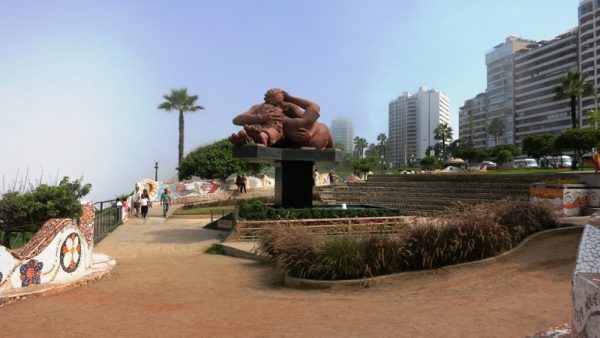 Malecon * — This six-mile strip of parks and gardens overlooking the sea in Miraflores. The Malecon is Lima's best park to see and be seen, a must-see for visitors.
Parque del Amor * — this park's statue of a couple embracing is one of the city's landmarks, located inside the Malecon.
Parque Kennedy — the focal point of tourism in greater Lima, Parque Kennedy boasts beautiful gardens and ample seating in the heart of Miraflores, making it a popular gathering point day and night.
Parque Reducto No. 2 – large green space in Miraflores and memorial to the fallen soldiers in the War of the Pacific.
Parque Municipal de Barranco — Barranco's central plaza features the municipal library, the Iglesia de la Santisima Cruz and several fountains with park benches.
Parque de la Amistad — this park in Surco is known for the Arco Morisco, or Moorish Arch. Plenty of children's activities, including an antique steam train and a man-made lake with paddleboats.
Parque El Olivar * — located in the heart of upscale San Isidro, Lima's most manicured green space attracts a mature crowd with no games or noisy attractions.
Plaza de Armas de Surco — Also referred to as Plaza Mayor de Surco, the main square in Surco features the Iglesia Santiago Apostol and is home to Lima's annual wine-and-pisco festival.
Parque Ecologico Loma Amarilla * — this 19-acre green space sometimes referred to as "the lungs of Surco" is home to 34 species of birds and 23 species of trees, navigated by a popular jogging track.
Pantanos de Villa * — this wildlife refuge spanning a square mile in Chorrillos is a natural marshland of brackish where you can find more than 200 species of birds — although not all at once as most are seasonal.