Parque de la Reserva is a park located downtown which is best known for the Magic Water Circuit. In the morning, however, it is a peaceful place to relax in an escape from the noise of bustling Lima.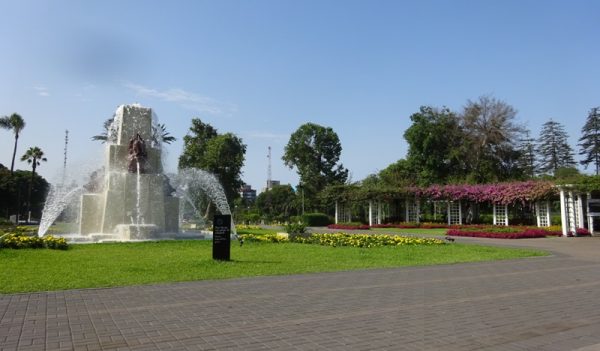 Parque de la Reserva is Lima's cleanest urban park, and it stays that way by limiting its opening hours to just a few hours every morning from 7 a.m. before 10 a.m.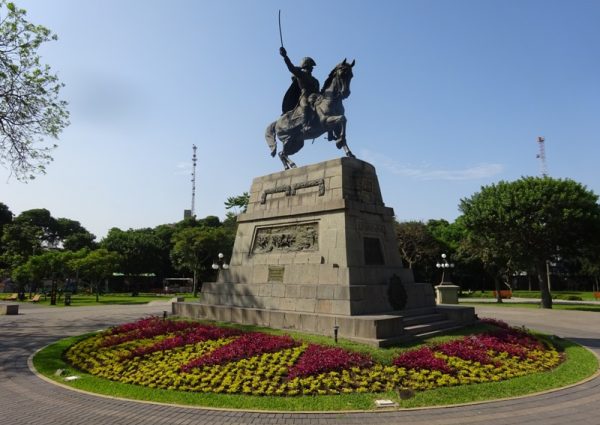 "Reserve Park" in English, Parque de la Reserva was named for the reservists who organized to resist the Chileans during the War of the Pacific in the late 19th century. Above is a statue of independence fighter Antonio Jose de Sucre, known in his native Venezuela as the "Great Marshall of Ayacucho."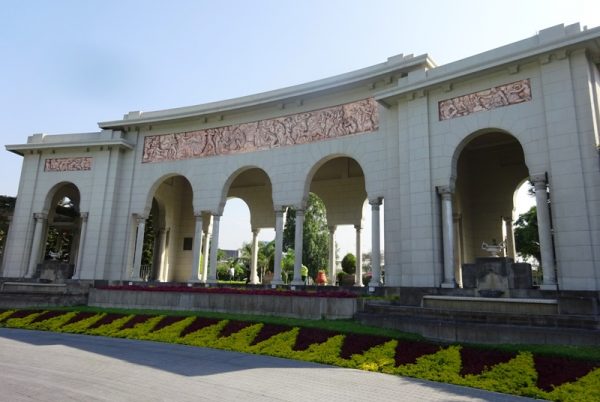 The park features magnificent fountains and structures adorning Greek columns.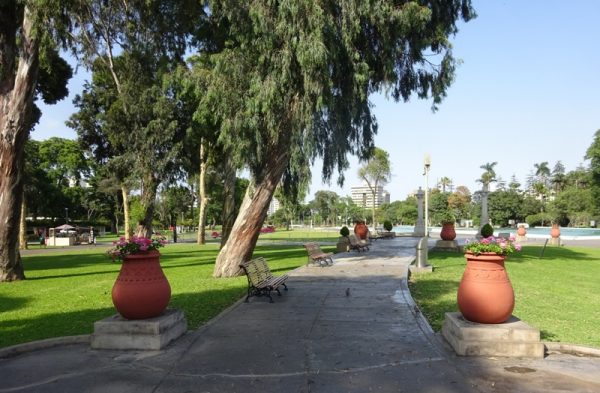 In the mornings you'll see retirees enjoying the peace and quiet to read a newspaper or book. Others jog or power-walk the footpaths among the beautiful gardens.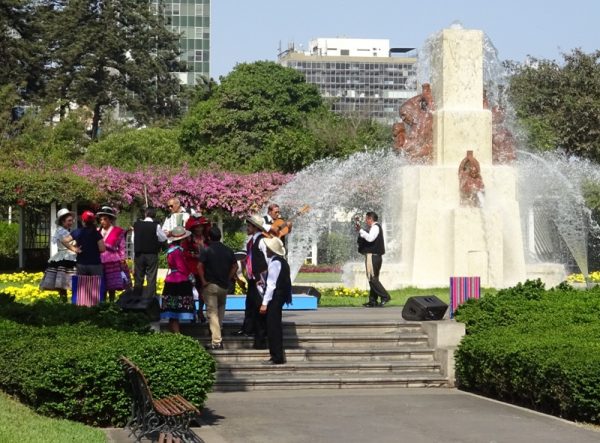 On the day I took these pictures, TV Peru was shooting a spot for an Andean music group.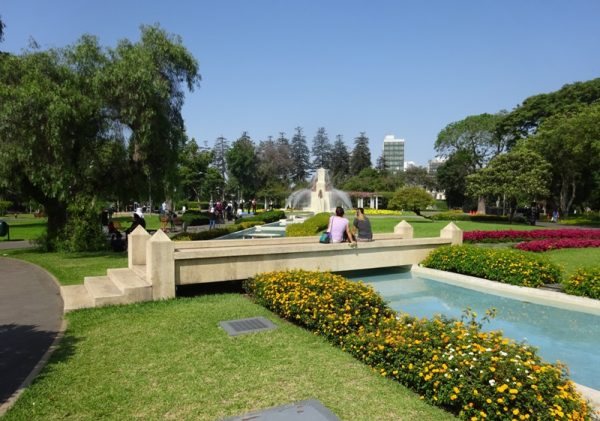 And others enjoyed the unexpected show.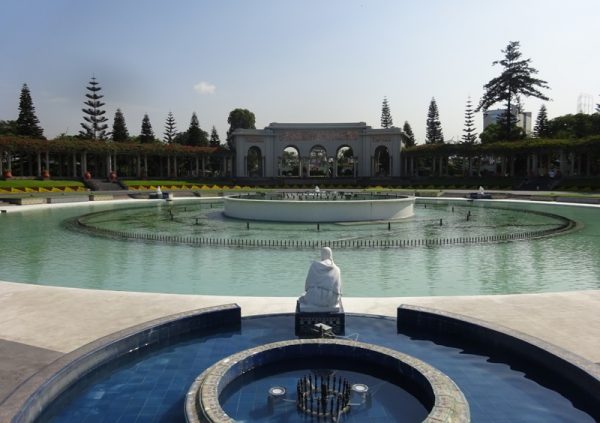 Most Lima residents know the park as home to the Magic Water Circuit. Most fountains are turned off in the morning. Starting at 3 p.m., the park charges a small cover to see one of Lima's top tourist attractions in a display of colors and water which are fun for all ages. For more information, see the Magic Water Circuit page.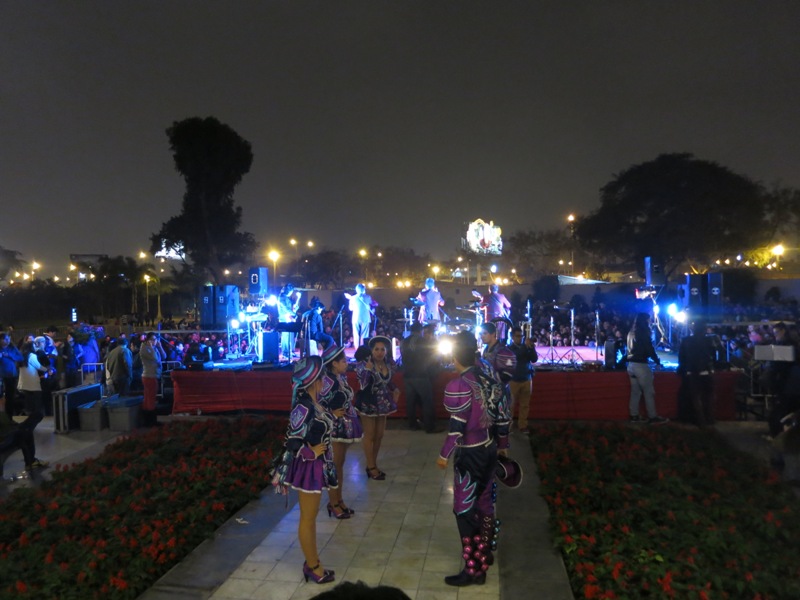 Parque de la Reserva also plays host to special events such as Fiestas Patrias celebrations. I took this picture from a concert and fireworks show in 2015.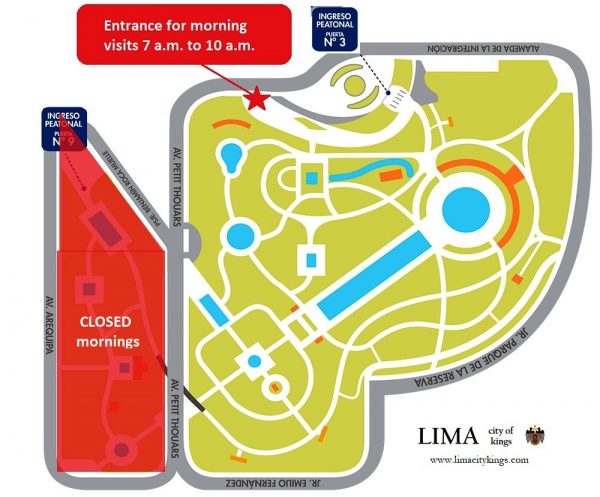 The small part of the park sectioned off by Avenida Petit Thouars and connected by an underground tunnel is closed in the mornings. In the map above, note the morning entrance.
Location and info
Parque de la Reserva
Jr. Madre de Dios s/n, Cercado
Hours: 7 a.m. to 10 a.m., 3 p.m. to 10 p.m.
Admission: Free in the morning, 4 soles in evening (Magic Water Circuit)
Parque de la Reserva is located in downtown Lima a few blocks south of Parque de la Exposicion, between Via Expresa and Avenida Arequipa on the east and west respectively, and Estadio Nacional and border of Lince to the north and south.
Pictures
Click pictures to enlarge. For high-res slideshow viewing, see the Parque de la Reserva album on the Lima City of Kings Facebook page.