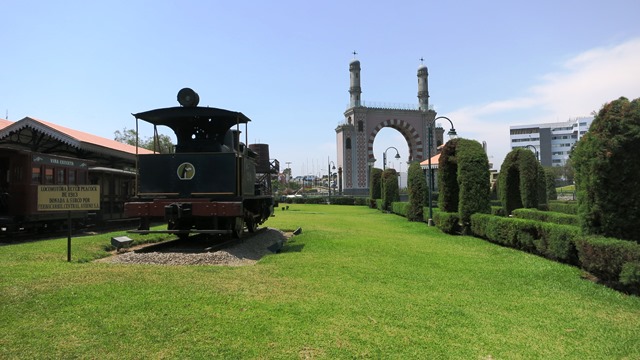 The Santiago de Surco district, known as simply "Surco," is an upscale district with a more suburban layout than Miraflores or San Isidro. Urban development came later than the rest of the city, which resulted in more sprawl, more room for parks and pricier real-estate.
While Surco is mostly off the beaten path for tourists, it is a popular choice of residence for Lima's upper classes precisely because it is out of the way. Surco is home to Parque de la Amistad (Friendship Park), one of Lima's best parks, and the main square hosts Lima's annual wine and pisco festival. Surco is also home to the Peru's trendiest shopping malls, four of Lima's best universities and the U.S. embassy.
Background
Santiago de Surco is located in southern Lima just east of the top tourist districts of Miraflores and Barranco. It is bordered by Ate Vitarte and San Borja to the north, La Molina and San Juan de Miraflores to the east, Chorrillos to the south and Miraflores, Surquillo and Barranco to the west.
Surco was founded in the 16th century as a "reduccion" where Spanish colonists grouped Indian populations to acclimate them to the Spanish way of life, specifically living in urban areas centered by a plaza and church.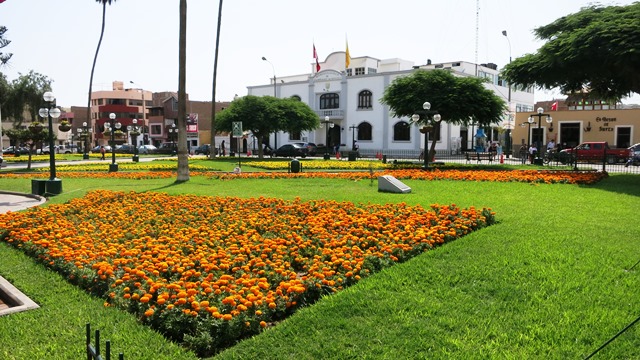 Surco was always home to grape-growing farms, but the Italian immigration of the 19th century converted the district into a regional powerhouse as grape vineyards occupied 1,100 acres. The grapes were grown for food, wine and pisco, which is Peru's national spirit. Pisco is un-aged brandy, which is transparent because it never sat in wooden barrels. Surco hosts an annual wine festival in honor of its grape-growing tradition.
The grape vineyards ultimately gave way to real-estate development once the affluent districts of San Isidro and Miraflores ran out of space. Like the western regions of the United States, Surco was developed after the popularization in Lima of the automobile. With long avenues and its less-than-central location, Surco seems designed for people who own cars. However the area is served by three Metro stations in Cabitos, Ayacucho and Jorge Chavez.
Within Surco are some of Lima's most exclusive neighborhoods such as Monterrico and Las Casuarinas. Las Casuarinas recently made world headlines when the BBC profiled the "Wall of Shame," a ten-foot concrete wall topped with razor wire which separates the swanky neighborhood from the neighboring slums of San Juan de Miraflores.
Things to Do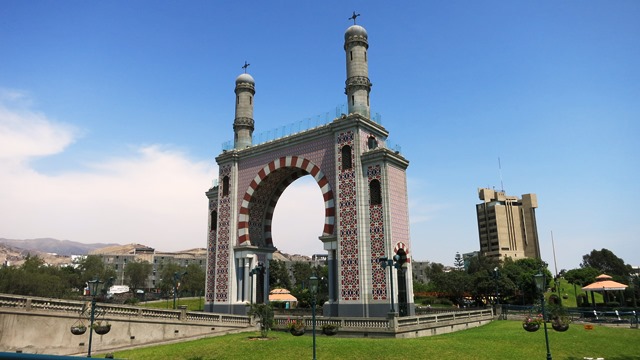 Parque de la Amistad is a large park featuring plenty of grass and trees, playgrounds and children's activities. Visiting is also one of the best family-friendly activities in Lima. Parque de la Amistad is best known for its Arco Morisco (Moorish Arch) pictured above. The arch is actually a replica Surco built to resemble the original donated by Spain in 1924, which was demolished in 1939.
The park features a few antique trains as well as a functional steam engine which offers tours around the park. There is also man-made lake with ducks where you can rent paddleboats. Parque de la Amistad also has a large playground with see-saws and swings along with slides and bridges.
The Plaza de Armas de Surco, often referred to as Plaza Mayor de Surco, is the main square in the Surco district. It features the 16th-century church, Iglesia Santiago Apostol. The plaza is also home to Vendimia de Surco, Lima's annual wine-making festival.
The Festival de la Vendimia in Surco is an annual wine festival featuring a fair, parades, live music and the traditional Afro-Peruvian dance, festejo. The festival pays homage to Surco's grape-growing past. While there are nowhere near the vineyards of a century ago, the wine and pisco tradition continues in the Plaza de Armas every year. The festival is known for its beauty pageant, in which the contestants step on grapes to extract the juice. The Vendimia Festival has changed over the years, but it has been held in April or May in recent years.
The Gold Museum of Peru is home to an extensive collection of pre-Columbian gold pieces resembling birds, monkeys, lizards and humans, representing centuries of different cultures in the region. The museum also features tens of thousands of weapons used by the Spanish conquistadors who conquered Peru, including a sword owned by Francisco Pizarro.
The San Juan Grande Hacienda was a sugar plantation owned by one of Peru's first Spanish colonists. The owner left the property to the Jesuit order of the Catholic Church, which built a 16th-century chapel on the grounds. Touring the church and hacienda offer a look of a colonial Peru from hundreds of years ago.
The Parque Ecologico Loma Amarilla (Yellow Hill Ecological Park) is a 19-acre green space sometimes referred to as "the lungs of Surco." Where Parque de la Amistad offers children's entertainment, Loma Amarilla park provides a brief respite from the chaos of the city. The park is home to 34 species of birds and 23 species of trees and also features a jogging track.
Amenities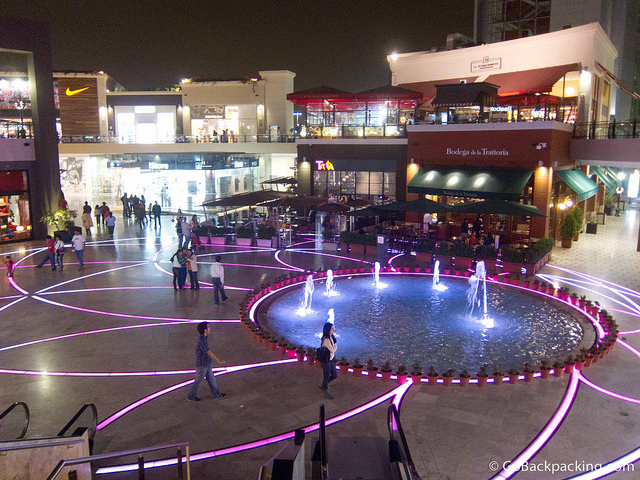 Surco is home to Lima's largest, trendiest shopping mall in Jockey Plaza as well as the Caminos del Inca and El Polo malls. And being an upscale district there are more than enough top-notch options for dining including traditional Peruvian and international cuisine.
Some of Lima's best universities are located in Surco, including the University of Lima, Ricardo Palma University, ESAN Graduate School of Business and the Peruvian University of Applied Sciences.
Crime and Dangers
A small part of Surco bordering Barranco is considered dangerous. The old part of town which was a "reduccion" has some lower-class housing.
Points of Interest
Plaza de Armas de Surco
Jockey Plaza
Festival de la Vendimia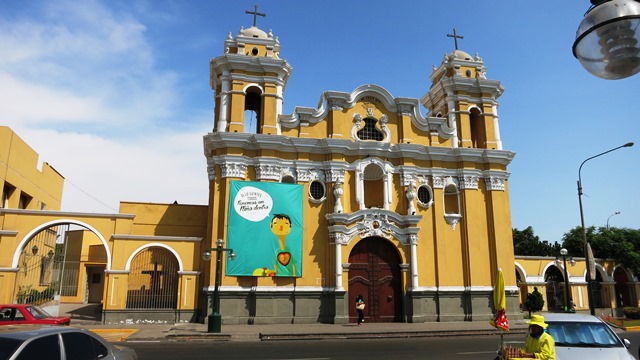 General Info
Official website: www.munisurco.gob.pe
Facebook: www.facebook.com/MunicipalidaddeSurco/
Population: 344,000
Area: 13.4 square miles