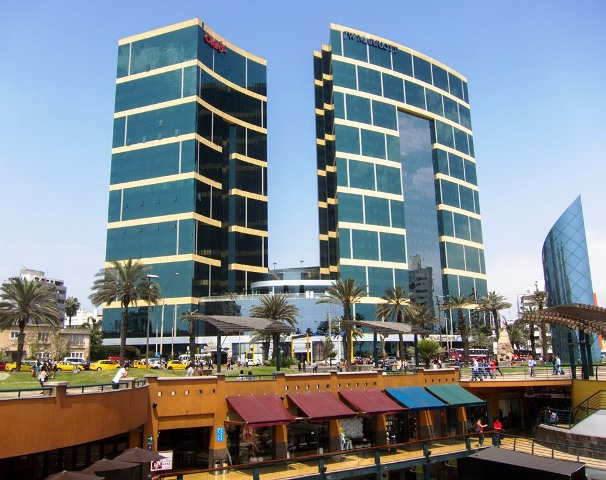 If you're staying in Lima, chances are you'll stay in Miraflores. The district is one of the prettiest, cleanest and safest parts of Lima. Originally a beach community outside the city, Miraflores has emerged as the heart of tourism, international business and entertainment.
Miraflores boasts modern shopping centers and the city's best hotels and restaurants. The district is also home to most of Lima's backpacker hostels. Many of Lima's most popular bars and nightclubs are concentrated near Parque Kennedy. Miraflores enjoys some of Lima's best views from the parks of the Malecon boardwalk, a miles-long stretch of green space on the cliffs above the Pacific Ocean.
Background
Miraflores is one of Lima's wealthiest neighborhoods. Located south of Lima's city center along the coast, Miraflores borders San Isidro, Surquillo, Surco and Barranco. Renting an apartment in Miraflores will cost about the same as what you would pay in a standard apartment in an American city.
For hundreds of years, the city of Lima did not extend far beyond the historic city center. It was even walled. In the 19th century Miraflores began to develop as a small beach town for Lima's wealthy class to get away from the city.
Miraflores was the setting of one of Peru's most epic war stories during the War of the Pacific. The Battle of Miraflores was the Peruvian forces' last stand against an invading Chilean army in 1881. The Chileans triumphed over Peruvians, sacking the city and ultimately occupying Peru for three years before being driven out in 1883. Resentment against Chile is strong in Peru to this day.
Mario Vargas Llosa spent much of his youth in the 1950s with his mother's family in Miraflores. It is home to some of Peru's most elite private high schools, including Markham College, alma mater of President Pedro Pablo Kuczynski.
Reading Vargas's novels set in Lima paint Miraflores as a quiet, residential district with tree-lined streets and gardens. But with Peru's economic boom and the transformation of Lima, Miraflores has become a much different place today.
Office buildings and apartment towers have permeated every corner of the area, bringing a big-city bustle to the streets. You can still spot the occasional republican-style mansion with a garden. But given the area's role as the heart of Lima's entertainment and tourism, as well as a business hub, the heavy traffic ruins any old-world charm.
Miraflores is not the place to go if you are looking for peace and quiet. But if you are looking to party or to find Lima's fastest-paced, urban neighborhood, Miraflores may be your speed.
Shopping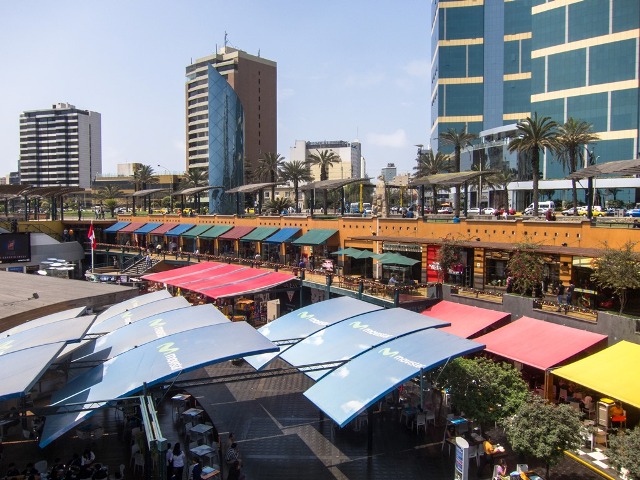 One of Lima's most popular shopping malls, Larcomar, is built into the side of a cliff overlooking the Pacific Ocean. Larcomar is a must-see for visitors to Lima, one of the city's best views. The mall features several luxury and mass-market brands, a bowling alley, cinema and even a couple nightclubs.
There are countless standalone boutiques throughout Miraflores, particularly on Avenida Larco, Alcanfores and La Paz. On Petit Thouars, just north of the roundabout near Parque Kennedy, you can find traditional Peruvian handicrafts at various artisanal markets.
Dining and Nightlife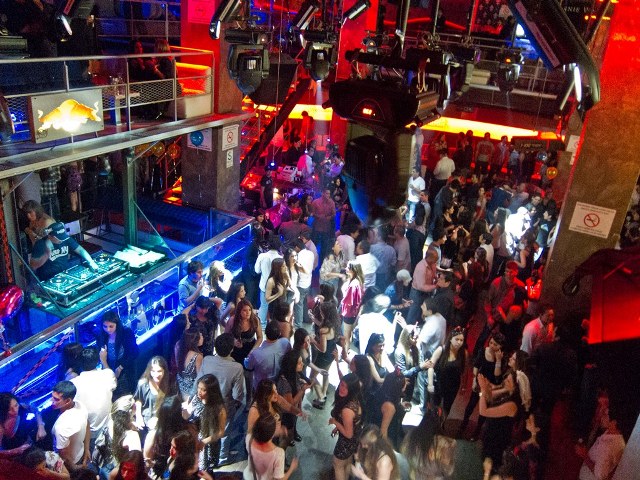 Miraflores features the most diverse dining in the country. You can find all of the variants in Peruvian cuisine, from ceviche to criollo, chifa and polla ala brasa. The only possible criticism of Miraflores's dining scene would be that, compared with the rest of Lima, it is pricey.
Given it is the heart of international visitors and expats, most of Lima's international dining and fast food chains choose to open in Miraflores. If there is any question about Thai, Indian or Vietnamese restaurants in Lima, the answer is in Miraflores. Likewise when the next big American corporate chain is looking to enter the Peruvian market, it starts in Miraflores.
Miraflores is the heart of Lima's upscale nightlife and home to most of the hottest clubs, followed by neighboring Barranco. As in any city, the landscape of what's cool and what's not is constantly changing. But mainstay places to grab a drink with friends or listen to music include Capitan Melendez, Bizarro Bar and Huaringas Bar. Hot dance clubs include Aura and Gotica. And when in doubt, you can always start at Calle de las Pizzas.
Entertainment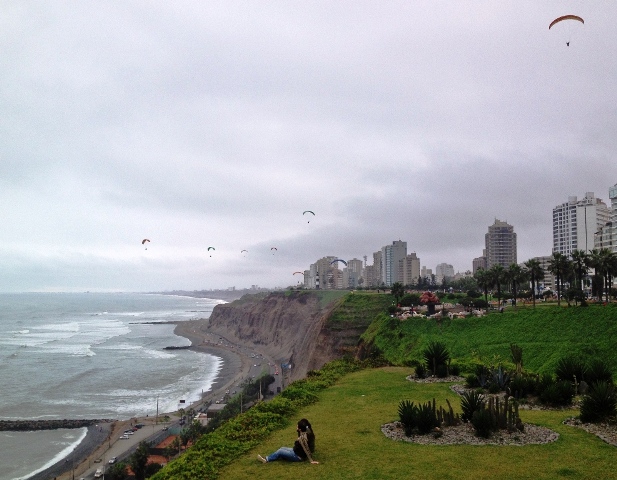 Miraflores is home to countless theaters, cinemas, art galleries and museums. Every weekend people simply turn up at Parque Kennedy, any time day or night, to catch street entertainment, snack on sweets or to people-watch in the dense bustle of the area.
Below the cliffs of Miraflores are several of Lima's most popular beaches. However, as you will see from above the cliffs, they are rocky. So the beach scene in Miraflores is almost exclusively enjoyed by surfers. There are several surf schools in Miraflores offering classes year round.
Paragliding above the Miraflores coastline, Lima's most iconic image, is another popular activity in Miraflores. You'll inevitably see paragliders swooping up and down the Costa Verde from 230 to 500 feet above, or buzzing past Larcomar's restaurants at lunchtime. Flights leave from Parque Raimondi in the Malecon.
Culture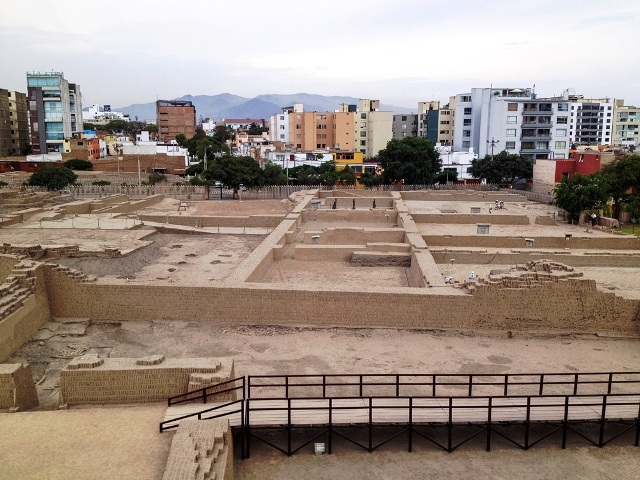 The Huaca Pucllana pyramid is one of the top archaeological sites in Lima. The recently restored site was a ceremonial and administrative site for the Lima and Wari cultures which lived in current-day Lima between 200 and 700 AD. Take a guided tour during the day or at night, when the ruins are tastefully illuminated. The on-site restaurant is hailed by critics.
The Amano Museum features one of the most extensive pre-Columbian collections of textiles and ceramics, focusing on the Chancay Culture. Miraflores also has the Ricardo Palma House for the country's celebrated author, the Alliance Française, the British Cultural Center and the American-Peruvian Cultural Institute (ICPNA).
Parks and Plazas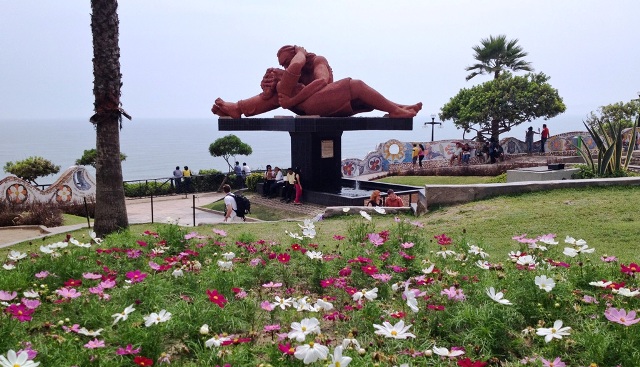 Parque Kennedy: home to Miraflores city hall and Virgen Milagrosa church. Known as Parque Kennedy, this is the focal point for international tourism in Lima.
Malecon: miles-long stretch of green space on the edge of the cliffs overlooking the ocean.
Parque Salazar: elegant gardens and flowers in the Malecon, adjacent to the Larcomar shopping mall.
Parque del Amor: gigantic statute of "The Embrace," two lovers holding each other above the Pacific Ocean.
Parque El Faro: also located in the Malecon, known for historic lighthouse.
Parque Raimondi: home to a skate park and launching point for paragliding.
Parque Reducto No. 2: memorial to the Peruvian soldiers to died in the Battle of Miraflores. Usually closed.
Parque Tradiciones: dedicated to Ricardo Palma, 19th-century author of "Peruvian Traditions," the first book to enjoy success in Spain.
Crime and dangers
While Miraflores is generally safe, there is a risk of crime given it is the heart of nightlife. As in any party district, drinking in excess leads to hot tempers and street skirmishes.
Men should beware women who seem too friendly, especially on Calle de las Pizzas. "Pepera" gangs use attractive women to make friends with unwitting tourists. These women slip a crushed pill of clonazepam or other sedatives into their victims' drinks with the aim of robbing them once they're asleep. Their male partners, who the victim will never see, coordinate every step from outside the bar.
Top Points of Interest
Parque Kennedy
Calle de las Pizzas
Huaca Pucllana ruins
Malecon boardwalk
Paragliding
Surfing
General Info
Official website: miraflores.gob.pe
Facebook: facebook.com/MunicipalidaddeMiraflores
Area: 3.7 sq mi
Population: 82,000
Miraflores Walking Tour