The Malecon is a six-mile strip of parks, gardens and green space on the cliffs overlooking the Pacific Ocean in Miraflores. The Malecon includes two of Lima's most popular tourist attractions in Larcomar and Parque del Amor, as well as the Parapuerto paragliding service and the Faro lighthouse.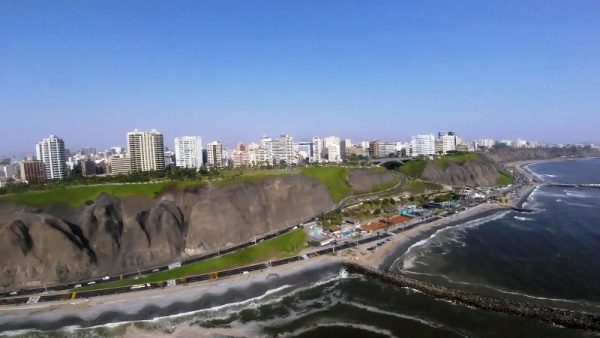 "Malecon" in Spanish translates to "boardwalk," and "malecon" is used to describe various seaside sidewalks and public spaces from Barranco to Callao. But when referring to "El Malecon," people generally mean the parks on the cliffs of Miraflores. In that sense, the Malecon of Miraflores is the most beautiful park and the best place to see and be seen in all of Lima.
The Malecon is actually made up of several different parks, and it's not always clear where each one starts and the next one begins. Most Limeños don't know most of the parks' names beyond Parque Salazar, Parque del Amor, El Faro and maybe Malecon Cisneros. But each park has its own attractions and character. Use the custom Google map above to identify where each park is.
The pictures were collected during all the different seasons and even during different years, so some show sunny weather and others the overcast Lima winter, which is actually ideal for fair-skinned gringos like me!
Parque Domodossola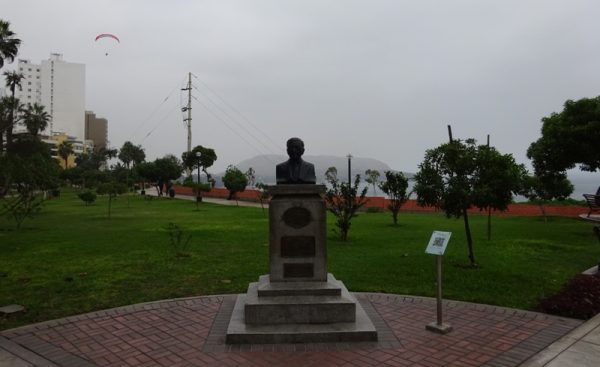 Starting in the far south of the Malecon in Miraflores is Parque Domodossola, wedged between Larcomar and where Miraflores and Barranco are separated by the Armendariz expressway. This park is the quietest of all where you'll usually find older people relaxing on park benches and maybe a couple people walking their dogs.
Above is a sculpture of Pedro Paulet, a Peruvian inventor whose contributions to the liquid rocket engine made him a founding father of aviation. The park also has a statue of an eagle in honor of Jorge Chavez, the Peruvian pilot who perished while attempting the first flight over the Swiss Alps.
Parque Salazar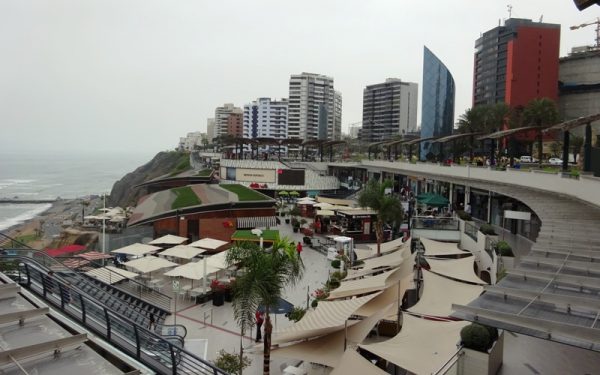 Parque Alfredo Salazar is where the vast majority of tourists to Lima will end up whether they realize it or not, as it sits above the cliffside Larcomar shopping mall. This park hosts rotating exhibits from Peru's most distinguished artists, a wide fountain with an excellent view over the sea and a small playground for children.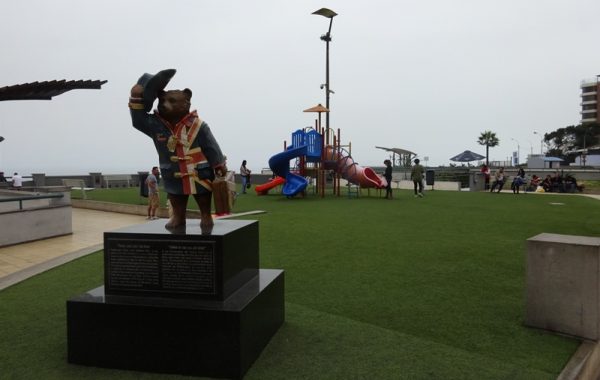 Paddington Bear, who is a spectacled bear native to Peru's Andes, stands guard in front of the playground. The crowds of children at this playground are brutal on weekends.
Parque Letonia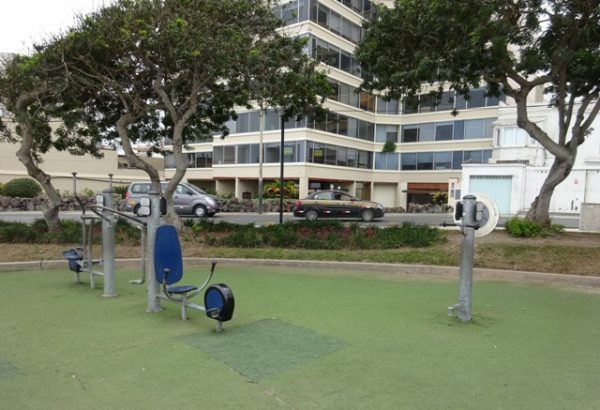 This park probably doesn't deserve its own name given its less than a quarter acre is size, but maybe the city wanted to name something for Lativa. It has three pieces of exercise equipment, all of which are ineffective for anybody under 60 years old.
Parque Letonia represents the start of one of the Malecon's major attractions – it's great for outdoor exercise. After this park begins an endless series of pull-up bars, dip bars and monkey bars, as well as the ineffective stuff like stationary bikes and elliptical machines. From this point on, you'll see people biking, rollerblading, skateboarding and jogging. A bike path runs almost continuously from the northern tip of Malecon de la Marina past Parque Domodossola and into the street toward Barranco.
Parque San Marcelino Champagnat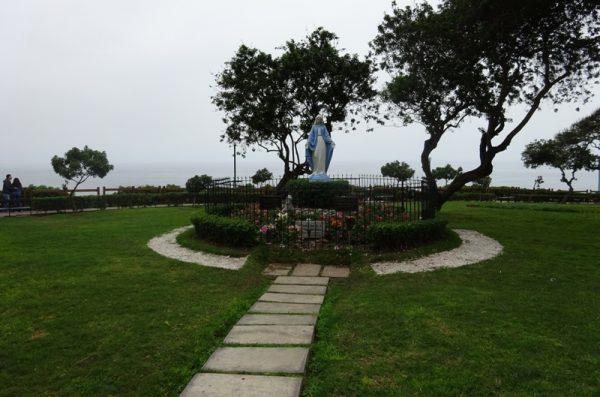 This small green space features gardens and a few benches overlooking the sea. It's named for Marcellin Champagnat, the French priest who founded the Marist Brothers. There is a bust of Champagnat but the highlight of this park is the above statue of the Virgin Mary. This park is situated directly above for the closest view of La Rosa Nautica, the famous restaurant located at the end of a pier in the sea.
Parque Necochea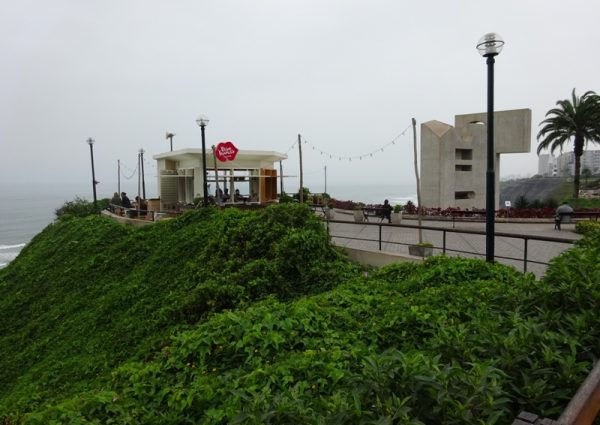 The smallest park in the Malecon, named for an Argentine soldier who fought for Peru's independence from Spain and later against Colombia, is home to the Beso Frances Creperia restaurant.
Parque Intihuatana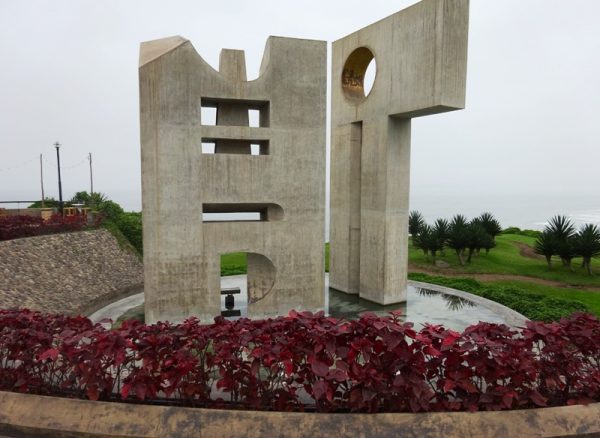 Just beside the crepes restaurant is this work of art by celebrated Peruvian painter and sculptor, Fernando de Szyszlo. The statue is his interpretation of an Intihuatana, the Quechua word for the carved boulders used as calendars by the Incas.
Parque del Amor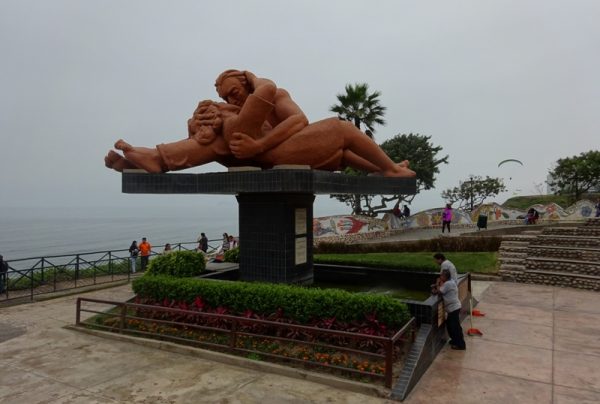 Parque del Amor is the Malecon's most-visited site after Larcomar. Artist Victor Delfin designed "The Kiss," which is now a Lima icon visible from thousands of yards away.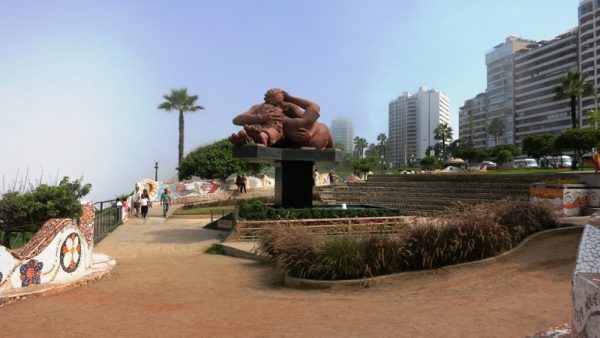 Delfin was inspired by a visit to the future site of this park with former Lima mayor Alberto Andrade. As they approached, a kissing couple jumped in shame, apologizing. In those times, public displays of affection were scandalous in Peru. At that moment Delfin decided to make a safe haven for couples, and the Park of Love was born. Built in 1993, the piece was initially controversial.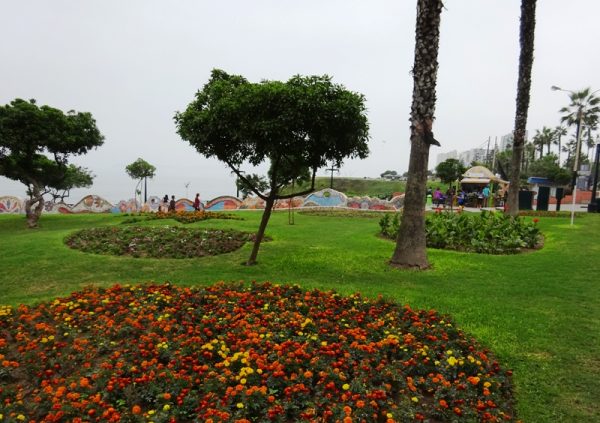 Aside from the statue, the Parque del Amor is probably the Malecon's park most endowed with flowers and gardens.
Parque Raimondi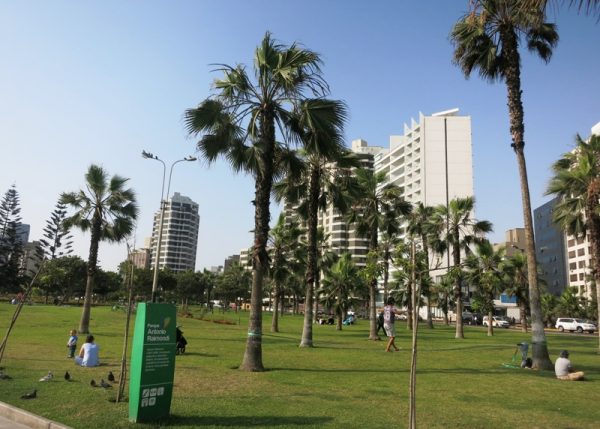 Named for a 19th-century Peruvian doctor, Parque Raimondi is one of the Malecon's best places to see and be seen with plenty of benches and ample grass for lying around. Others work out at the various exercise stations. In the picture above, someone practices walking on a tightrope. There is a children's playground and even a dogs-only area.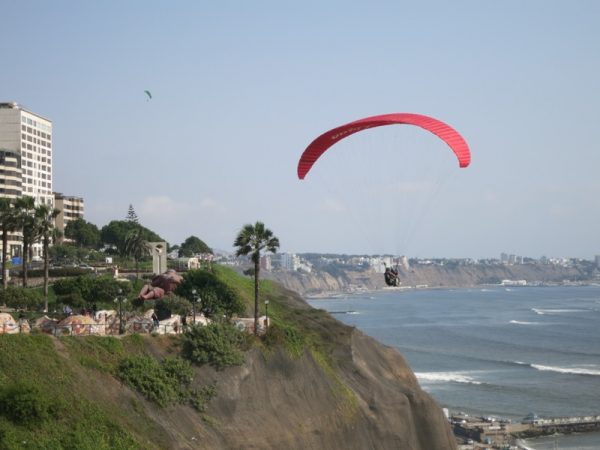 Raimondi is also home to the Parapuerto kiosk and launching ground for paragliding tours over Lima's Green Coast. For more info on how to see the best view in Lima, visit limacitykings.com/paragliding.
Parque Faro de la Marina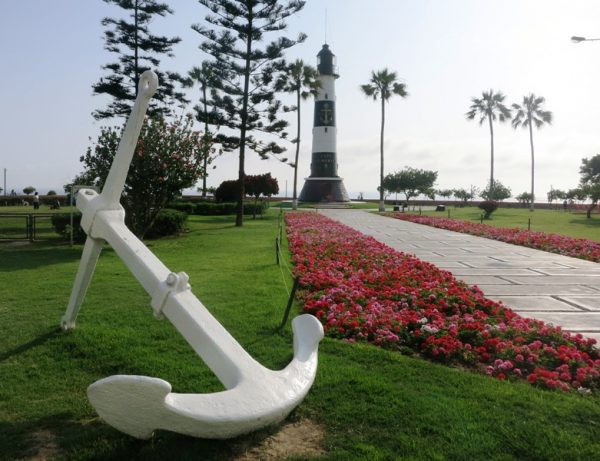 Bordering Parque Raimondi is another Lima landmark in the old Faro lighthouse, which is still active today.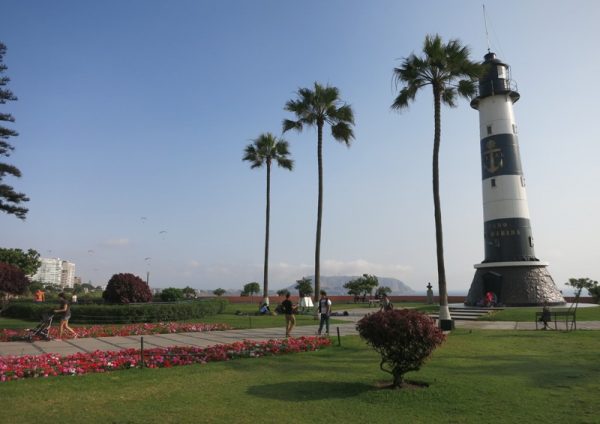 The 70-foot tower was built in 1900 in the port city of Ilo in the southern department of Moquegua, and relocated to Lima in 1973. The lookout point just behind the lighthouse is one of the best vantage points for photographers to capture Lima's coastline from Miraflores to Chorrillos.
Malecon Cisneros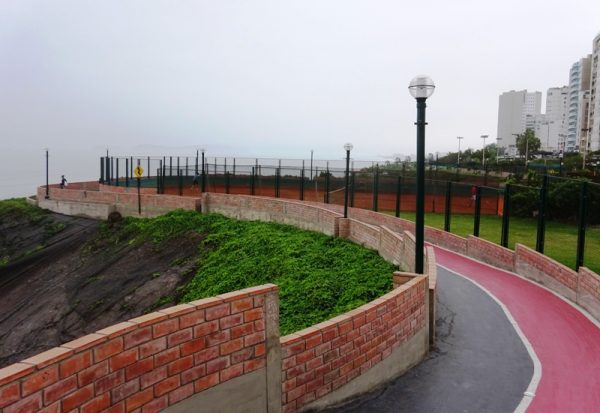 After the lighthouse, a winding bike path and sidewalk separate the cliffs from several enclosed tennis courts.
Parque de los Niños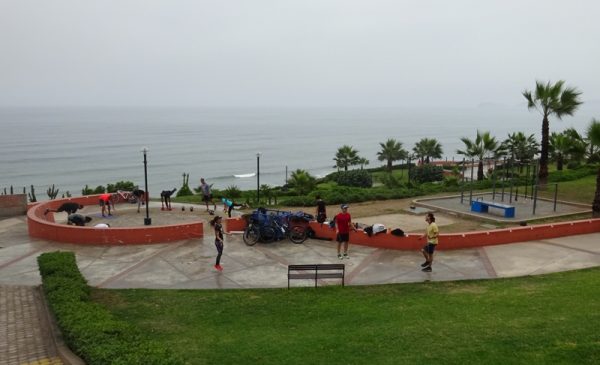 Once you pass the tennis courts you enter Parque de los Niños, but before the children's playgrounds is a popular exercise spot. Note the pull-up bars, dip bars, monkey bars and sit-up bench on the right. On the day I snapped this shot there was some kind of functional fitness class doing a kettlebells and jump-rope workout, and someone is set up for pushups on rings.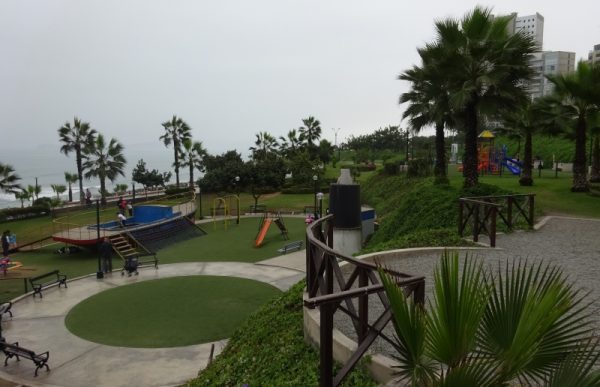 All that stuff is what gives this park the name, Children's Park. In this one shot you can see a plastic playground for smaller children, a giant boat to explore, swing-set, slides, see-saws, one of those spinner things for them to get dizzy on and, most importantly, plenty of benches for the parents to sit down.
Parque Yitzhak Rabin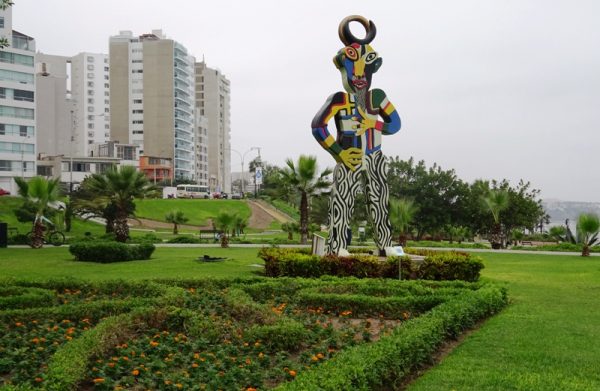 Named for the Israeli prime minister assassinated in 1995, Parque Rabin is recognized by this curious work of art overlooking the sea and visible from hundreds of yards away.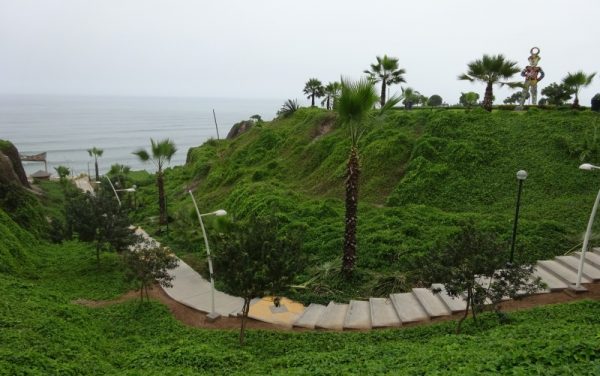 This park also features a staircase leading down to the beach.
Parque Grau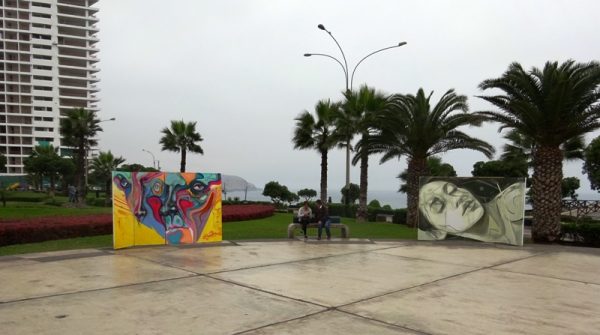 Parque Grau has a large paved area for art exhibitions as well as a statue of Peru's most esteemed war hero, a children's playground and a café overlooking the sea.
Skate Park
Just north of Parque Grau is the Skate Park and BMX track. I'm not sure when this was built but I believe it's less than 10 years old because the skaters were quite a nuisance in Parque Salazar above Larcomar back then.
Parque Maria Reiche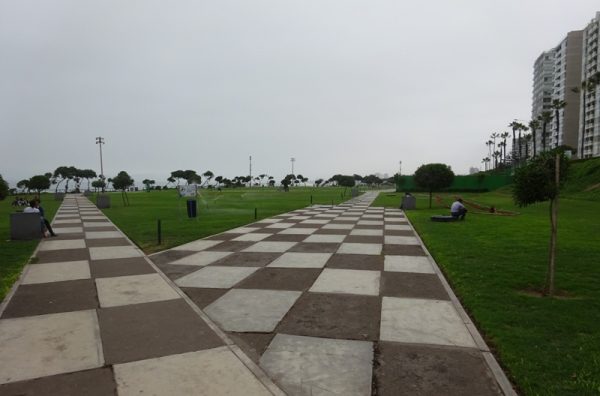 Parque Maria Reiche is most notable for its expansive space. It features one children's playground and two exercise areas, with all the rest of the park's five acres devoted to open grass and benches for peace and quiet. Maria Reiche was a German archaeologist whose work led to groundbreaking developments into Peru's Nazca Culture of present-day Ica department.
Malecon de la Marina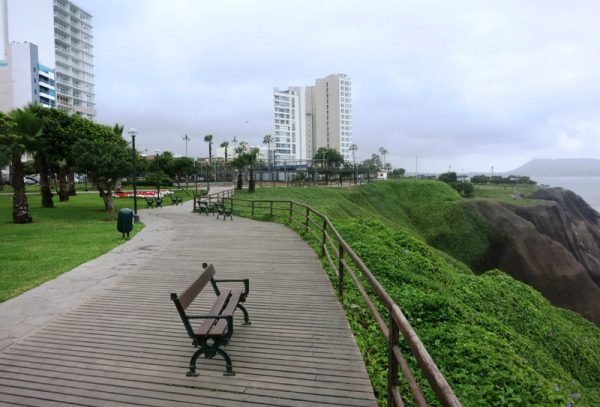 Beyond Parque Maria Reiche is the Malecon de la Marina, home to a sports complex of soccer and basketball courts. And of course more gardens, benches, exercise stations and lookout points over the ocean.
Pictures
Take a virtual tour with over 300 pictures of the Malecon. For high-res slideshow viewing, see the Malecon album on the Lima City of Kings Facebook page.