At the time of this writing, Peru has won five consecutive World Travel Awards for best culinary destination. Lima is one of the world's best cities for gastronomy and food tourism. Peruvian food is unlike any other in its inventiveness and creativity. This is not an exhaustive list on Peruvian cuisine in general (which would be at least twice as long!), but the most important dishes to eat while in Lima. Click links for full descriptions and more pictures.
Ceviche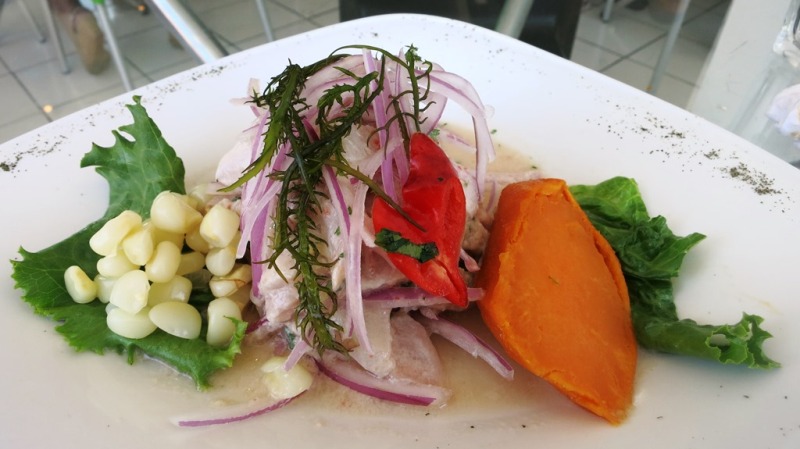 Ceviche — Peru's signature dish, a raw-fish salad.
Aji de Gallina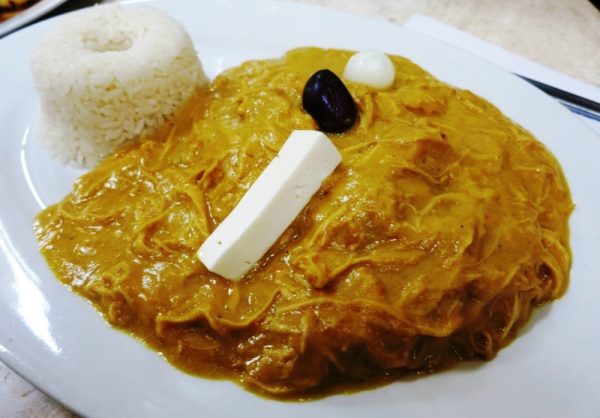 Aji de Gallina — Creamy sauce with chicken over rice.
Arroz con Pato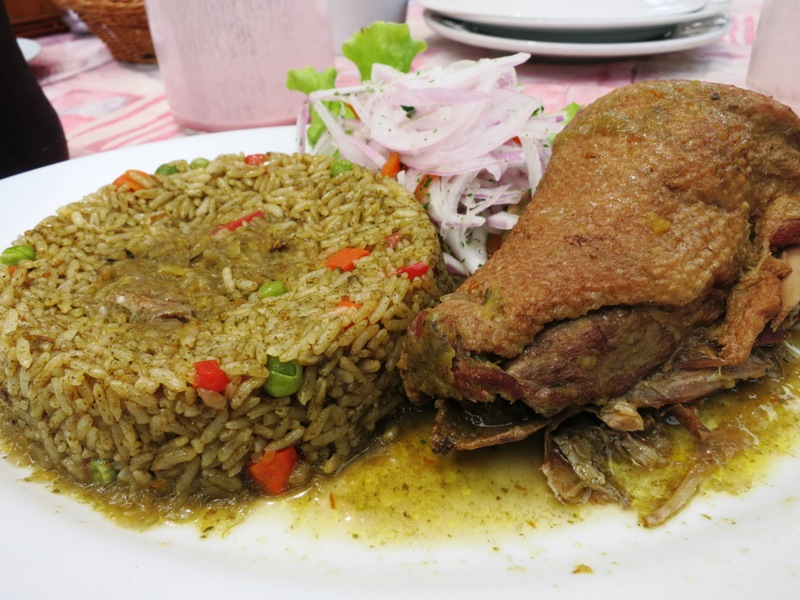 Arroz con Pato — Rick with Duck, the signature dish of Chiclayo. Commonly found with chicken instead of duck (Arroz con Pollo).
Causa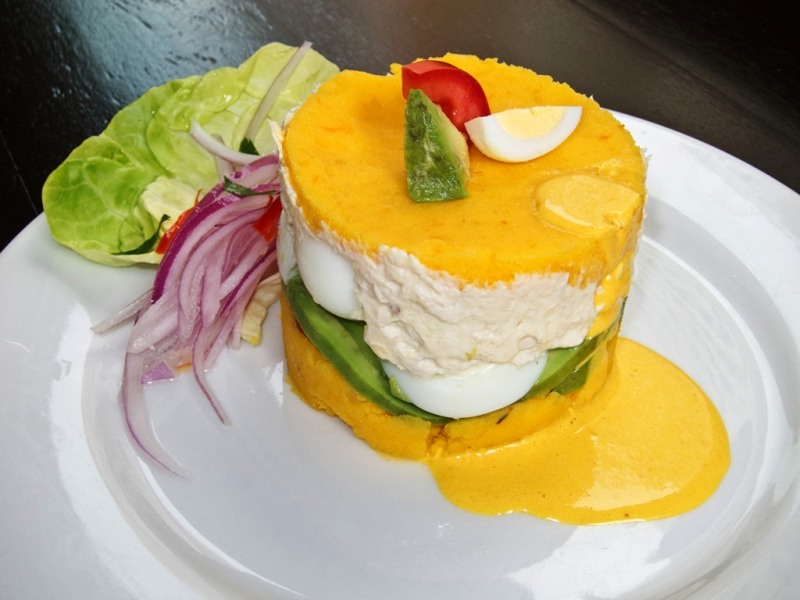 Causa — Lima's signature dish is a mashed-potato cake stuffed with chicken or tuna salad, or really anything.
Lomo Saltado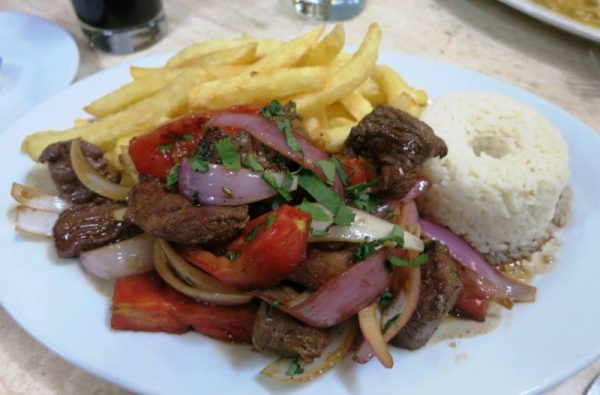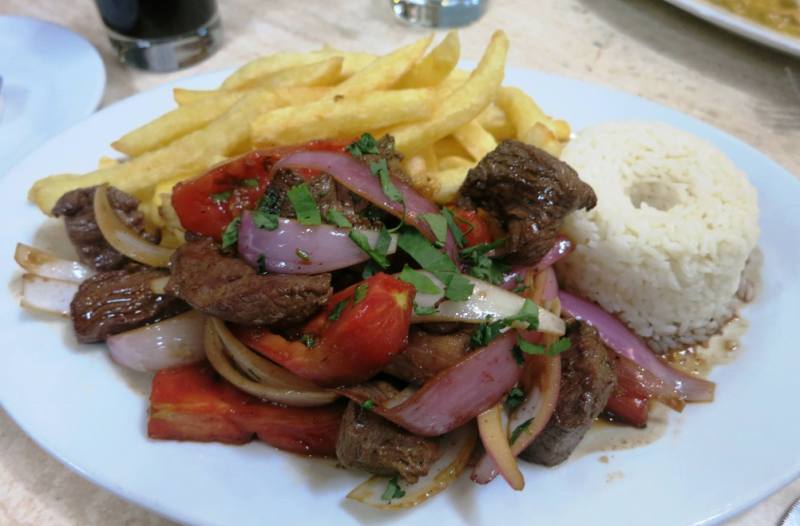 Lomo Saltado — Peruvian steak-and-potatoes stir-fry is a favorite among the less experimental eaters visiting Peru.
Tacu Tacu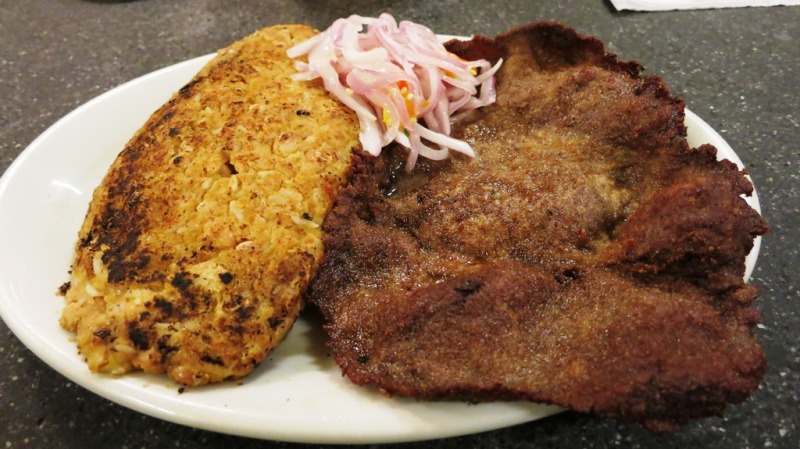 Tacu Tacu — This Afro-Peruvian creation is a fried mold of beans-and-rice mold served with any kind of meat or fish.
Seco de Cordero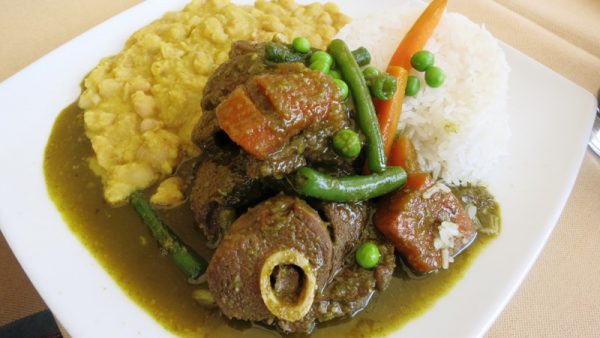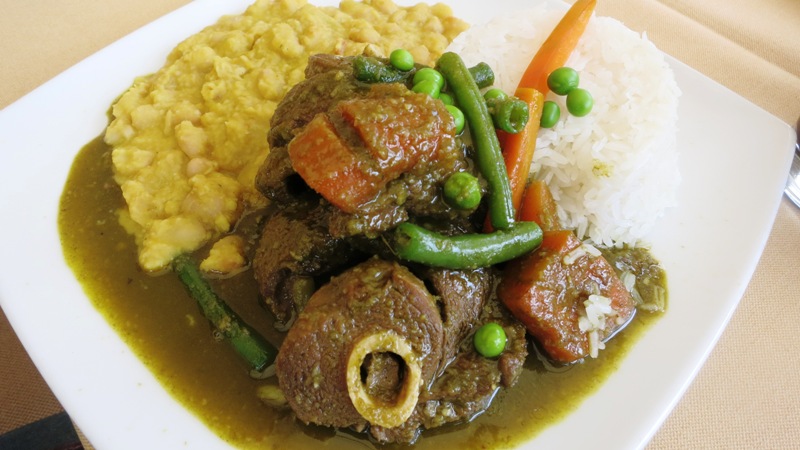 Seco de Cordero — This slow-stewed lamb dish, a throwback from the Moorish legacy in Spain, is similar to the Moroccan Lamb Tagine.
Carapulcra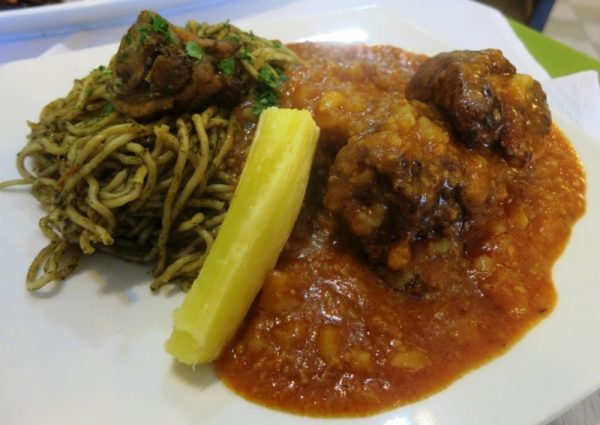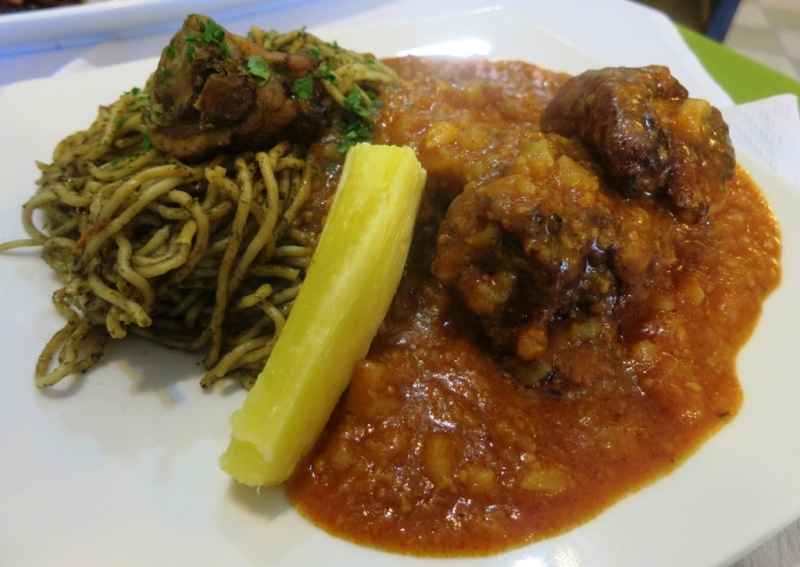 Carapulcra — Tacu Tacu is one contribution, but the Afro-Peruvian signature dish is Carapulcra, a tangy pork dish served with rice or, if you're lucky, Sopa Seca.
Sangrecita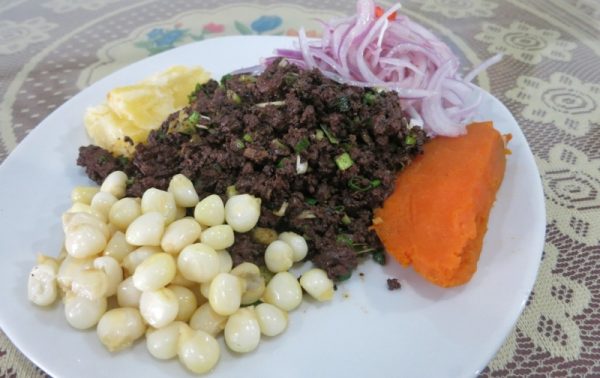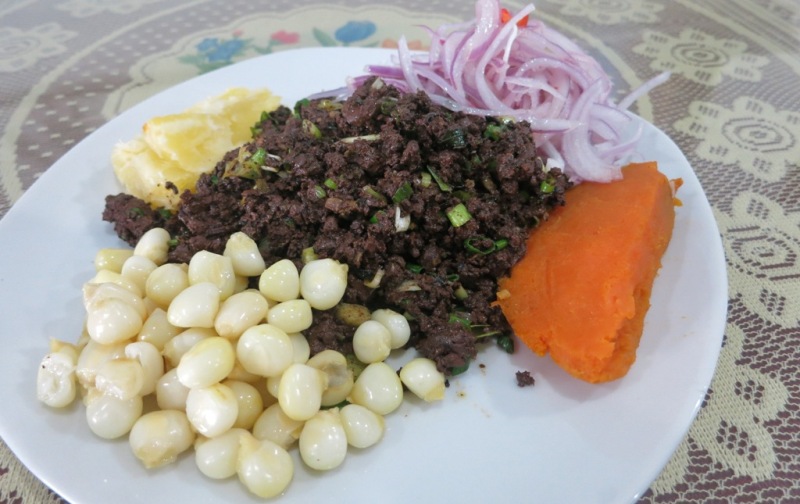 Sangrecita — Cooked chicken blood spiced up with onion and garlic and served with various starches, this appetizer is for blood-sausage connoisseurs.
Chifa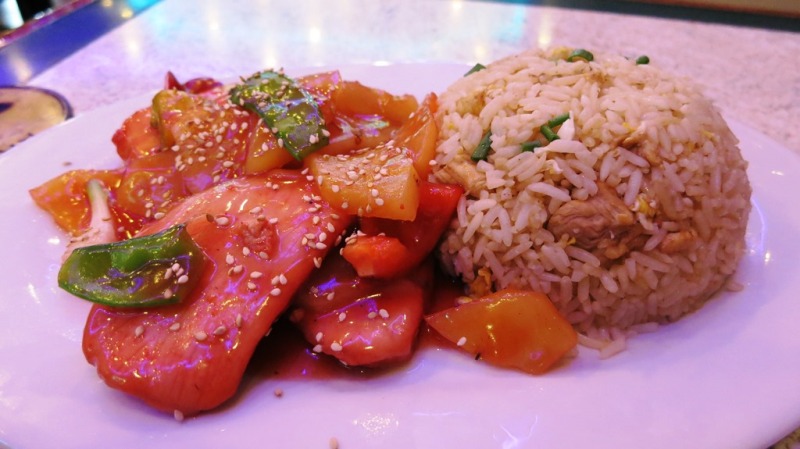 Chifa — Tens of thousands of Chinese laborers immigrated to Peru in the 19th century, ultimately spawning the Peruvian-Chinese fusion cuisine known as "chifa."
Anticuchos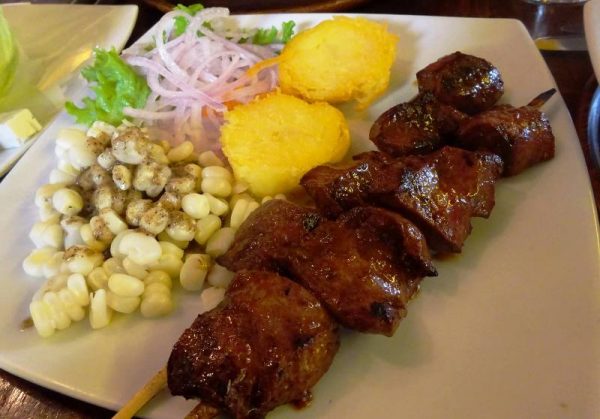 Anticuchos — Barbecued cow hearts are one of Lima's typical late-night foods. Tastes like a tough steak.
Chicharron Sandwich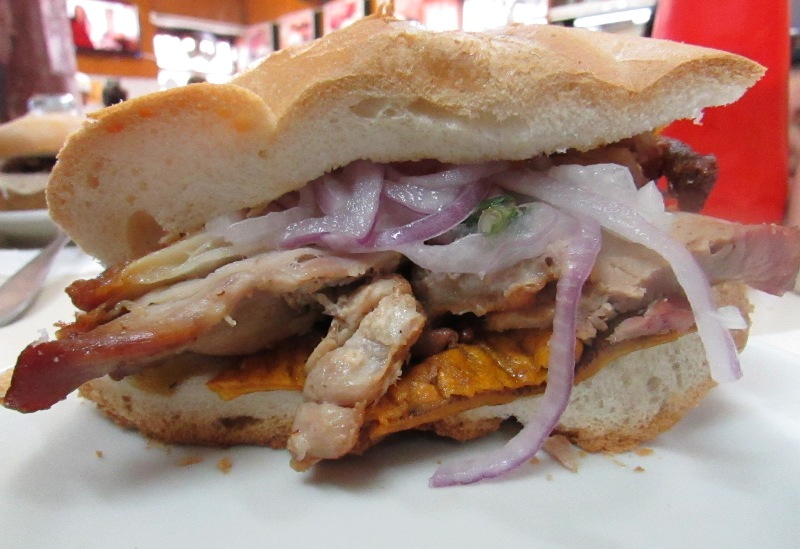 Chicharron Sandwich — Fried-pork, fried sweet potato and onion make up the king of sandwiches in Lima.
Papa a la Huancaina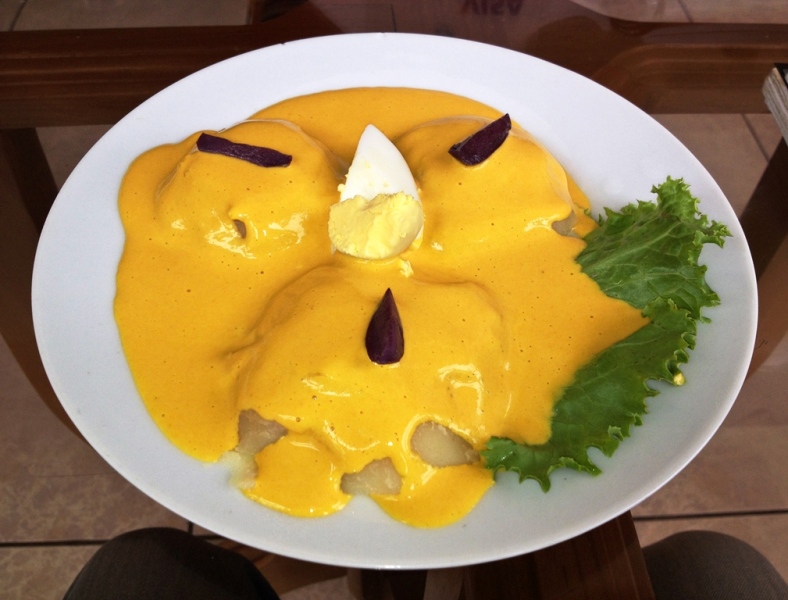 Papa a la Huancaina — Cold potato smothered in a rich cheese sauce is a typical appetizer during the hot summer.
Suspiro de Limeña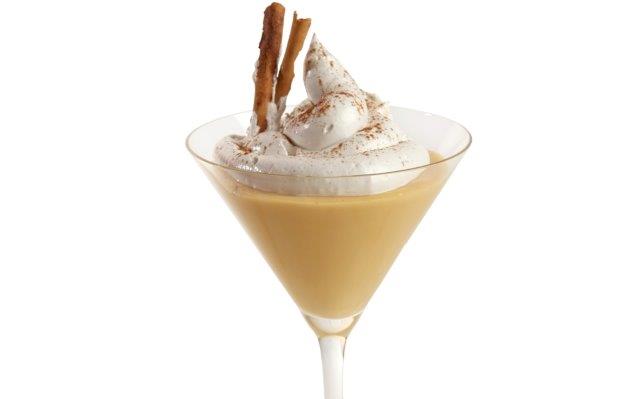 Suspiro de Limeña — Lima's signature dessert is a hyper-sweet parfait made from milk, eggs and sweet red wine.
Picarones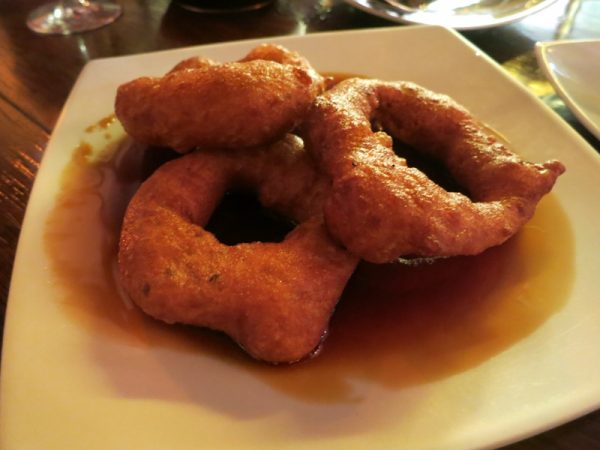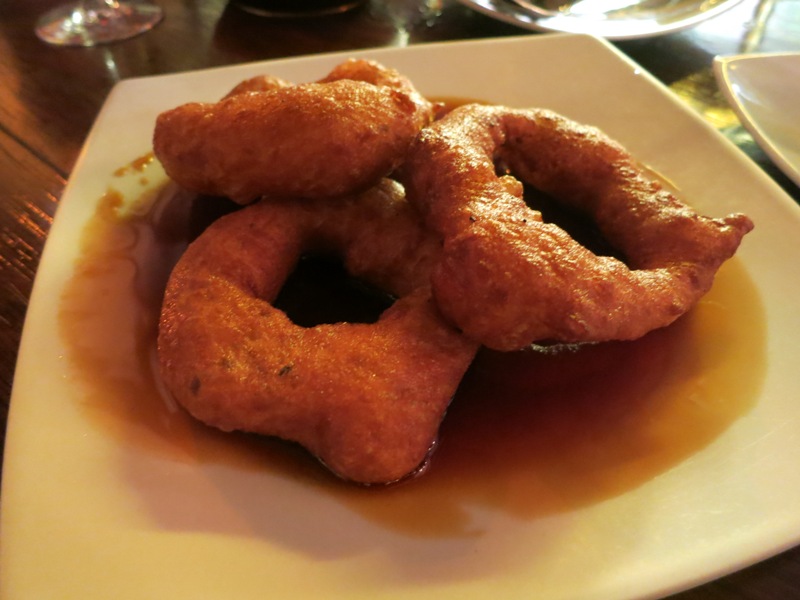 Picarones — Lima's most popular dessert is a plate of fried doughnuts drizzled in fig honey.
Chicha Morada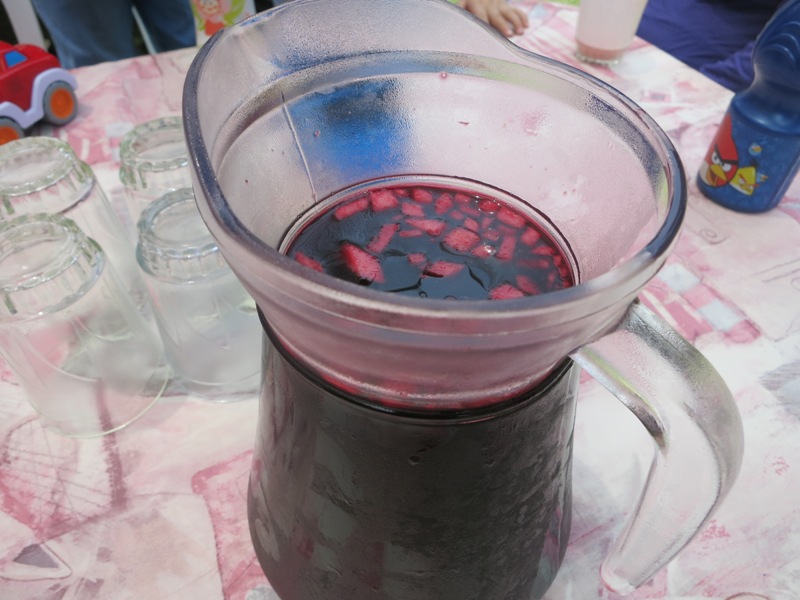 Chicha Morada — Purple-corn juice, a refreshing drink in the Lima summer.
Pisco Sour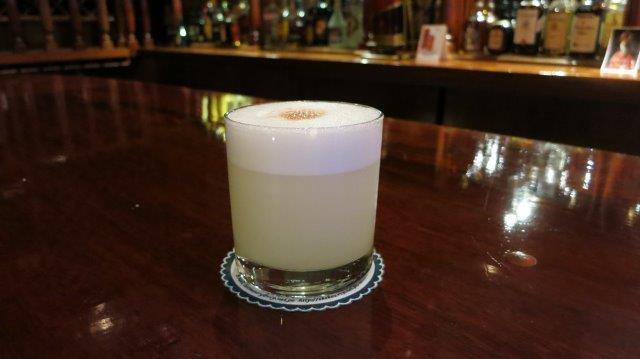 Pisco Sour — Peru's signature cocktail is made of the grape-based spirit, pisco.