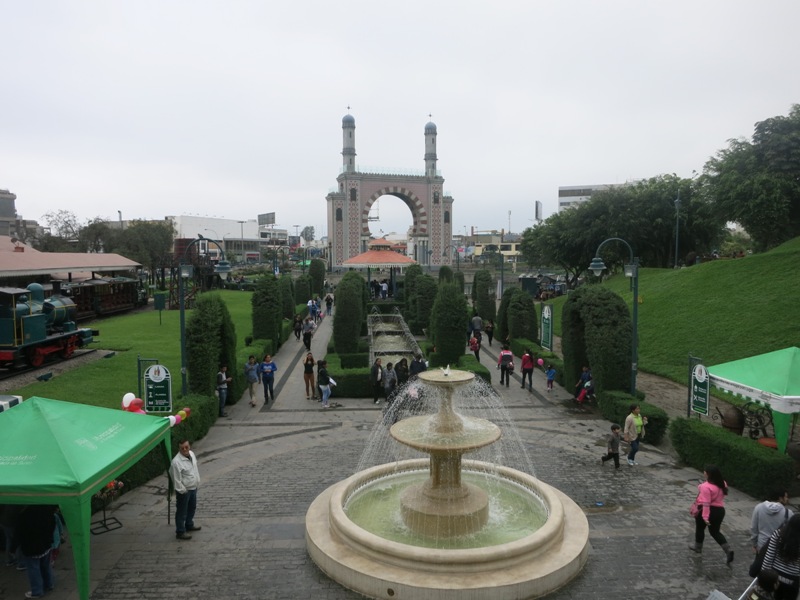 Parque de la Amistad (Park of Friendship) is a family-friendly park in the upscale district of Surco which features train rides, a playground, a man-made pond with ducks and more.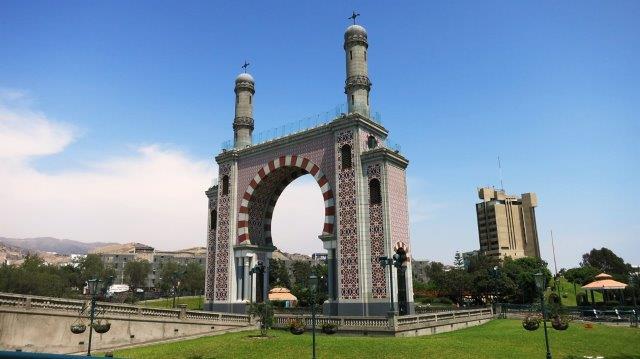 It is best known for its Arco Morisco (Moorish Arch) pictured above. The arch is actually a replica of the original donated by Spain in 1924 and demolished in 1939.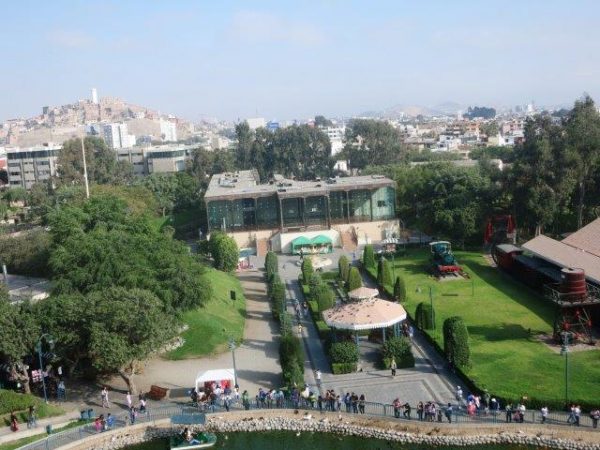 For one sol you can climb the arch. The view is just OK, but it's an easy thing to do. Note the hilltop of San Juan de Miraflores, an impoverished district infamously separated from Surco by the "Wall of Shame."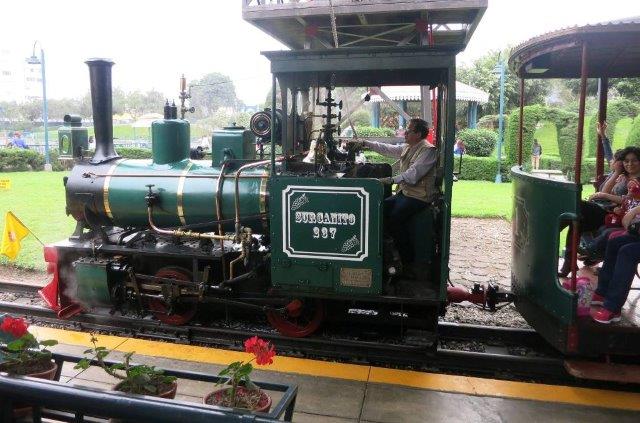 Parque de la Amistad is undoubtedly one of Lima's top three children-friendly parks. For my son, it probably takes the top prize because it has trains. I don't know what it is about trains that is so interesting to young boys, but my son has the bug. You can hear him choo-chooing in the video below.
Parque de la Amistad features a few antiques as well as a functional steam engine which offers a two-lap tour around the park. For only 6 soles ($2), the track leads around the arch, under a tunnel, past a lagoon with ducks, over another bridge near the food court and past the children's playground.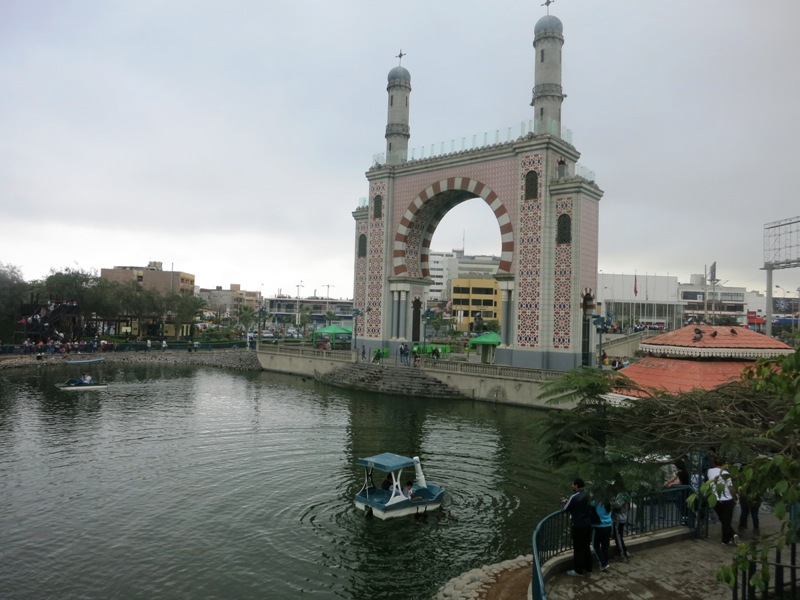 The man-made lake features ducks and paddleboats. On this day we did not get a chance to navigate the lake as the paddleboat attendants went to lunch just when we were ready to go. Vendors sell special food to feed the ducks with.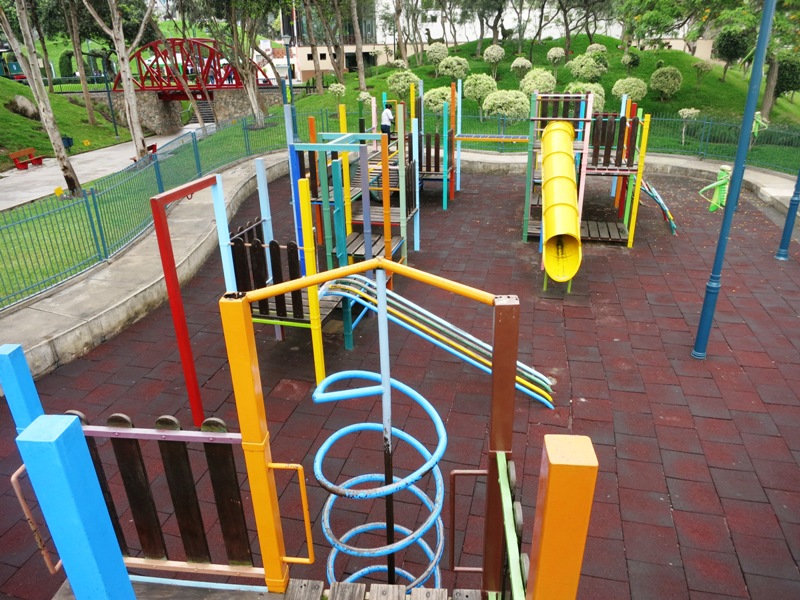 The park features a good-sized playground with toddler-sized see-saws and swings as well as a larger apparatus with slides and bridges. However given many high steps and unblocked railings, there are significant risks for a fall, so not toddler-friendly enough to let a two-year-old play alone. Stick by his or her side.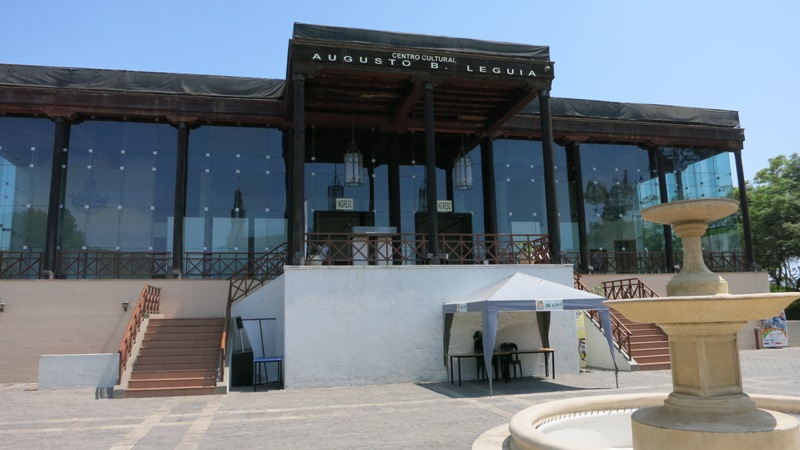 Finally, Parque de la Amistad has the Augusto Leguia Cultural Center which serves as a small art gallery, for which entrance is free but opening hours are unclear.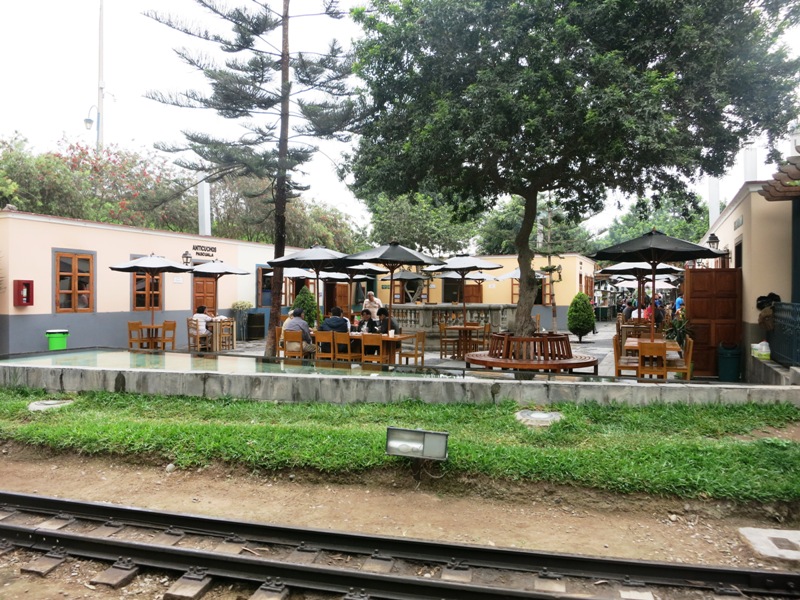 Street carts sell plenty of sweets and snacks. I saw churros, cremoladas, suspiro de limeña, shwarmas, empanadas and sandwiches. Then there is an outdoor food court featuring a branch from the El Chinito fried-pork sandwich chain as well as restaurants representing Amazon jungle cuisine, anticuchos, Creole cuisine and finally Arequipeño.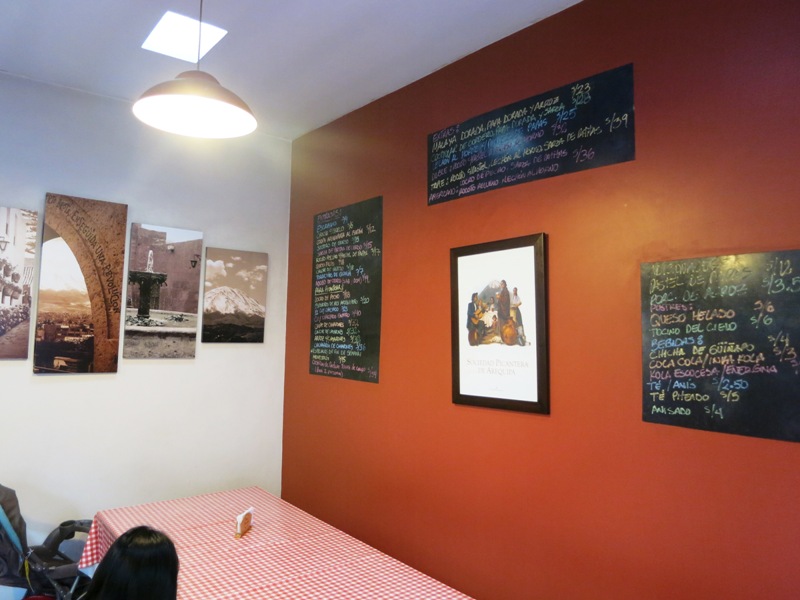 My wife is from Arequipa so that was a no-brainer. I generally don't recommend the Arequipa restaurants in Lima, something about them doesn't turn out. While I wouldn't call it authentic, it was definitely delicious. It was very gourmet, which is not really the flavor in traditional Arequipa picanterias. Kinda like eating gourmet barbecue – it's definitely delicious, but something's different.
Location and info
Parque de la Amistad
Av. Caminos del Inca s/n, Santiago de Surco
Hours: 9 a.m. to 10 p.m. Closed Mondays.
Admission: Free
www.facebook.com/parquedelamistad
Parque de la Amistad is located at Caminos del Inca Avenue and Nazarenas Street in Surco. There is a Metro subway station about a mile west on Benavides Avenue. Otherwise any taxi driver will know "Parque de la Amistad."
Pictures
For high-res slideshow viewing, see the Parque de la Amistad album on the Lima City of Kings Facebook page.