$6.99 for both the PDF and MOBI files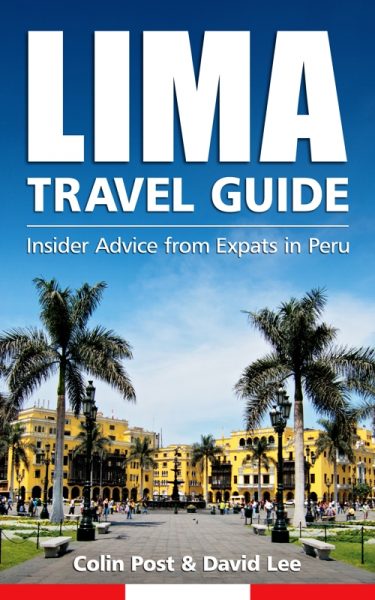 Lima Travel Guide is the best source of information on the market for visiting the City of Kings (La Ciudad de Los Reyes). The book's tourism recommendations include all the must-see destinations as well as off-the-beaten-path options, including the best museums, top 10 things to do and links with instructions to three custom walking tours and a bike tour.
An entire chapter is devoted to Peru's leading gastronomy, which features profiles of the most typical dishes plus reviews of the best restaurants in Lima – several of which are ranked among the top 20 in Latin America.
The guide also includes detailed information about how to take public buses, the Metropolitano bus rapid transit system, the Metro light rail and private taxi cabs. Written by two expats who publish leading travel blogs about life in South America, Lima Travel Guide is packed with useful tips including weather and what to wear, festivals and events, money and visas, neighborhoods and safety, hotels and hostels, nightlife, museums and other tourist attractions.
Whether you stay in Lima for one day or one year, you will find this guide enhances your stay in Peru's City of Kings.
For just $6.99, receive both the lighter MOBI file for Kindle as well as the PDF version which features over 80 pictures.
Or to buy the Kindle version or paperback on Amazon, visit a.co/esQrGdc.