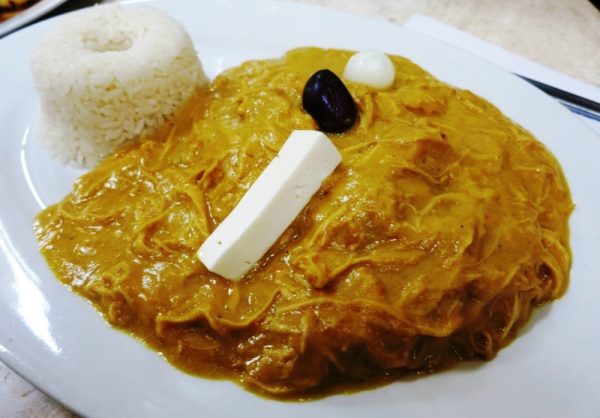 Aji de Gallina is usually the Peruvian favorite in the hearts of tourists who don't dig ceviche. Aji de Gallina is shredded chicken breast tossed in a mild yellow-pepper-and-peanut sauce with rice. The sauce is made with evaporated milk, yellow aji peppers, Parmesan cheese, garlic, onion and crushed peanuts or pecans. Boiled eggs, potatoes and black olives are served with the chicken and rice.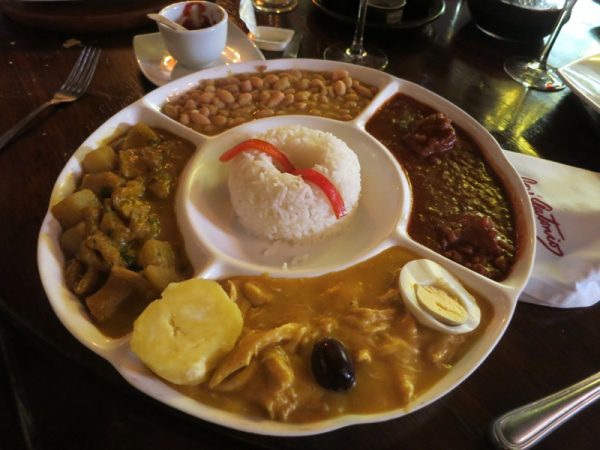 Aji de Gallina is one of four dishes that typically come with a Piqueo Criollo, or Creole combo platter. The others are Carapulcra, Cau Cau (tripe stew) and beans.
Where to eat Aji de Gallina
Any traditional Creole restaurant serves Aji de Gallina, but the best ones for some reason are always homemade. My wife makes a killer Aji de Gallina which is cheesier and richer than any restaurant. The image at the top of this article was taken at El Bolivariano in Pueblo Libre, and the image of the Piqueo Criollo is from Jose Antonio in San Isidro — both of which are famous Creole restaurants in Lima.
Recipes
See recipes for Aji de Gallina on Peru Delights (English) or Yanuq (Spanish).
See the Lima Food Porn photo album on the Lima City of Kings Facebook page.