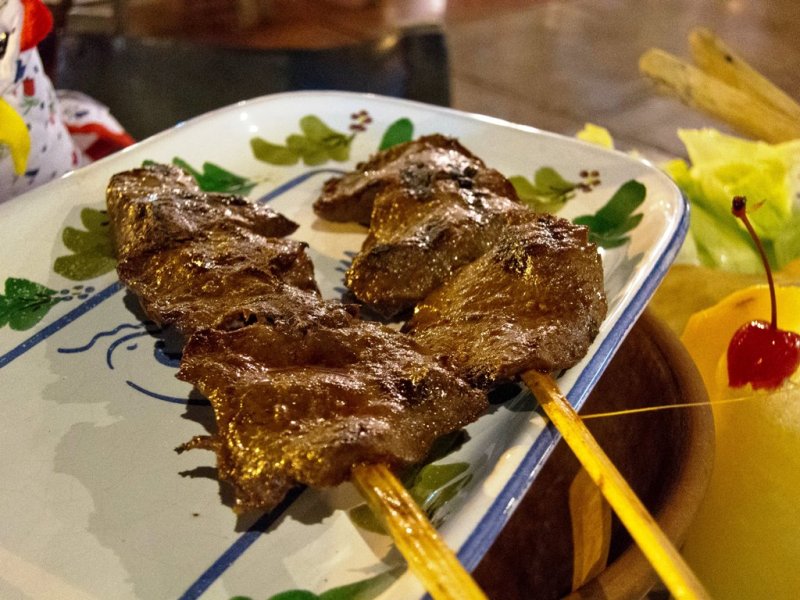 Anticuchos, the typical late-night food in Lima, are barbecued beef hearts served with boiled or fried potatoes. Don't be afraid, the cow heart is rather lean. Many tourists who try Anticuchos have no idea they're eating hearts. It's like a tough steak.
For you party animals, Anticucho restaurants are the most common establishments to be open after midnight. Served on a stick.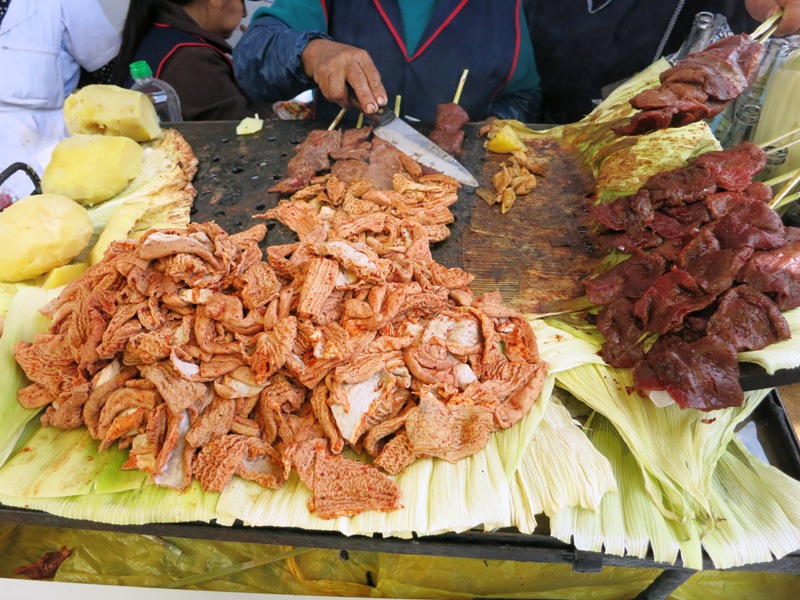 Alongside the beef hearts, traditional Anticucho restaurants also serve Mollejitas (chicken gizzards) and Panza (beef tripe, pictured above from a street vendor). I was not a fan of either gizzards or tripe back in the States, but the Anticucho marinade has converted me so now I always order a combo platter featuring all three. Again, I have acquired the taste and sometimes get cravings.
Where to eat Anticuchos
Tio Mario in Barranco is my recommended place to try Anticuchos. And if you're not up for cow hearts, get a Lomo platter (steak dinner) for a moderate price. This is also a great place to try Lima's two best desserts, Suspiro de Limeña and Picarones. Open until 2 a.m.
Anticucho restaurants and street carts come alive after about 7 p.m. at night. Unlike Ceviche, which I don't recommend eating from food carts, I often eat anticucho in the street. The difference is that Anticucho is fully cooked.
Recipes
See Anticucho recipes on Peru Delights (English) or Yanuq (Spanish).
See the Lima Food Porn photo album on the Lima City of Kings Facebook page.