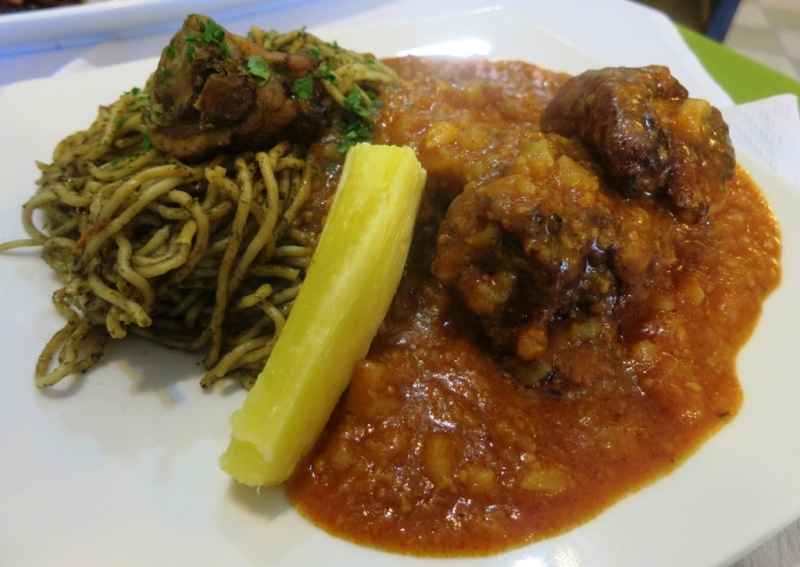 The signature Afro-Peruvian dish, Carapulcra, is a pork stew from Chincha Alta, the historic Afro-Peruvian city in the department of Ica, just south of Lima. The tangy sauce is made with paprika, yellow aji pepper, peanuts, vinegar, white wine, garlic and other spices.
Carapulcra is often served with Sopa Seca instead of rice, as pictured above. Sopa Seca is the hometown plate of Cañete, another Afro-Peruvian town on the southern coast of Lima department near the border with Ica, not far from Chincha Alta. While it translates to "dry soup," Sopa Seca is super-salty pasta cooked in chicken, basil and parsley. Carapulcra with rice is excellent, but it is best served with Sopa Seca.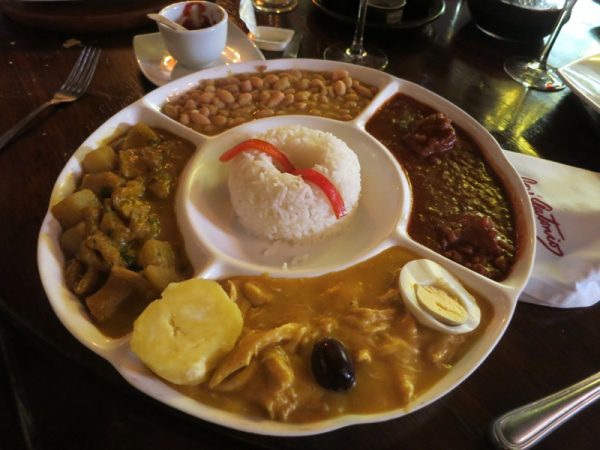 Carapulcra is one of four dishes that typically come with a Piqueo Criollo, or Creole combo platter. The others are Aji de Gallina, Cau Cau (tripe stew) and beans. Picture from Jose Antonio in San Isidro.
Where to eat Carapulcra
Carapulcra is almost exclusively served at traditional Creole restaurants. But if you want a best-in-class Carapulcra, find a traditional Afro-Peruvian restaurant. I recommend El Rincon Que No Conoces.
Recipes
See recipes for Carapulcra in Spanish at Yanuq. Serve it with Sopa Seca if you want to go all out.
See the Lima Food Porn photo album on the Lima City of Kings Facebook page.