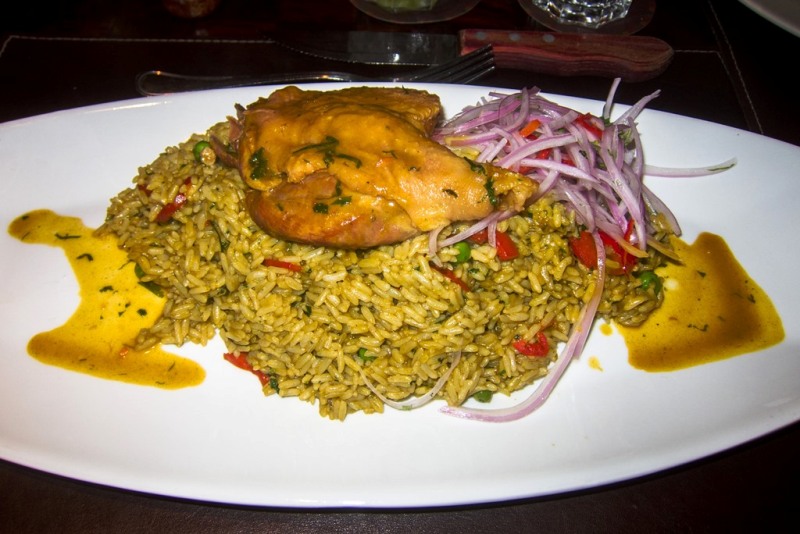 Every country in Latin America has its own version of Arroz con Pollo – rice with chicken. Peru's is the best. But its original incarnation used duck.
The recipe calls for enough cilantro to turn the rice bright green. Chicken or duck legs and thighs with steamed peas and carrots top the cilantro-infused rice and red pepper, with tomato and onion on the side.
Arroz con Pollo is often served with a side of Papa a la Huancaina, or just a bit of the sauce over the green rice.
Arroz con Pato is the signature dish of the northern city of Chiclayo. But like many of Peru's regional dishes, it has conquered Lima and become a mainstay in the national cuisine. And unless you're in a moderately expensive restaurant, you'll probably see it with chicken instead of duck.
Where to eat Arroz con Pato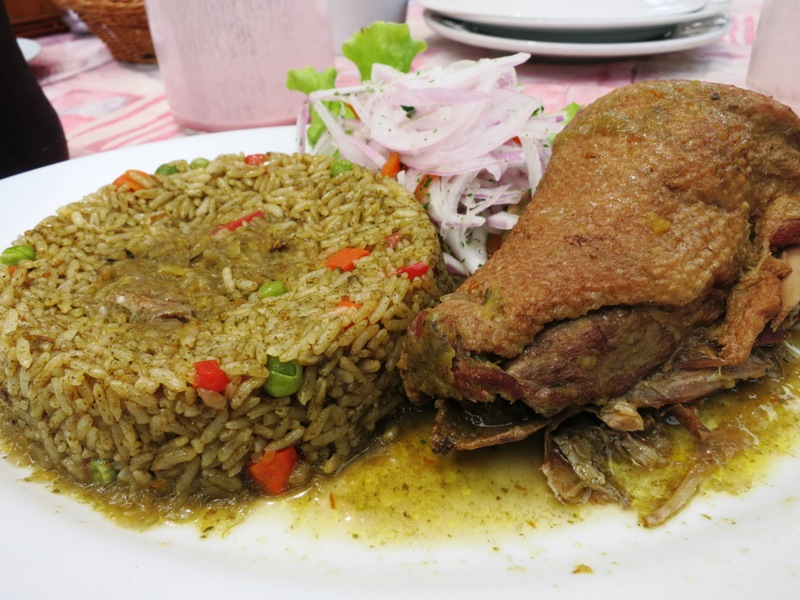 Any traditional Creole restaurant will serve a proper Arroz con Pato or Arroz con Pollo. The picture at the top of this article was taken at Pachita in Miraflores, they also have a location in San Borja. The picture above was taken at Parque Molle in Cieneguilla. But the best place to order Arroz con Pato will always be a Chiclayo restaurant. The most famous in Lima is Fiesta.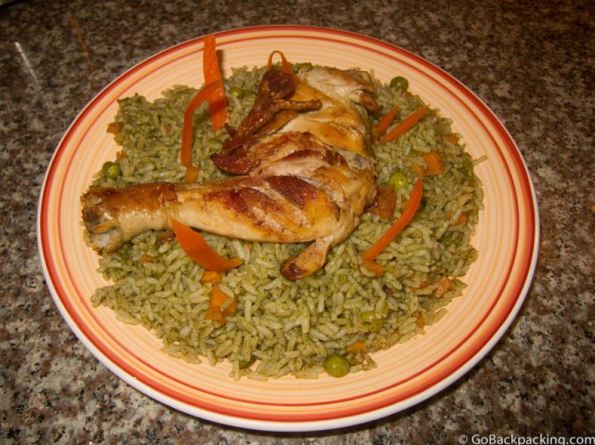 Arroz con Pollo is a common lunch served at Peru's inexpensive menu restaurants. It's also easy to make at home. Above is a homemade version.
Recipes
See recipes for Arroz con Pato on Peru Delights (English) or Yanuq (Spanish). If you don't want to bother looking for duck, see Arroz con Pollo recipes in English or Spanish.
See the Lima Food Porn photo album on the Lima City of Kings Facebook page.