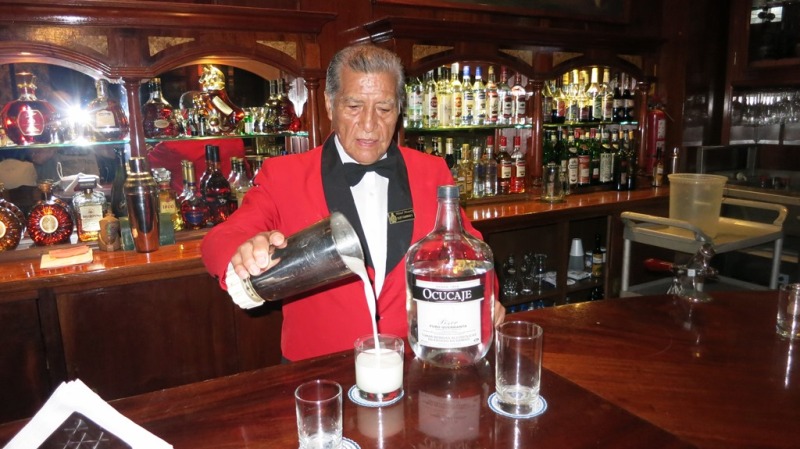 Bar Maury, pictured above, invented the Pisco Sour in the early 1900s when an American guest asked for a whiskey sour, but the bartender had no whiskey.
Peru's national liquor, pisco, is a spirit distilled from grapes. It can be rather harsh for the first time, especially the cheaper brands. The more expensive brands, however, are smoother and gaining traction in the global market.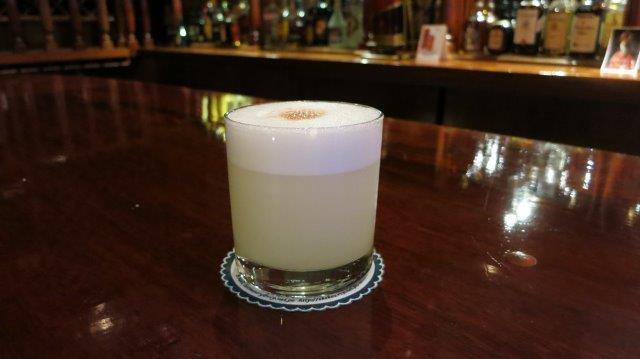 Pisco Sours are made by blending pisco with ice, simple syrup, lime juice and an egg white. They are sweet and foamy. But don't think this sugary, frozen drink is "girly." They are stronger than they taste, and if you don't be careful they'll put you on the floor. I have typically masculine tastes in almost exclusively drinking beer, sometimes punctuated with shots of whiskey. And I'll go for a night of Pisco Sours once in a while.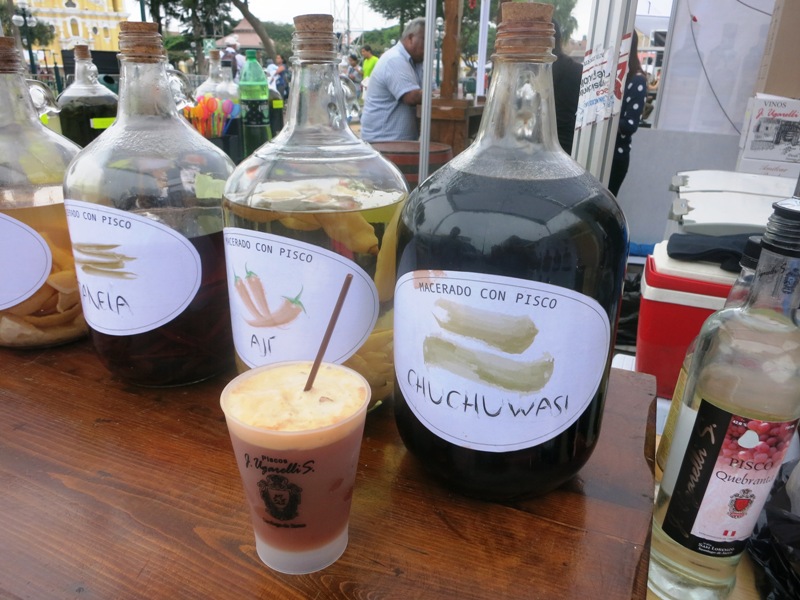 Many cocktail bars serve variations like the Maracuya Sour and Chicha Sour with passionfruit juice or Chicha Morada in place of lime. Above are jugs of pisco infused with different herbs or fruits, with a Chuchuhuasi Sour.
If you'd like something sweeter and not so strong, try an Algarrobina, which mixes pisco with black carob syrup and evaporated milk to make a cocktail similar to a chocolate martini.
If you can't see yourself drinking a frozen drink with sugar all night, the top pisco cocktail for binge drinkers is the Chilcano – pisco with ginger ale and lime. Teenagers, amateurs and street drinkers mix pisco with Sprite.
Where to drink a Pisco Sour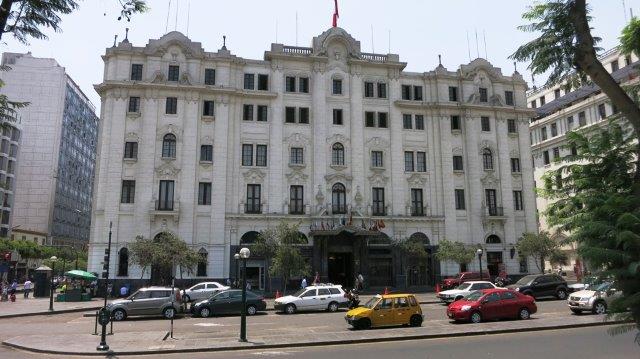 Hotel Bolivar (above), facing Plaza San Martin, serves a giant Pisco Sour dubbed "La Catedral." Bar Maury, located downtown a block south of the Plaza de Armas, is the birthplace and an excellent place to try a Pisco Sour. In Miraflores, Capitan Melendez and Las Brujas de Cachiche are very popular. Ayahuasca is a favorite cocktail lounge in Barranco.
Those wanting to sample all kinds of pisco variants shouldn't miss the Festival de la Vendimia, Lima's annual pisco-and-wine festival held in Surco.
Recipes
See how to make a Pisco Sour on Peru Delights (English) or Yanuq (Spanish). Simply substitute Maracuya juice or Chicha Morada for lime juice to make the variants.