Pescados Capitales is one of the most esteemed ceviche restaurants in Peru. The name is a play on the term "pecados capitales," which means "cardinal sins" but subs "fish" in for "sins."
I had heard of it a thousand and one times before finally going there with my wife for Valentine's Day lunch. It is the seafood restaurant of choice for anybody who has money — the place isn't cheap. But to illustrate how famous it is, even the upper classes of Arequipa go to Pescados Capitales when they're in town.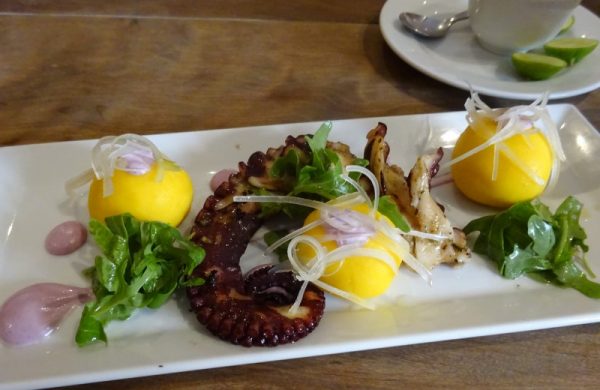 We started with an appetizer of causa with grilled octopus. Mixing octopus with black-olive cream sauce is ubiquitous in Lima, and it's often stuffed into causa. I always assumed octopus isn't that good, hence the need to mix it with plenty of sauce. So were were surprised to see the plate arrive with more octopus than causa or sauce.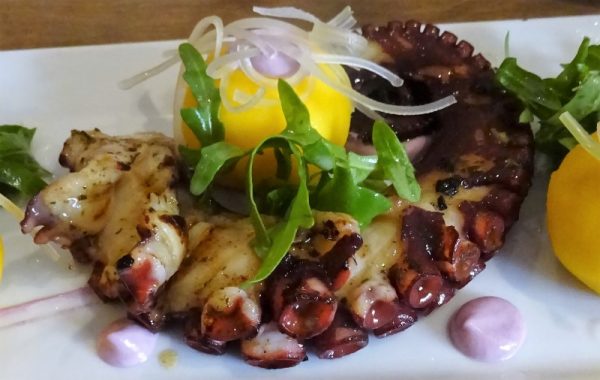 It turned out to be a pleasant surprise as the grilled octopus brushed with olive oil was very tender, we fought over the last bites. Here's a closeup of the octopus.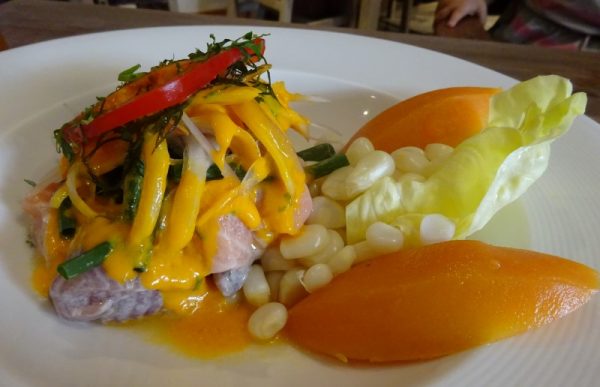 Being the ceviche de pescado purist that I am, I ordered the Cebiche Capital, a blend of raw salmon, tuna and sole with yellow, red and green onions tossed in lime juice and aji amarillo and rocoto cream sauces.
The fish melted in my mouth, an immoral melting. It was so delicious my wife took this plate from me.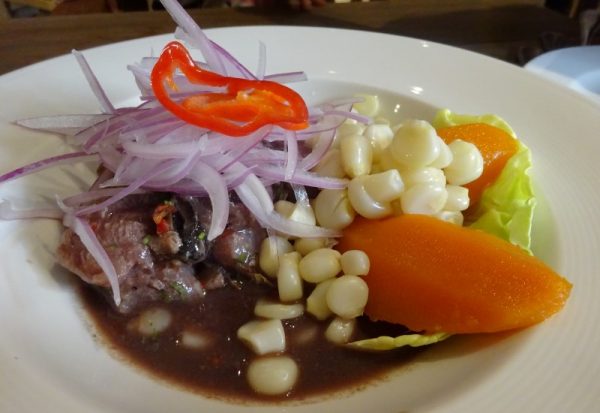 So I ate what she ordered, the Cebiche Mandela, one of many examples of how Latin America is less sensitive to racism. It's called "Mandela" because it's black. It is tuna tossed black-shell clams.
I dig ceviche de conchas negras, but it can be an acquired taste. I only recommend it for people who in the habit of ordering oysters. This version, of course, was profligate perfection.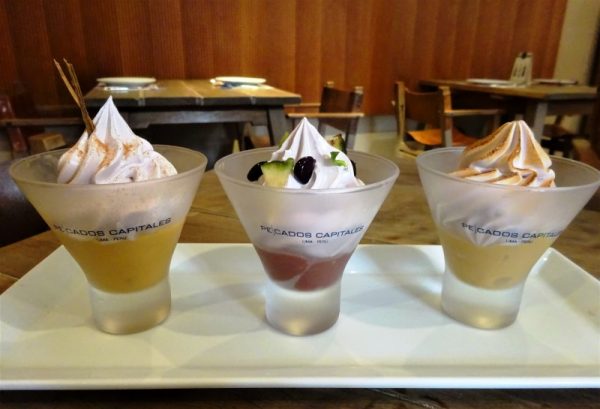 For dessert we got the trio de suspiros, which featured a classic suspiro de limeña along with suspiro de lucuma and suspiro de chicha morada.
If you've been reading for a while you know I am a sucker for suspiro de limeña. And while lucuma and chicha morada were depraved in their sweetness, suspiro is like ceviche de pescado or classic pisco sours. Why mess with the winning formula? My favorite was the classic. But we appreciated the variety, and my wife's favorite was actually the purple corn.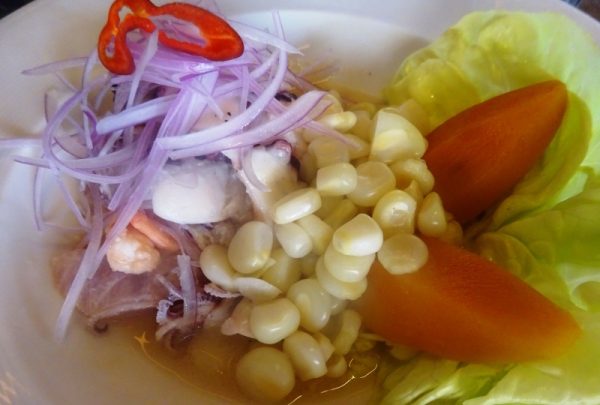 From another trip, above is the ceviche mixto (raw fish and cooked shellfish).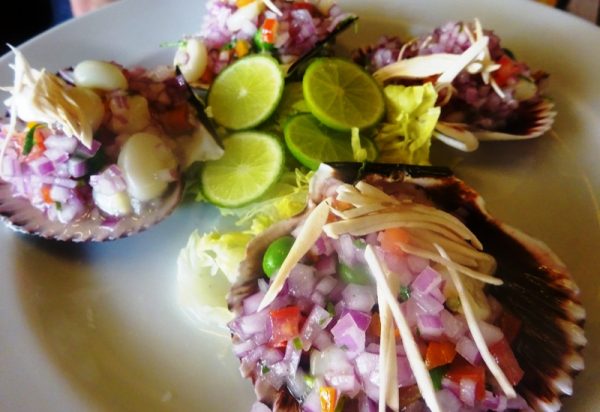 Choros a la chalaca, which weren't the standard recipe but a gourmet creation.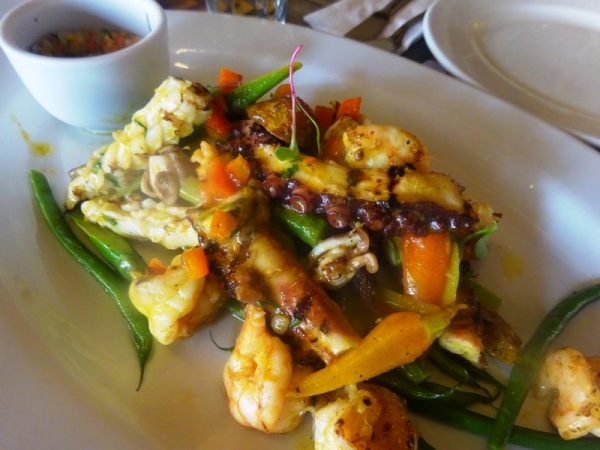 A grilled shellfish medley with chimichurri.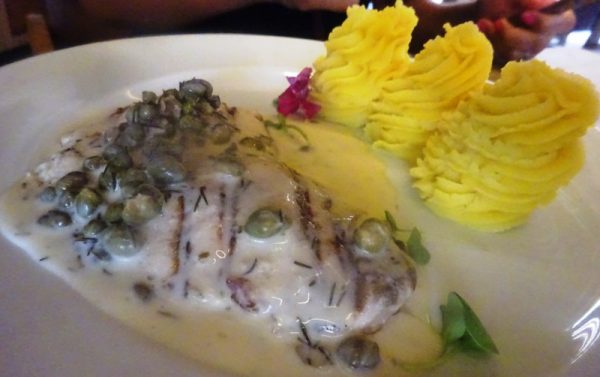 Grilled sole in caper cream sauce with causa.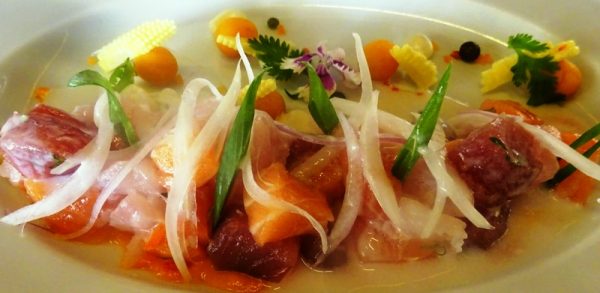 Ceviche Capital again, same as I had before, but the presentation seems to have changed.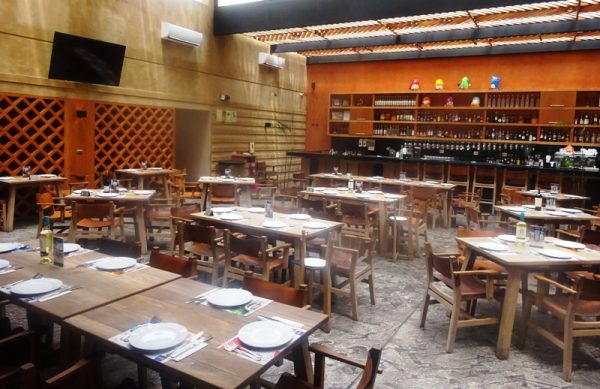 Dining room of the Miraflores location.
Location and info
Pescados Capitales
Av. Mariscal La Mar 1337, Miraflores
Av. Primavera 1067, San Borja
Hours: Monday through Saturday 12:30 p.m. to 11 p.m., Sundays 12:30 p.m. to 5 p.m.
Pescados Capitales on Facebook
The Miraflores restaurant is located on Mariscal La Mar near Avenida Ejercito just east of the border with San Isidro. There is a second location in San Borja on Avenida Primavera.