La Lucha Sangucheria is one of Lima's most popular restaurants among tourists, if not the most popular. It serves up familiar enough sandwiches from an open storefront facing Parque Kennedy, which I often call "ground zero" for tourism in Lima.
The service is unusually friendly for Peru and greater Latin America, and that is the one nice thing I'll say about La Lucha before I tell you to skip it altogether.
While they do serve signature Lima fare including turkey, chicharron and butifarra (jamon del pais) sandwiches as well as the lucuma smoothie, the problem is the price and portions. Those are essentially a price problem, but it's such a problem I have to make it double-faceted.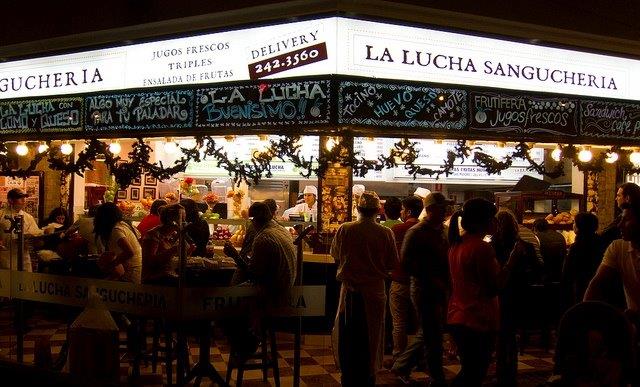 I have sworn off La Lucha several times. And every time I break down and go there, I curse myself and vow, "Never again!" The last time was yesterday at the end of giving my long bike tour to a friend from San Diego. We were parched so I took him for lucuma smoothies at La Lucha.
Each one cost 11.40 soles ($3.50), and the "grande" turned out to be a 12-ounce cup. It was a five-minute wait and we inhaled the smoothies in 10 seconds. We could have had two more apiece, which would have amounted to 36 soles per person with tip.
After finishing my Grande, still parched, I remembered the last time I swore off La Lucha. I was alone on the bicycle and hungry for lunch. I had recently had the best Jamon del Pais of my life at El Chinito. Thinking of that I spotted La Lucha and wondered how theirs compared.
For 15 soles ($5) they serve a sandwich with about 50 grams of ham, or 10 grams of protein for my fellow strength freaks. I am a little biased being 6'2 and 230 pounds, but I would need at least three of those sandwiches just to maintain my body weight. That would be 45 soles with no drink, and that wouldn't be finishing up "full." For that price I could get a proper spread at a Creole restaurant, or ceviche and causa at a cevicheria.
So this time I'm not going to forget never go to La Lucha again.
Manolo: Sandwiches Near Parque Kennedy
Manolo
Av Jose Larco 636, Miraflores
From now when in Miraflores on it's just a couple blocks south on Larco Avenue to Manolo, a more authentic Lima institution where the Butifarra comes with fresh yellow aji peppers. Manolo is known for its churros.
While I recommend you steer clear of La Lucha, the family behind the restaurant is clearly doing something right as La Lucha has expanded to several locations in Lima and even in other cities including Arequipa. And I love their 24-hour soups restaurant in my neighborhood, an instant hit where the only complaint are the long lines. Don't even try on a weekend afternoon!
Don't Waste Your Time
This is the first article in a new series titled "Don't Waste Your Time," which aims to help visitors to Lima avoid the overrated or even unpleasant experiences common among tourists.
This will be a sensitive series given the negative nature. Let me know in the comments if you approve of this kind of article, or if you think I am in fact wasting my time. Thanks!