Siete Sopas is a 24-hour restaurant in Lince which specializes in soups. They offer a different soup for every day of the week, hence the name "Seven Soups," as well as two standard soups available every day. They also serve sandwiches, pastas, fried chicken and rice plates.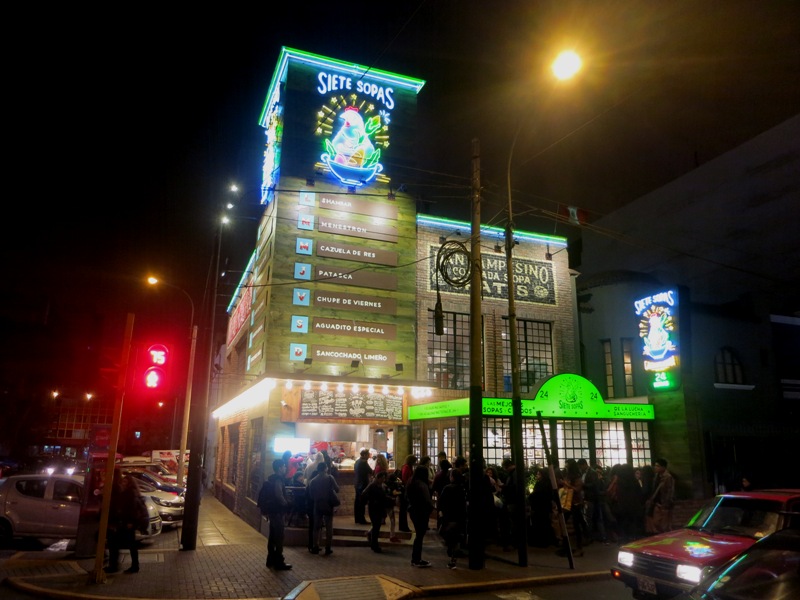 Siete Sopas opened last year to plenty of fan fare. It was opened by the company that runs La Lucha Sangucheria of Miraflores fame and has become one of Lima's most emblematic sandwich restaurants, especially among tourists.
But in moving into soups and the central district of Lince, Siete Sopas is apparently aimed more at Peruvians. Soups as a meal are a tradition in Peru to varying degrees in different regions. Big heart soups help warm the body during Lima's cold winter. And soups such as Caldo de Gallina – Peruvian-style chicken noodle soup – are also known as late-night food for people finishing up a night of drinking.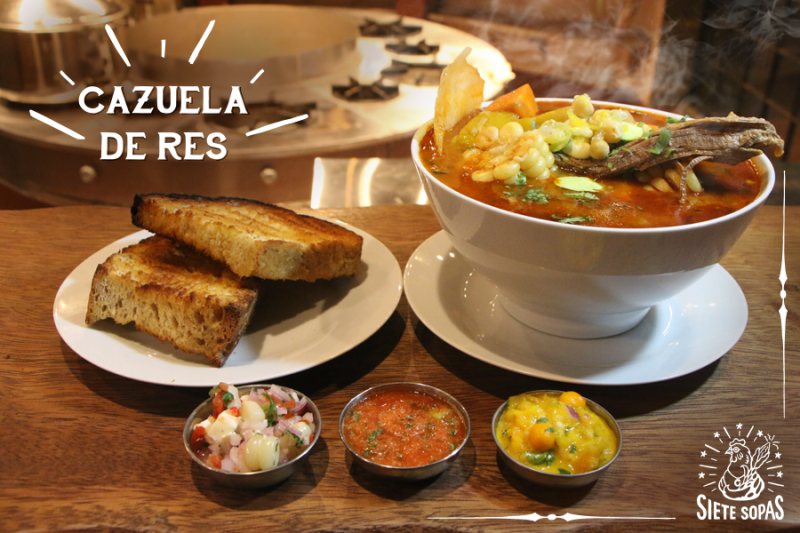 I was skeptical because a soup as a meal is hard for an American to get his head around. But my wife is from Arequipa, where soups are a sacred cow in the city's heritage. We were torn on the issue but the constant lines outside the restaurant pushed me over the edge. I finally gave it a shot on a cold night in September.
It was a Friday, and the daily special of Chupe de Pescado (fish stew) did not appeal to my pregnant wife. So we got two orders of Sopa Criolla and one Caldo de Gallina for the children. Maybe boring, but I was blown away. Hence the review.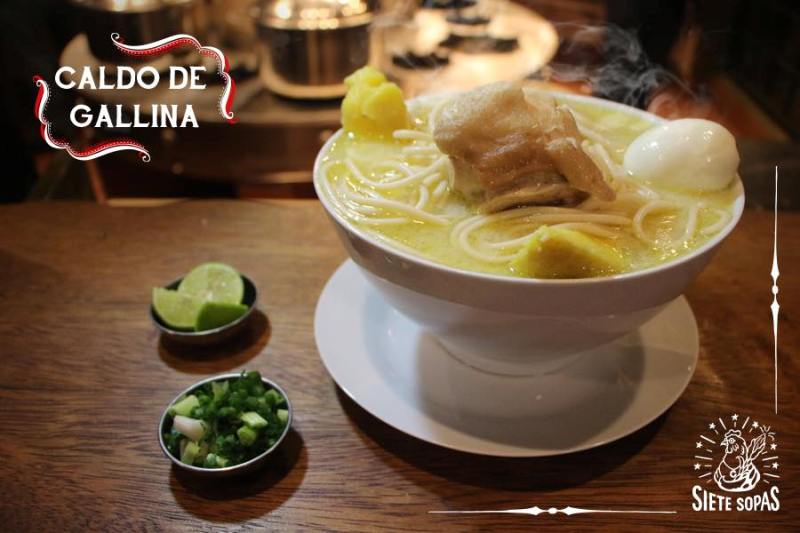 Unless they're picky eaters, most Americans would never order chicken noodle soup in a restaurant. Trust me on this. But it's a staple in Lima cuisine, and the children didn't eat it so I finally gave it a shot. I must say I was impressed. The key is to doctor it up with what they give you: cancha toasted corn, lime, green onions and definitely the spicy aji. Delicious.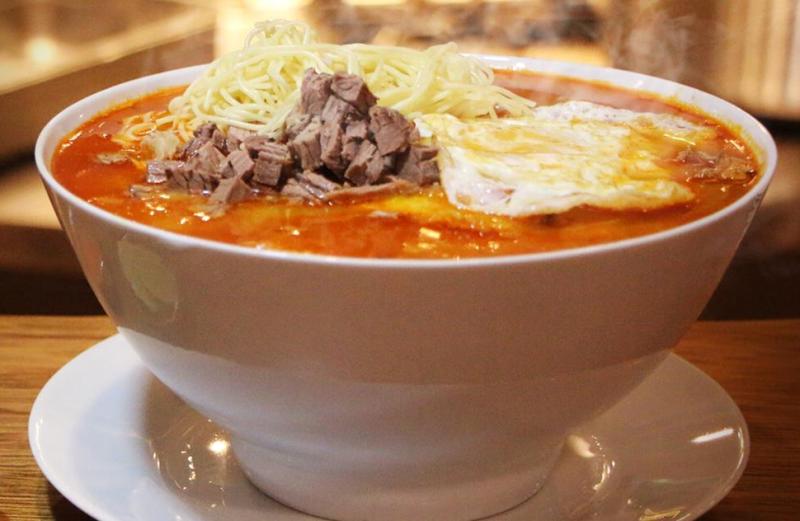 More impressive than the Caldo de Gallina, however, was the Sopa Criolla. A tomato-based, lightly creamy soup with beef and pasta. Tangy.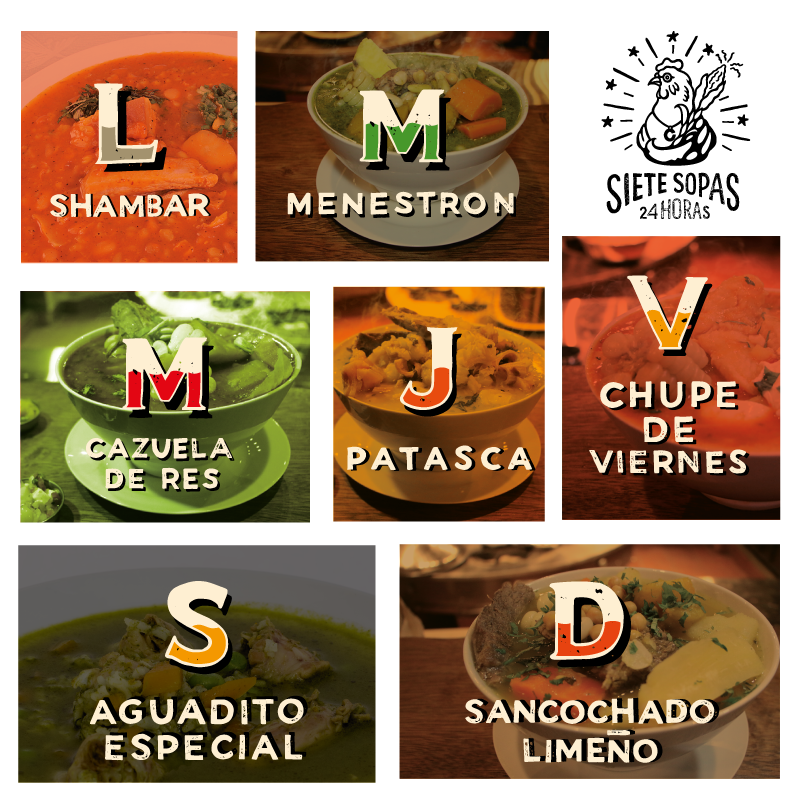 Here is the daily soup menu:
Monday: Shambar (pork and beans soup)
Tuesday: Italian-style Menestron
Wednesday: Cazuela de Res (beef stew)
Thursday: Patasca (beef and tripe soup)
Friday: Chupe de Pescado (fish stew)
Saturday: Aguadito Especial (chicken soup)
Sunday: Sancochado Limeño (Lima stew, beef-based with a slew of legumes and tubers)
All the soups are served with a big piece of bread of the quality you would expect from a sandwich chain famous throughout the city.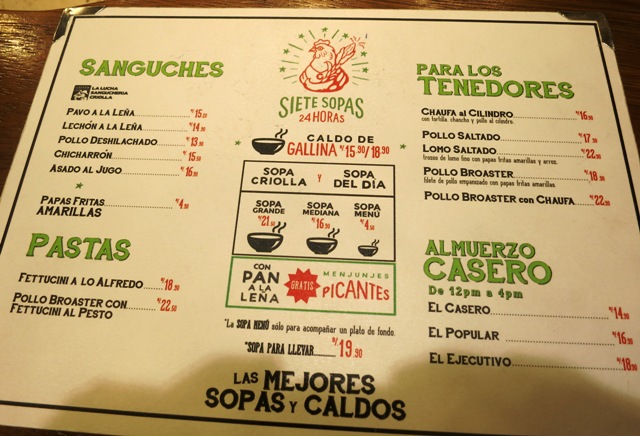 Siete Sopas was originally open only until midnight. But it seems to have been successful enough to expand to 24-hour service, as well as the menu to include plates for guests who don't want soup.
I'd highly recommend Siete Sopas for those in central Lima looking to warm up on cold winter nights as well as those coming off a night partying downtown or wherever and passing through Lince on their way home.
Siete Sopas is located in Lince on Avenida Arequipa just a few blocks north of Javier Prado.
Siete Sopas
Av. Arequipa 2394
Lince, Lima
270-0002
www.facebook.com/SieteSopas
Click the pictures below to enlarge. See my pics in slideshow at the Siete Sopas album on the Lima City of Kings Facebook page. See the professional pictures of the soups at the Siete Sopas Facebook page.