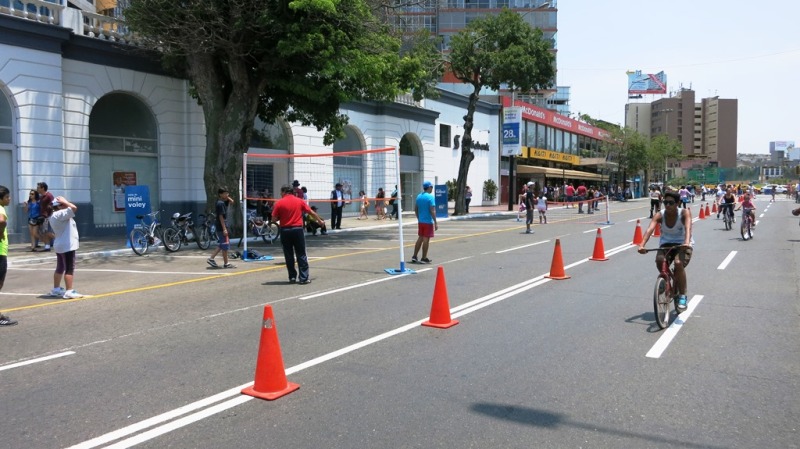 Cycling is the best way to see a city because you're not going by so fast that you can't appreciate interesting places, as in a car or bus, nor are you limited to the distances you can reach by walking or running. On a bicycle, you can cover a lot of territory at a speed that allows you to take in the sights.
Lima is the ideal city for cycling because it never rains, most if it is completely flat and there are protected bike paths called ciclovías. Arequipa Avenue, a major vein stretching from Miraflores to the city center, is closed to cars on Sundays until 1 p.m., during which all four lanes fill with pedestrians, rollerbladers, skateboarders and cyclists. They call the event "ciclodia" (cycle-day) and it's great for people-watching without the stress of cars and honking horns.
Sunday is the best day to do a Lima bike tour, and especially this tour, because there is no traffic on Arequipa Avenue. But any day will do.
On all days besides Sundays, you'll have to cycle in the street with cars. Latin American traffic is different than the United States or northern Europe in that there is less order. It may seem chaotic to the inexperienced eye, but there is a method to the madness. You will pick it up quickly. However, Lima's drivers are unfortunately the least respectful of pedestrians and cyclists compared to other Latin American cities. Remember to ride defensively because the rules of the road here, especially among bus drivers and taxis, are different than the norms you may be used to.
If you want to minimize your exposure to traffic, take a guided bike tour with Bike Tours of Lima or follow the Short Tour that coasts the bike path along the Malecon overlooking the ocean. Bike Tours of Lima also rents bikes if you'd like to explore on your own. They have high-quality bikes, they're honest and their shop is conveniently located in the heart of Miraflores.
Below are three custom bike tours. The Short Tour is the quickest and features almost no traffic. The Long Tour features the most sights and should be reserved for experienced urban cyclists who are comfortable with heavy exposure to traffic. The Medium Tour is a happy medium and mostly follows protected bike paths.
Each tour begins and ends at Bike Tours of Lima. If you rent elsewhere, you can catch the route here: Lima Bike Tours on Google Maps.
Below are descriptions of each tour as well as step-by-step instructions.
Short Tour (4 miles / 7 kilometers): Malecon overlooking the Pacific Ocean. Highlighted in GREEN on Google Maps.
Medium Tour (8.5 miles / 14 kilometers): Malecon plus Arequipa Avenue, Barrio Japones and Salaverry Avenue. Follows the Long Tour in yellow, with a BLUE detour on Google Maps.
Long Tour (14 miles / 22 kilometers): All of the Medium Tour plus Parque de la Reserva, Parque de la Exposicion, Paseo Colon and Campo de Marte. Highlighted in YELLOW on Google Maps.
Long Bike Tour
The Medium Tour is embedded in the Long Tour. A detour in Lince skips the downtown parks and goes directly to the Salaverry Avenue bike path.
Bike Tours of Lima
Turn left out of the bike shop, ride a half block to Larco Avenue and turn right. On the other side of Larco is a bike path protected by small bumper curbs. Continue north and pass Parque Kennedy. After six blocks riding north, you'll come to the Miraflores Oval, a circular intersection. You want to continue due north, so you need to pass the oval and stop at the corner, where Arequipa Avenue starts.
Arequipa Avenue bike path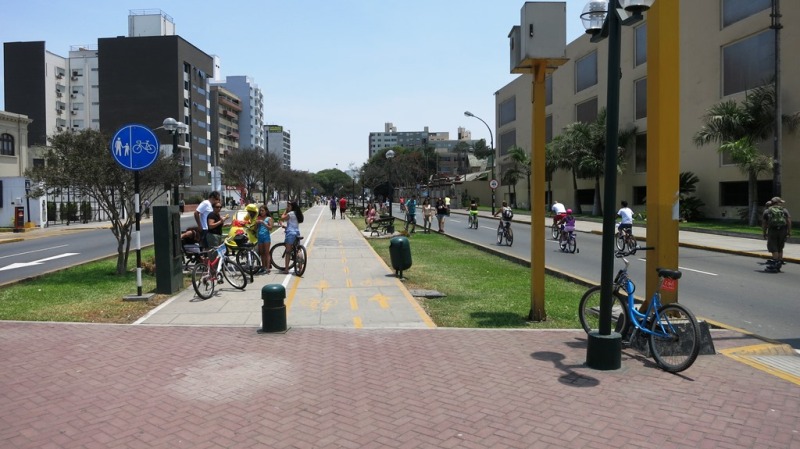 The bike path starts inside the median / promenade separating southbound from northbound traffic. Cross northbound Arequipa Avenue from the corner to enter the bike path and ride north.
Continue through upper Miraflores and into San Isidro. After about two miles, the bike path ends 300 yards before Arequipa Avenue goes under the Javier Prado bridge. You'll have to merge into northbound traffic on Arequipa Avenue.
Petit Thouars Detour
Exit Arequipa Avenue just before the bridge. You will see a fence separates eastbound and westbound traffic on Javier Prado. So turn right and ride one block to the first intersection, Petit Thouars Avenue.
Turn left at this three-lane thoroughfare to go north, parallel to Arequipa Avenue. Go three blocks north on Petit Thouars and turn left on Casanova (just before Chifa Mister Li), a one-way street heading back towards Arequipa. Don't worry if you miss this street. Just make sure you get back to the Arequipa bike path in the next few blocks.
Continue one block west from Petit Thouars and get back on the bike path going north (turn right on Arequipa Avenue).
Lince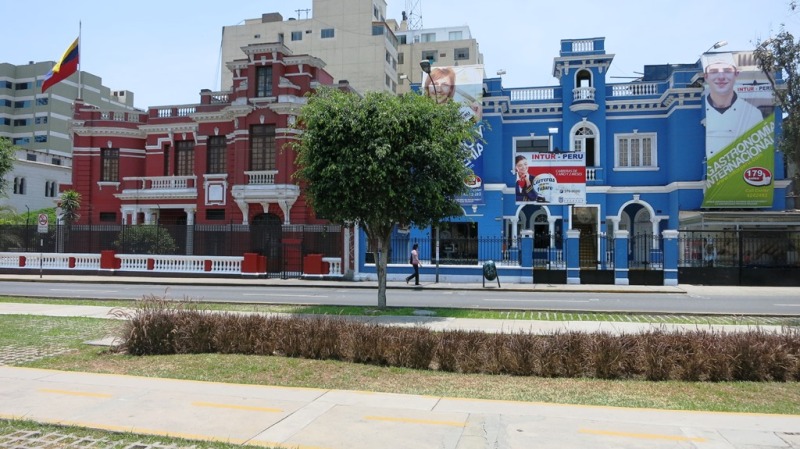 Once you've passed the Javier Prado bridge going north into Lince, Arequipa Avenue and the bike path are crowded with pedestrians for several blocks. The bike path is clearly separated from a pedestrian sidewalk, but nobody cares. You'll have to slow down to avoid hitting people.
On your left you'll pass a cinema and a McDonald's. On your right you'll pass a Kentucky Fried Chicken. Once you've passed KFC, you'll go exactly 10 blocks to Parque de la Reserva.
Medium Tour detour
If you elected the Medium Tour, turn left at the intersection where the sign reads "Bartolome Herrera" (three blocks after KFC). A bike path is on the north side of this street, and following this path for just under a mile leads you to Salaverry Avenue, which has its own bike path to take you to the coast. After one block Bartolome Herrera will change names to "Belisario Flores." Just after the halfway point of the Belisario Flores bike path, you will pass by the southern entrance of the perennially closed Parque de los Proceres. Five more blocks and you'll see Salaverry Avenue and its bike path within a wide, grassy median separating northbound and southbound traffic.
Jump to rejoin the Long Tour at the Salaverry bike path.
Parque de la Reserva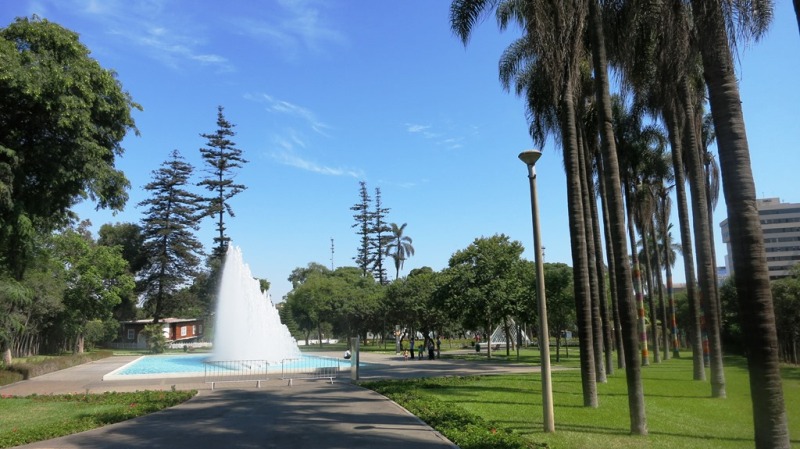 To continue on the Long Tour, Parque de la Reserva is located 10 blocks after KFC. You will see an entrance on your right at the Emilio Fernandez intersection. If you miss this entrance, there's another three blocks further.
This park is only open until 10 a.m., so only for the early birds. It is a beautifully manicured park home to the Magic Water Circuit. A mostly early crowd visits in the mornings to walk or read. Most of the park must be accessed via an underground tunnel from the entrance on Arequipa Avenue.
After seeing the park, exit on the west side (preferably where you came in) so you can easily get back on the Arequipa Avenue bike path.
Ride north for a few blocks until the bike path ends just before 28 de Julio Avenue. Merge into northbound traffic and stop at the intersection of these two avenues, where there will be a wide median. To your right you'll see the Metropolitan Museum of Lima, which is currently closed indefinitely. To the right of the museum is the entrance to Parque de la Exposicion.
Parque de la Exposicion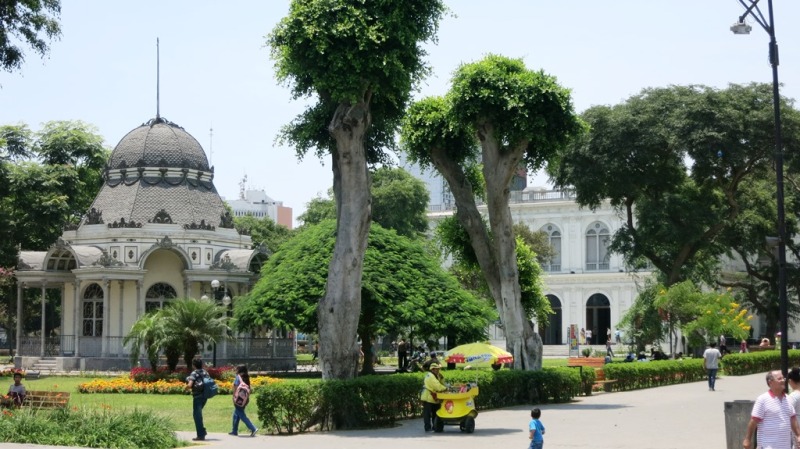 Exhibition Park is central Lima's most beautiful park. You'll have to dismount and walk your bicycle, however, as a no-riding rule is enforced by security guards. Explore the lagoon, a performing-arts theater, the Japanese gazebo and the central fountain.
At the north end of the park, the opposite from where you came in, is the MALI art museum. Behind the museum on the left is an exit to the intersection of Garcilaso de la Vega (same avenue as Arequipa, but different name and no bike path) and the beginning of Paseo Colon, marked as 9 de Diciembre. Ride west (left).
Paseo Colon and Plaza Bolognesi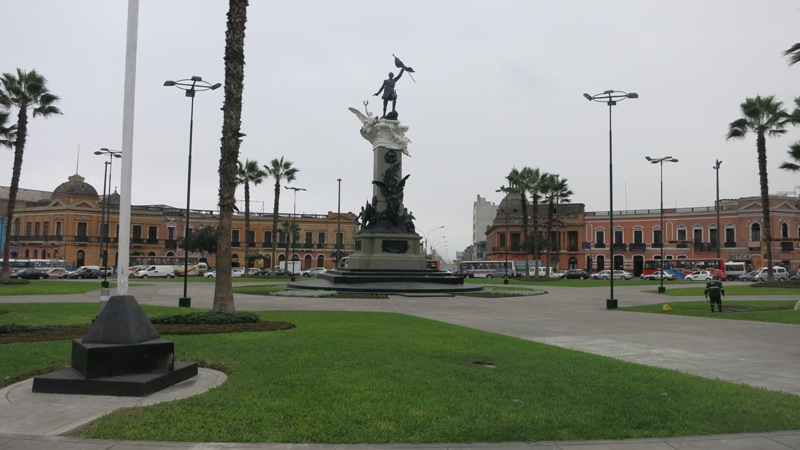 Paseo Colon, or Columbus Promenade, is a stretch of old republican buildings. Cycle down the tree-lined median with a sidewalk that separates eastbound and westbound traffic. After riding three blocks west, you'll arrive at Plaza Bolognesi, a circular intersection of six streets. You want to follow the first street on your left, Guzman Blanco, from where you came on to the plaza.
It's easier to get off the bicycle and turn left to cross on foot, and then turn left on Guzman Blanco. But if you're confident in the Lima traffic, you can circumnavigate the plaza 300 degrees and then turn right on Guzman Blanco. To be sure you're on Guzman Blanco, turn around to see the statue after you've made your turn and left the plaza. You should be able to see Coronel Bolognesi's face, and the flag he's holding should be to the right of his body from your vantage point. You should not be able to see the back of his head.
Go south on Guzman Blanco five blocks until you come to the next circular intersection, Plaza Jorge Chavez.
Campo de Marte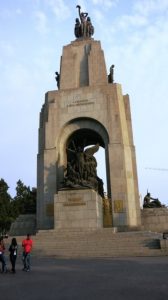 If you pass Jorge Chavez and continue south (straight after the statue), you'll see the Salaverry Avenue bike path inside a wide, grassy median between northbound and southbound lanes. Before getting on the bike path, note the Campo de Marte park entrance on the right.
Explore this park if you like. Try to exit on the east side for easy access to the Salaverry bike path heading south. About a half mile south of Campo de Marte, you'll pass a giant hospital on your left, Edgardo Rebagliati. After the hospital is Parque de los Proceres on the left.

Parque de los Proceres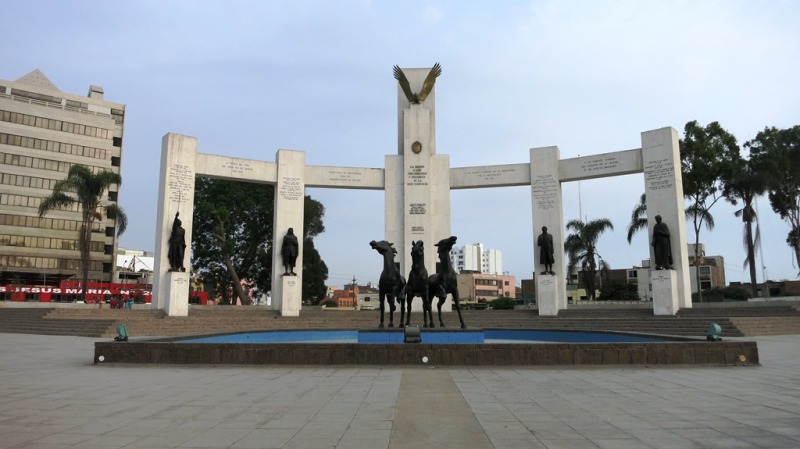 Heroes' Park is a small park with only one entrance facing Salaverry, a block south of Edgardo Rebagliati hospital. Commonly known as "Matamula," Parque de los Proceres has a giant memorial to Peru's war heroes, and can be seen in just a few minutes. Since the first edition of Lima Travel Guide, this park has basically been permanently closed. If it's open, check it out, Otherwise, continue down Salaverry.
Barrio Japones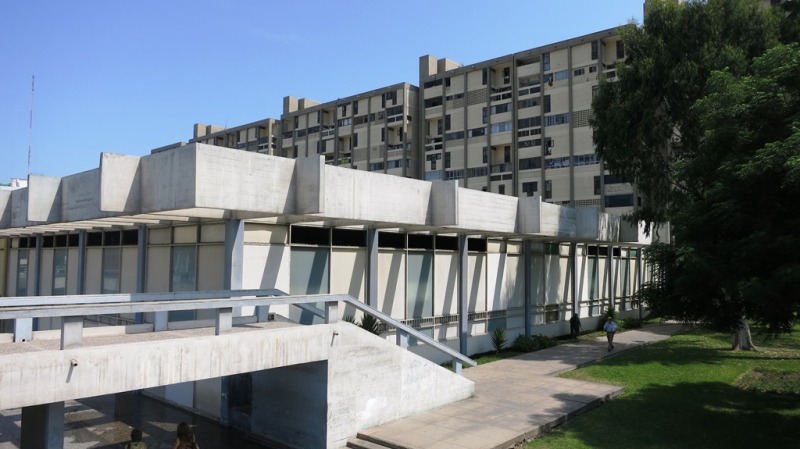 About four blocks past Parque de los Proceres on Salaverry, you'll see the Real Salaverry shopping mall on your right. Immediately before this mall on your right is Lima's historic Japanese neighborhood. It's a large residential area, but only a small border faces Salaverry.
Most of the Japanese-Peruvian community has moved away from the neighborhood, but the architectural footprint remains. The tall, Japanese-style apartment buildings are navigated by sidewalks and parking lots. Exploring Barrio Japones is tricky and easy to get lost, but I always found the Japanese architecture in the middle of South America to be surreal.
When finished, continue south on the Salaverry bike path to pass the mall. The Salaverry bike path ends at Ejercito Avenue, a mile south of Barrio Japones.
Perez Aranibar Avenue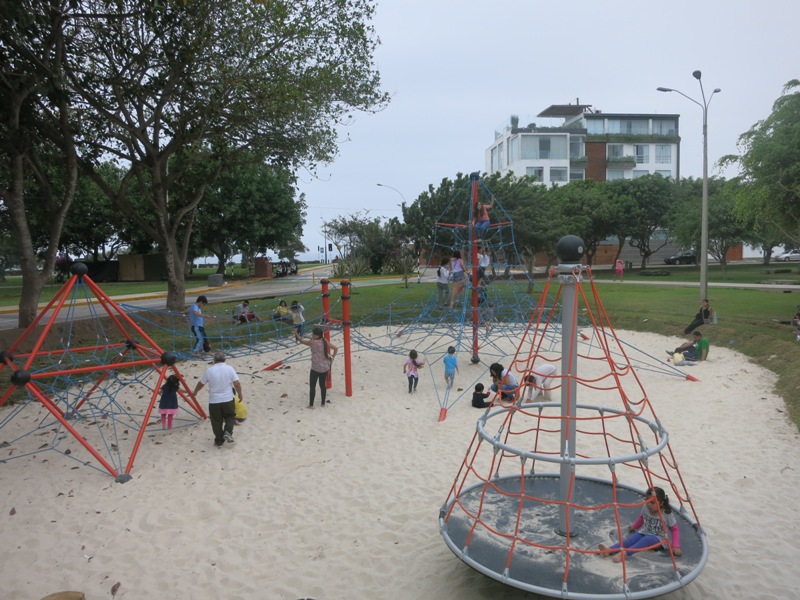 Formally known as Perez Aranibar but usually referred to as Ejercito, you'll know you have arrived because the bike path ended. A Primax gas station sits on the southeast corner.
Pass Ejercito to see the small Parque la Pera, named for the pear-shaped street that will bring you right back to Ejercito. The Malecon below overlooks the Pacific Ocean.
To move on, go back to Ejercito and ride southeast. Or turn right after seeing the park.
A mile down, just before a Repsol gas station, is Malecon Cisneros. It's a fork in the road where you can turn right down a one-way, or continue west on the two-way Ejercito. Turn right down this one-way. It should NOT take you down the cliff toward the beaches. If you don't see the Repsol gas station just after a small blue stadium, do not turn right.
Malecon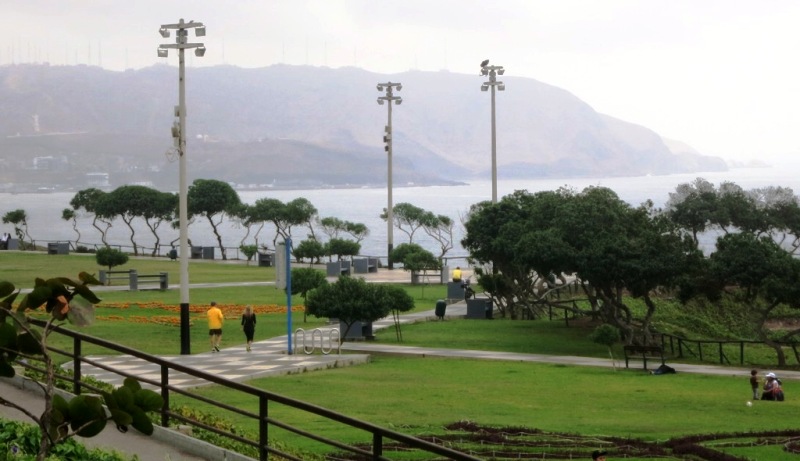 One hundred yards down Malecon Cisneros, a bike path begins and hugs the coast all the way to Larcomar. Our Miraflores Walking Tour sees about a half mile of Lima's Malecon. But from this point, you'll see three miles of grass, gardens, parks and sports facilities in Lima's seaside boardwalk. Not the La Marina lighthouse, a Lima landmark.
After Parque del Amor, another landmark which features a giant statue of a couple kissing, you'll cross a bridge. Continuing down the boardwalk a half mile beyond the bridge, you'll arrive at Larcomar.
Larcomar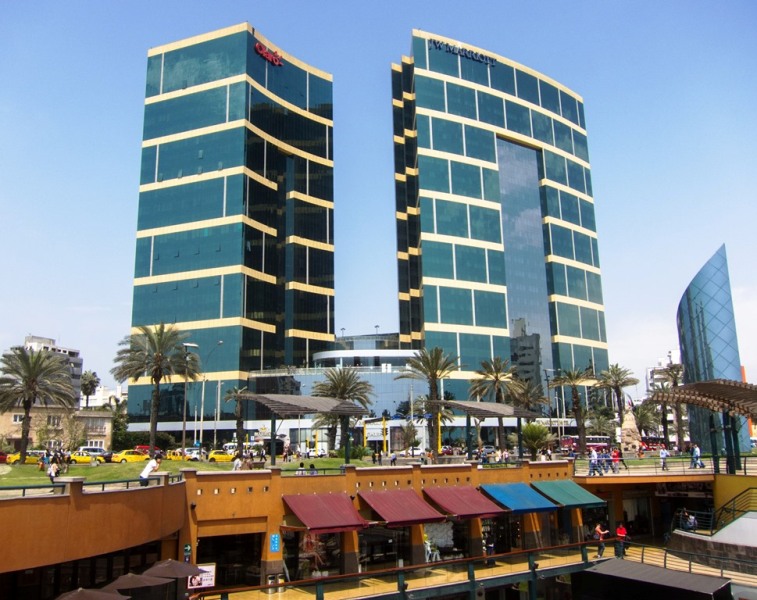 To return to the bike shop from Larcomar, cross the two-way Malecon de la Reserva toward the JW Marriott Hotel. Ride north on Larco Avenue, away from the sea, for seven blocks to Bolivar Street. Turn right and Bike Tours of Lima is on your right.

Short Bike Tour
The short tour has minimal exposure to traffic and can be completed in two hours.
Bike Tours of Lima
Turn left out of the bike shop, ride a half block to Larco Avenue, and turn right. There is a curb-protected bike path on the left side of the street.
Parque Kennedy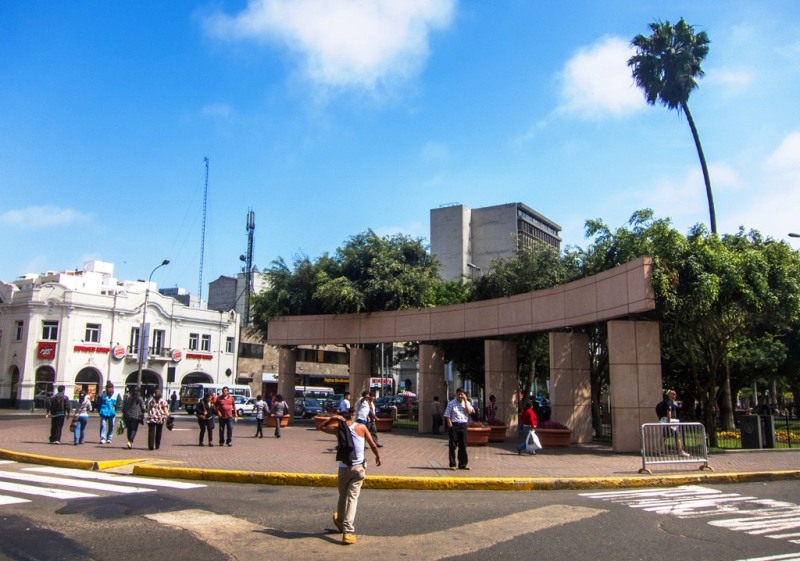 Continue north on Larco until you see Parque Kennedy on your left. After the park is Ovalo de Miraflores, a circle intersection. Turn left at the end of the park and take the pedestrian crosswalk toward McDonald's.
At McDonald's, take a second pedestrian crosswalk towards Saga Falabella, but don't completely cross Jose Pardo Avenue. Turn left at the pathway in the median between eastbound and westbound traffic. This pathway was built for cyclists, so technically a bike path, but there are so many pedestrians walking that you won't be able to ride too fast.
Jose Pardo Avenue
The Jose Pardo bike path runs through the heart of Miraflores, Lima's most popular neighborhood among international visitors. You'll follow this bike path for about one mile, during which you'll pass two circle intersections, both easily crossed on the continuous bike path, until you can glimpse the sea at Parque Grau.
Malecon
The green space along the cliffs overlooking the sea is the Malecon boardwalk, where a bike path extends for miles along the Green Coast.
Turn right to ride north to see more of the Malecon boardwalk, keeping the ocean on your left. You can take the Malecon bike path as far north as a sports stadium where the path ends, after about three miles. To return, simply turn around and take the same bike path back, keeping the sea on your right.
Pass Parque Grau where you entered the Malecon from Pardo Avenue, keeping the sea on your right. Note the La Marina lighthouse, a Lima landmark.
Later you will come to Parque del Amor, home to another landmark in the statue of a couple kissing. After this park you will cross a bridge where the bike path is separated from traffic by curbstones. A half-mile beyond the bridge is Larcomar, the cliffside mall overlooking the ocean.
Larcomar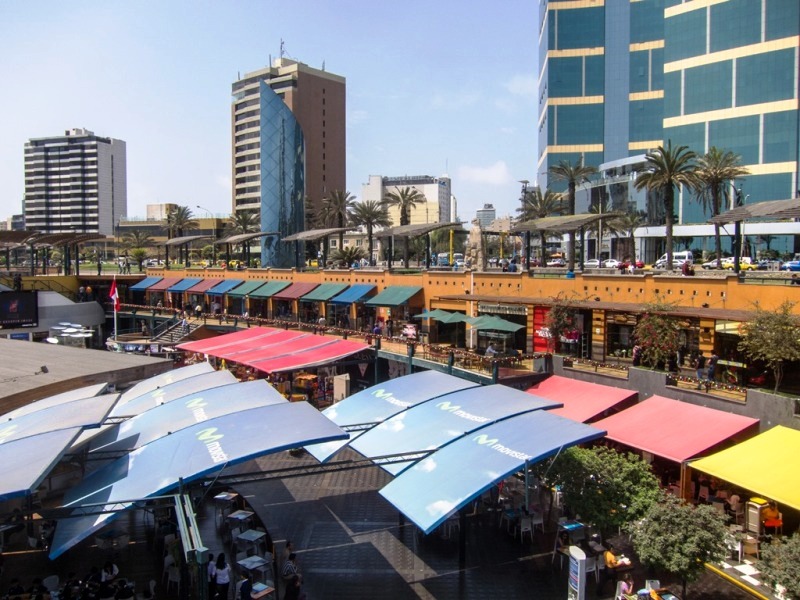 To return to the bike shop from Larcomar, cross the two-way Malecon de la Reserva toward the JW Marriott Hotel. Ride north on Larco Avenue, away from the ocean, for seven blocks to Bolivar Street. Turn right to arrive at Bike Tours of Lima.