My second review of Mistura 2015 includes roasted lamb, barbecued trout, causa, tacu tacu, carapulcra, teriyaki wings and more.
For my first review, my wife and I had only a couple hours to eat before we had to get our son out of school. I had promised to return, which we did with baby and father-in-law in tow on Sunday, the last day of the event.
I thought the last day would be a zoo, but it wasn't as bad as the last day of the 2015 Lima book fair, in which I couldn't move.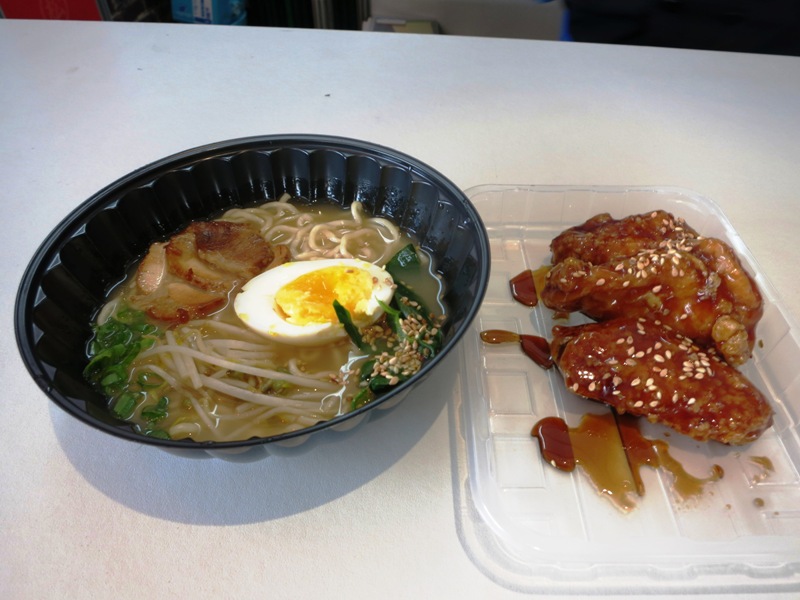 As soon as we arrived I got two half-plates from nikkei (Japanese-Peruvian fusion) restaurant, Omatsu — a noodle soup for the baby and teriyaki wings for the adults. Being American, I've had my share of wings flavored in everything imaginable. But these were, without a doubt, the best teriyaki wings I've ever tried.
With three adults to watch just one baby, I was able to send my suegro to one stand while I bought from another while my wife watched the child at saved our table. Tables are a commodity at Mistura, so if possible you can hog it by sending runners out for food. And I'd recommend that Apega, if they plan to serve 400,000 visitors as they did this year, get more tables.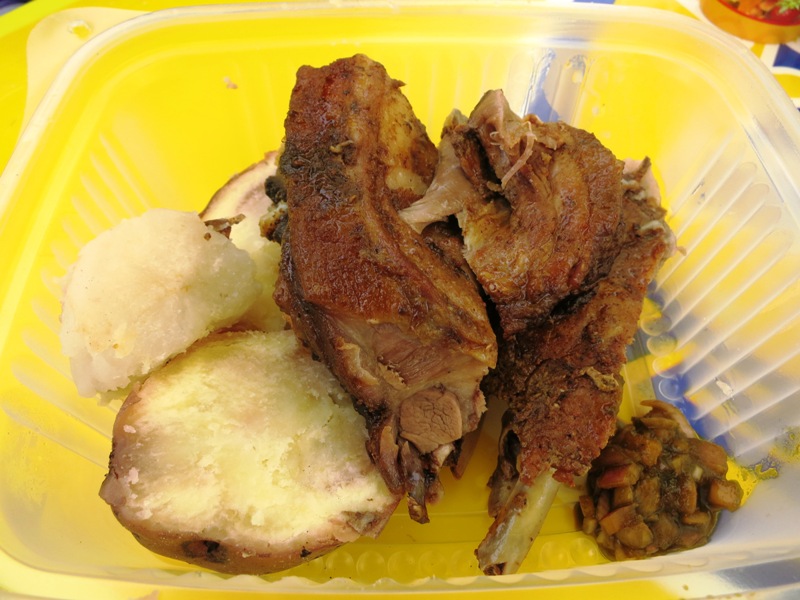 My father-in-law brought back kankacho — roasted lamb — from Puno restaurateur Doña Julia, who I later learned won the best regional plate at last year's Mistura. That did not come as a surprise as this was the best plate of the day. My pregnant wife insisted on getting two plates to-go for dinner. Soft, marinated lamb, must be tasted to be believed.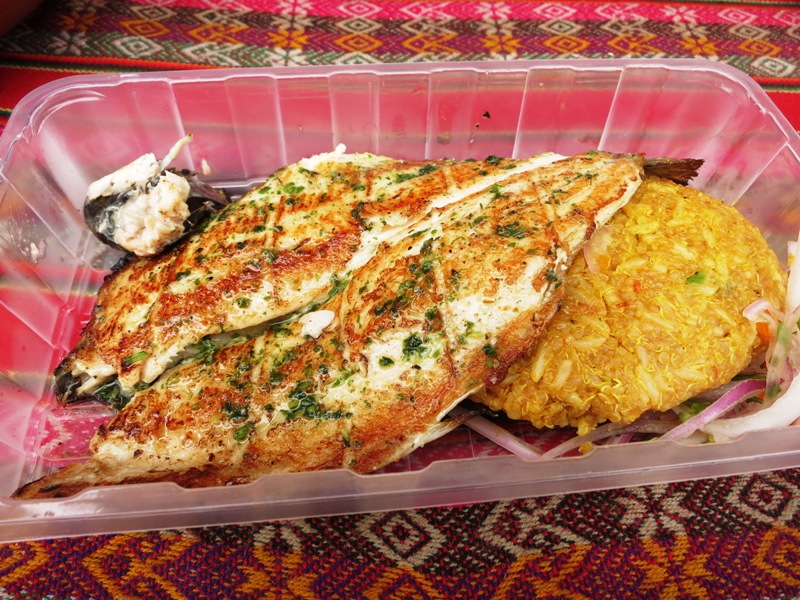 While he got that, I brought barbecued trout with a quinoa Tacu Tacu from El Fundo Palmira in Huacho. It was amazing, and the quinoa Tacu Tacu is the kind of experimentation that Mistura is all about. Not to mention smoked lamb.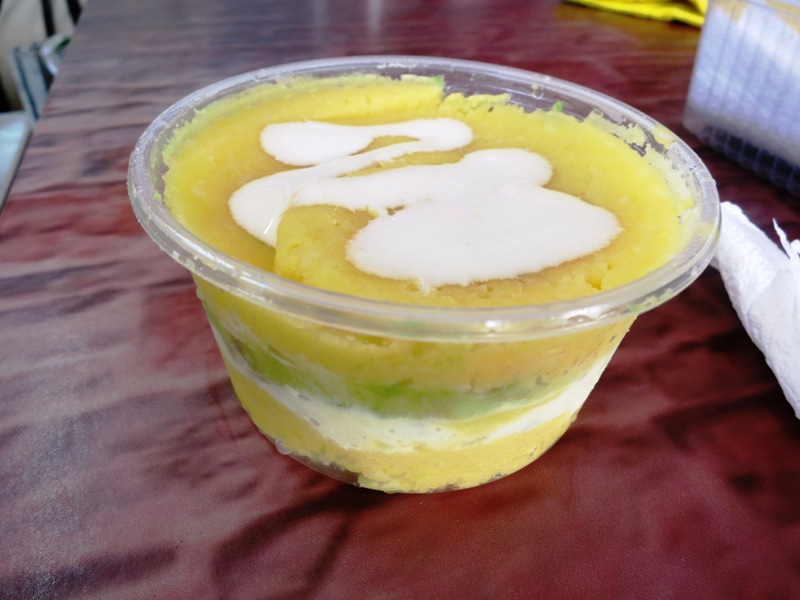 On the next round my father-in-law brought back a simple chicken causa from Fernando's. He's from Arequipa, where causa isn't as common as in the capital. I figured if it didn't have crazy ingredients, then it must be an amazing chicken-and-avocado causa to make the fair. And it was.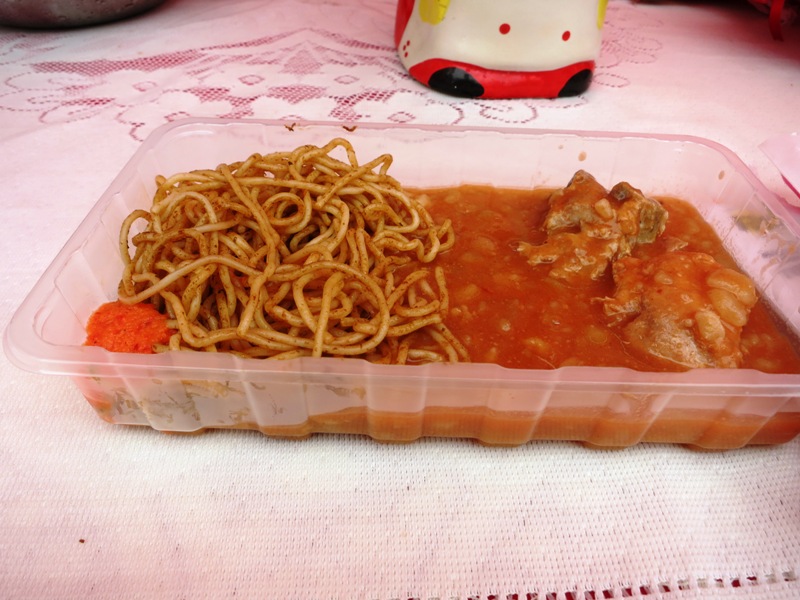 While he brought that, I got a Carapulcra with sopa seca from Ica-based Tia Cachete, which won the 2014 Teresa Izquierdo award. Top-notch Carapulcra made from what I assume is the best restaurant in the region the plate originates in.
I got drinks from Refrescos David, a juice joint specializing in fruits from the jungle. I got aguaje and camu camu — both delicious.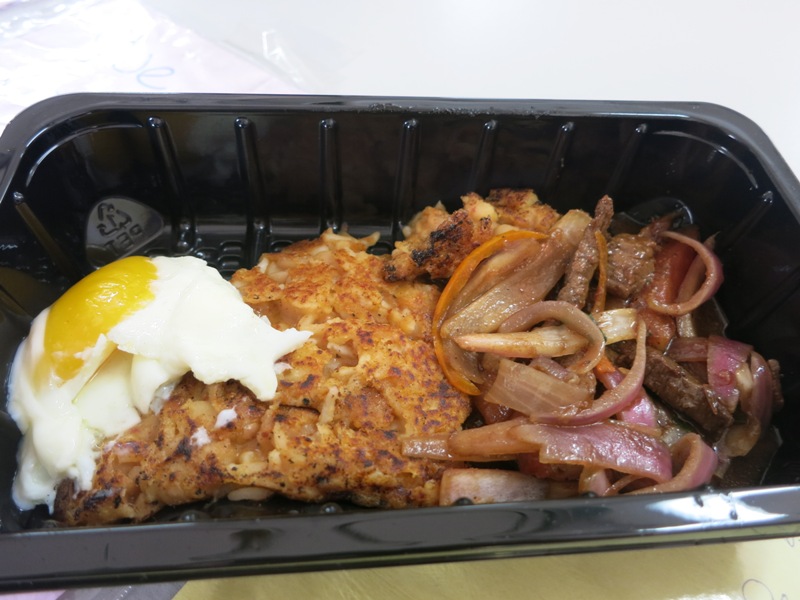 Then I made a mistake in not taking my own advice from my first review: "Skip the stuff you can get anytime." In my defense I wanted to get a crazier causa for the Arequipeño father-in-law. However Chaclacayo-based Kausaq needed 20 minutes to turn out more Causa, and after waiting in line I settled for Tacu Tacu with Lomo Saltado — something I order often in Lima but the old man would never get in AQP. It was a best-of Tacu Tacu.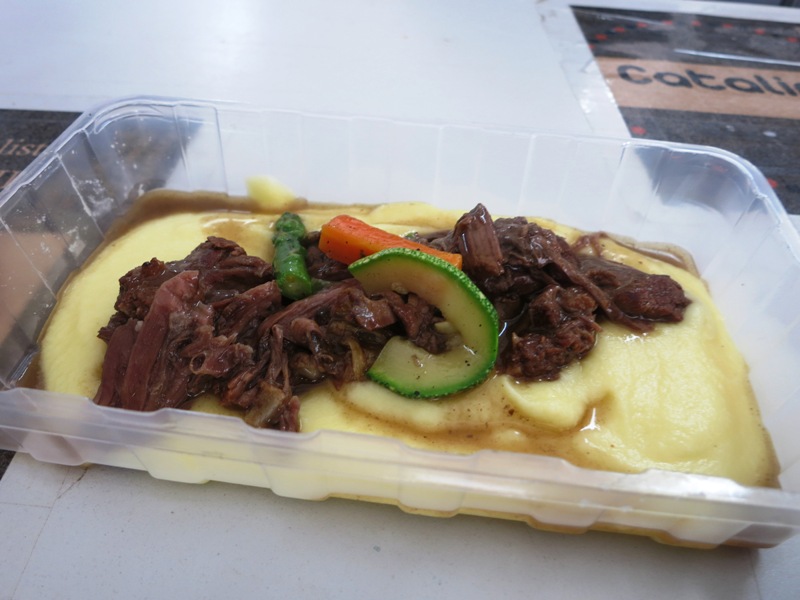 On this round my wife left the table to bring food back while "Abue" watched the baby. She scored the second-best plate of the day from Catalina 555: Asado de Tira Estofado con Cerveza Negra. Beef rib meat marinated in black beer and beef broth, then roasted for 10 hours and pulled from the bone. Sauteed vegetables and mashed potatoes. This is why Lima is the world's best place to eat.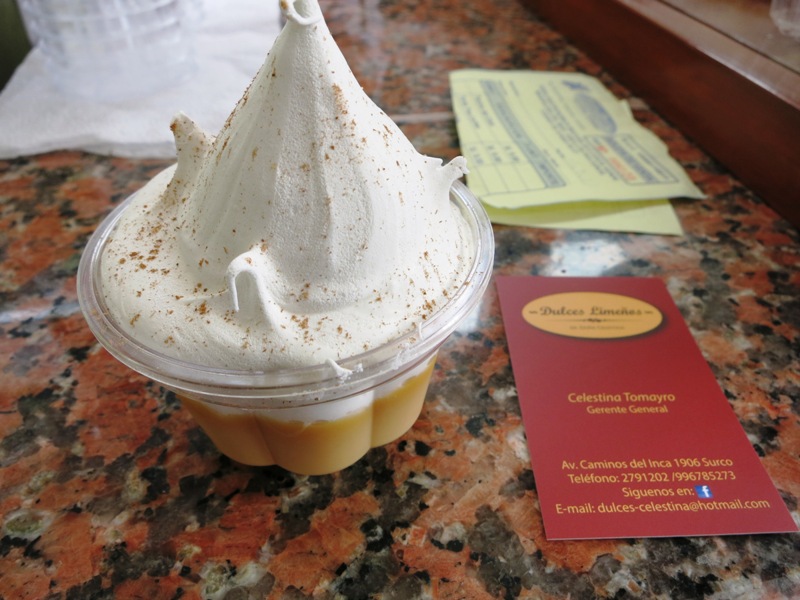 We started filling up and I got a sweet tooth. Peruvian desserts, in my opinion, are nothing to write home about in contrast with the main courses. However the suspiro de limeña, Lima's signature dessert which you don't see much, is my weakness. Ultra-sweet milk custard topped with red wine meringue. It's so sweet just a little will knock that sweet tooth right out.
I had tasted plenty of suspiros and settled on a local joint which is also a culinary school. However I must say that Dulces Limeños De Doña Celestina changed my opinion in that regard. All suspiros are good, but Celestina is worth a trip to Surco.
The wifey got an Arroz Zambito which, while a good version, is just an average dessert in my opinion so I didn't take a pic.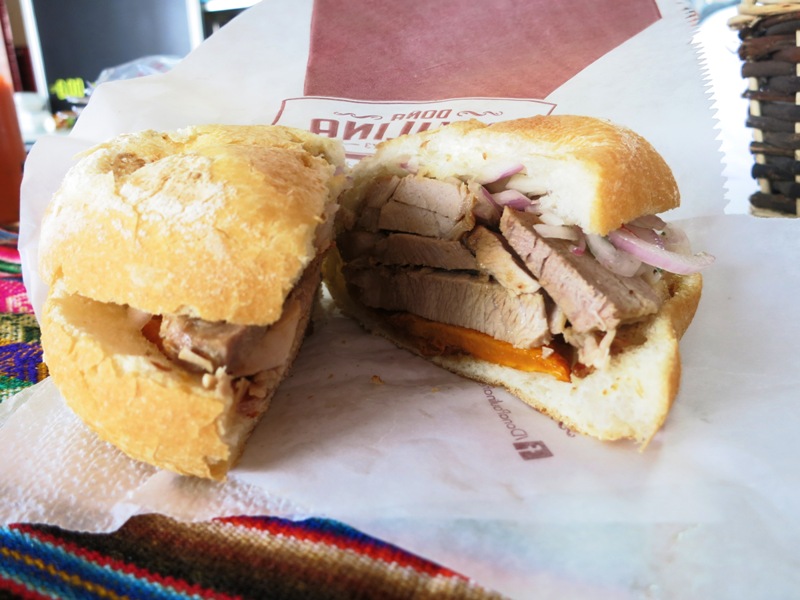 Before leaving the father-in-law wanted a chicharron sandwich, the Lima variant of fried pork. Because Chinito had a long line, I got one from Doña Paulina. It was delicious.
Maybe I shouldn't admit it, but my wife saw the USDA Porterhouse stand and wanted an American-style cheeseburger. That should be sacrilege at Mistura, but something about South American burger joints does something wrong with the beef. It doesn't come out right. So I got her a cheeseburger and it was good. That grade of beef is sold at Tottus.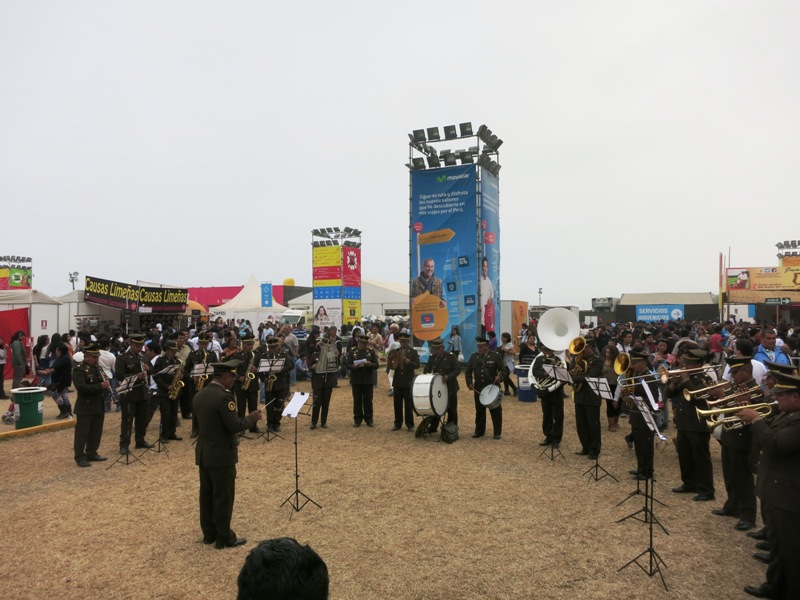 We hung out for a while and caught some entertainment. My father-in-law is a police officer, so he enjoyed this orchestra.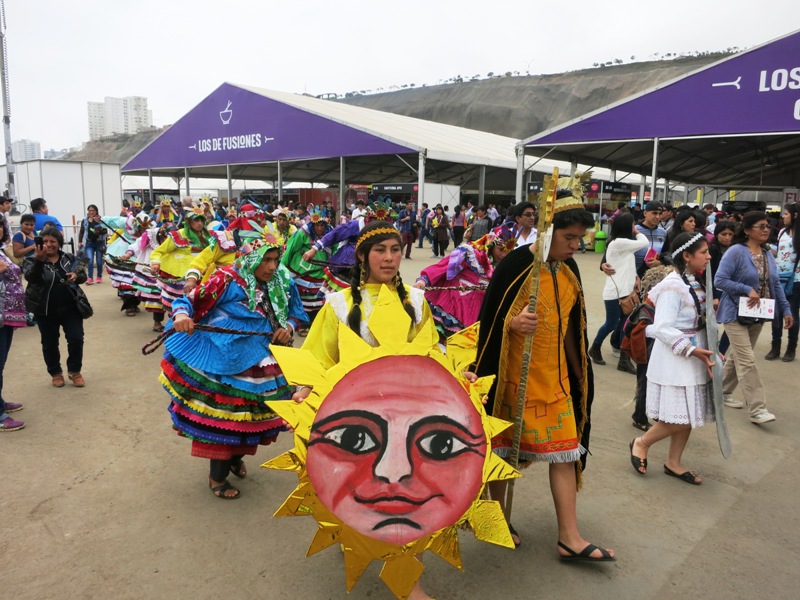 The Inca procession.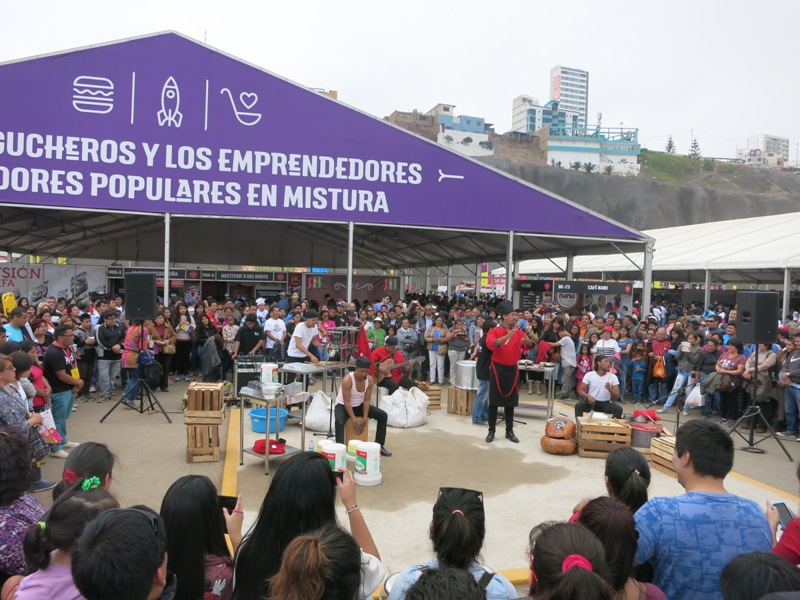 The cajon is an Afro-Peruvian tradition.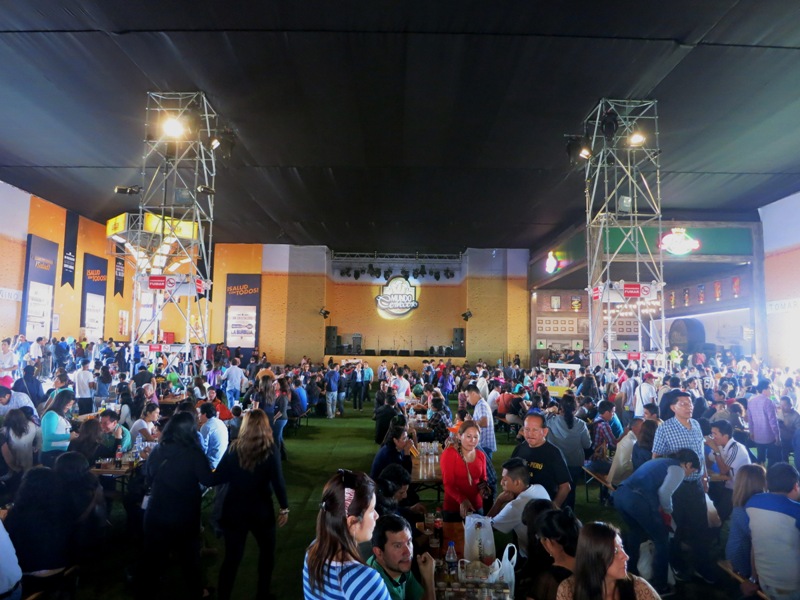 We went into the Mundo Cervecero beer garden with the idea of getting a beer, but they only accepted cash and I had a ton of tickets to burn.
Tips
Wear sunblock. At least if you're a ginger like me, don't let the overcast day fool you. I got burned. We're in a tropical climate and you're next to the sea.
Hog a table. Maybe not the nicest thing a citizen can do, but when you have a baby it makes a difference.
Don't get sick. I ate so much I was sick for a day. But you know what? It was worth it! Disregard this advice!
Pictures
For slideshow viewing in high-res, see all the Mistura 2015 pics Barry ad I collected over three visits on the Lima City of Kings FB page.