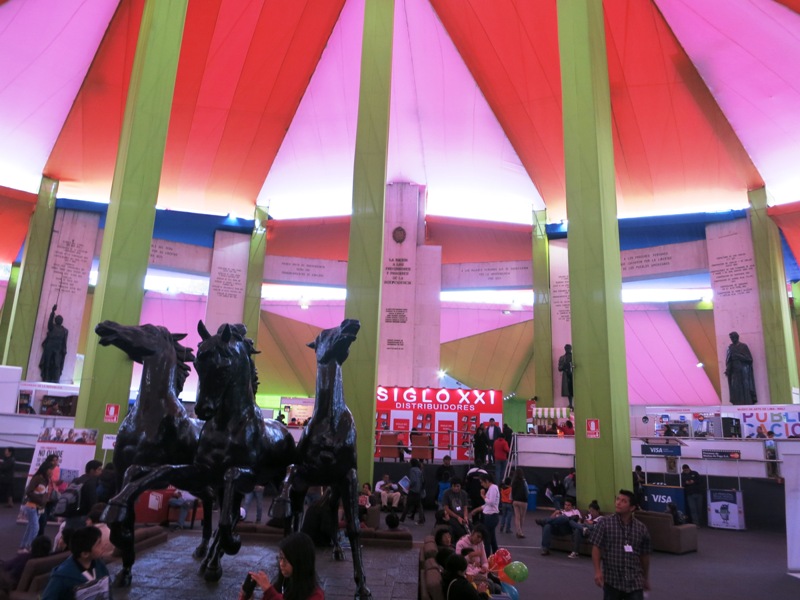 Lima held its annual book fair over the last two weeks in Jesus Maria. The 20th edition of the fair attracted over 500,000 visitors and sold over $4.3 million of merchandise, a record year.
The fair was held at the Parque de los Proceres, a name which about zero Peruvians know the park as. With taxi drivers, it's better to call it "Matamula," but that's another story.
I used to live a block from Matamula and I did my physical training routines there. So I felt a deep personal connection with how they built the giant tent around the giant structures where I had done so many handstand pushups, back bridges, etc.
The fair had 155 sales stands from universities, embassies, publishers, book sellers, government ministries, and other companies representing 15 countries. Events included international authors, public readings, live music and kids' stuff.
I went four times, three with my boy, and I missed one of my favorite Latin American authors by one day. Hector Abad Faciolince wrote "Oblivion" ("El olvido que seremos" in Spanish) about his father Hector Abad Gomez, a liberal mayoral candidate for Medellin who was assassinated by right-wing paramilitaries. The book is about Colombian paramilitaries, but the book moved me for how much Abad loved his father. The book changed how I would approach raising my son. See my review of Oblivion.
Obviously, book opportunities at the fair were endless. For those looking to become experts on Peru or Lima, you can only go so far with English readings. You have to go Spanish. And in this fair you had all the giants of Peruvian publishing in one place: PUCP, San Marcos, Pacifico, Instituto de Estudios Peruanos, Ministerio de Cultura, all the for-profit publishers.
I'm just scratching the surface, and I'm biased toward history and economics. Hence the pubs in my list. Whatever your taste, it was there.
I was impressed by the Colombian embassy's stand. The most curiously represented organization was state-oil firm PetroPeru, for which I can't imagine a reason to have a publishing arm.
I was surprised by the presence of two governments I wouldn't think have the cash to shell out for book-selling stands in other countries' trade shows – the Bolivarian Republic of Venezuela and Cuba.
I was also impressed at the native languages exhibit from Peru's culture ministry. I got four shots of books and interactive activities and a rolling film showcasing not only Quechua but also Aymara, Shipibo and more.
Also worthy of mention was the Japanese embassy going the extra mile by bringing in models in geisha getups. Not so worthy of note was Alas Peruanas university bringing in Peruvian models dressed in spandex.
For a gringo without family in Lima, I would highly recommend the fair if not for the books then for the networking. It was without a doubt the most middle- to upper-class, educated Peruvians who prefer cleaner forms of entertainment that I have ever seen concentrated in one place. Great for networking or making friends.
For slideshow viewing in high-res, see the International Book Fair of Lima 2015 album on the Lima City of Kings FB page.