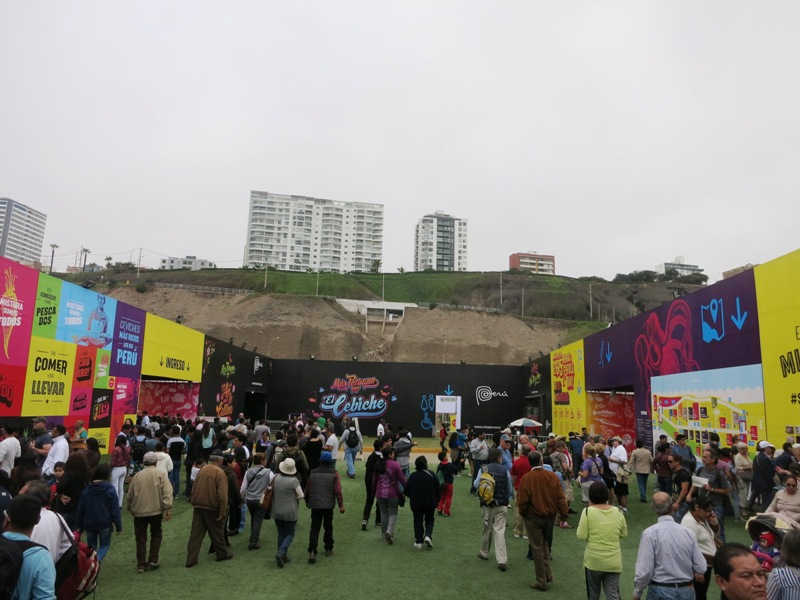 Over 100 pictures and description of Mistura 2015. For info on the event see Mistura 2015: info and links for Lima's food festival.
I went to Mistura Monday morning. The timing was partly planned to avoid the crowds on the weekends. And we had to be in and out of there in order to get our son out of preschool at 12:45 p.m. Jump to the pics.
They opened the doors at 10:30 a.m. and we enjoyed the first hour of Mistura with almost no lines. Unfortunately many of the restaurants were not ready yet. We'd ask for food and they said, "10 minutos."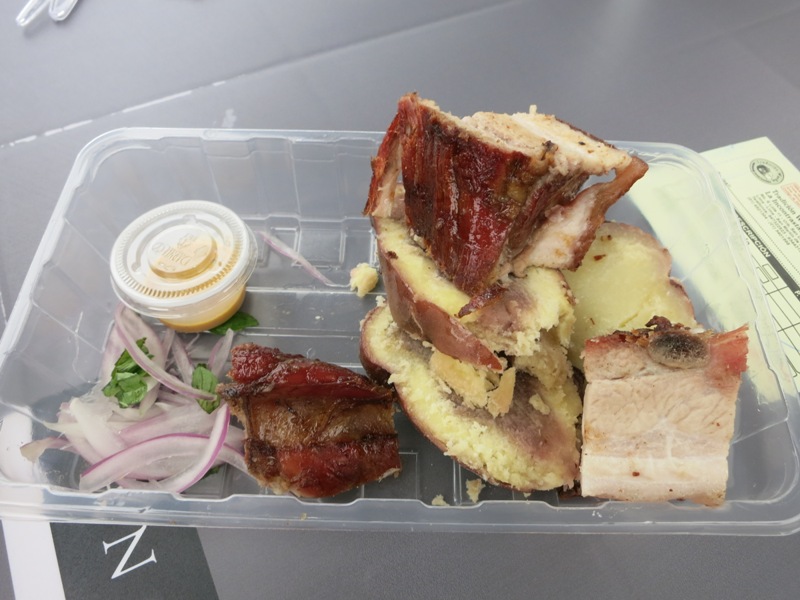 My wife was starving so we got a chancho al palo from Tradicion Wanka right away.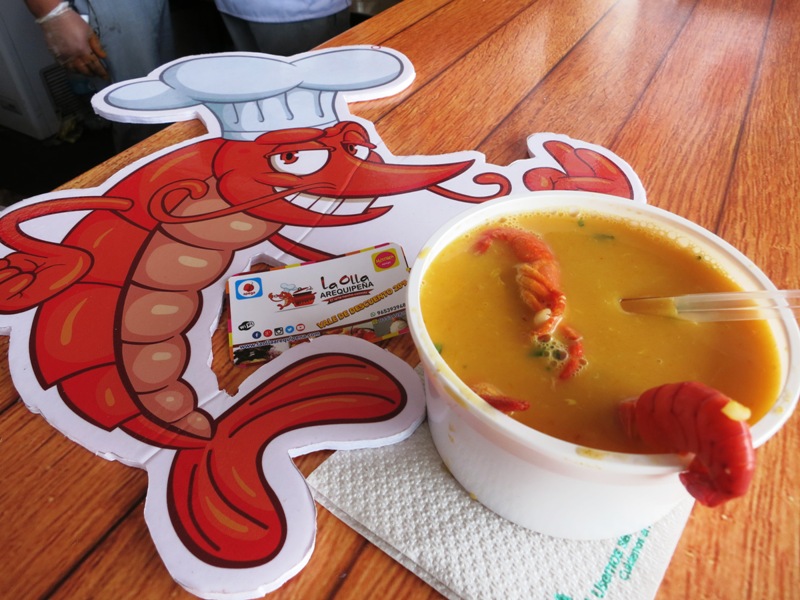 Then a half portion of Chupe de Camarones, my Arequipeña wife's favorite soup from La Ciudad Blanca. Kind of interesting how it turned out. Arequipa has an unbelievably wide cuisine all in its own, and I generally don't recommend the Arequipa restaurants in Lima. I don't know if it's the altitude or what, but I know Arequipeños living in Lima who say the same: don't eat at the Lima picanterias.
However we agreed that this was the best Chupe de Camarones we ever had, and she is a chupe aficionada. So I thought, "Where in the hell is La Olla Arequipeña?" Arequipa is a small city and we would certainly know a restaurant that good. So I went back up to the stand and asked. They're in Comas! It takes all types.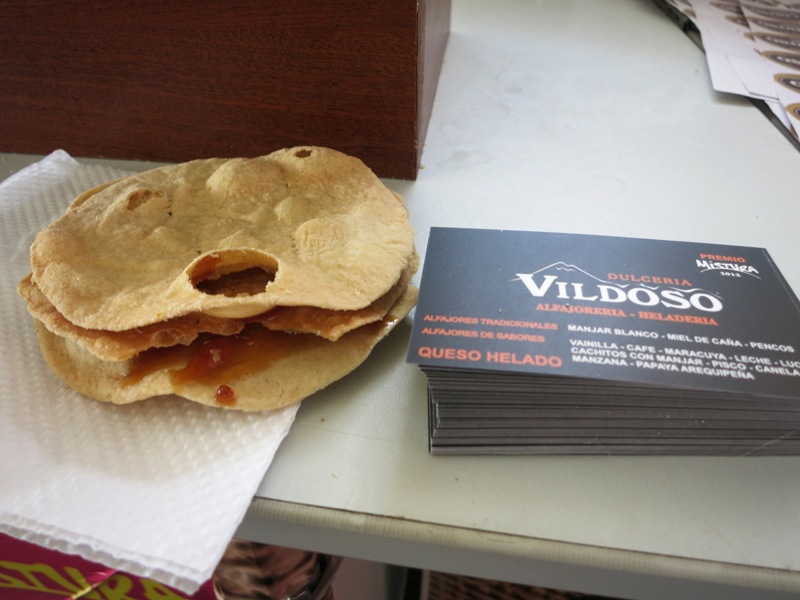 I also got an alfajor from the Arequipa institution Vildoso. Later wifey insisted on a rocoto relleno from La Lucila. That made three Arequipa purchases on the day. She devoured it before I could get a pic. See rocoto relleno from Arequipa Travel Guide.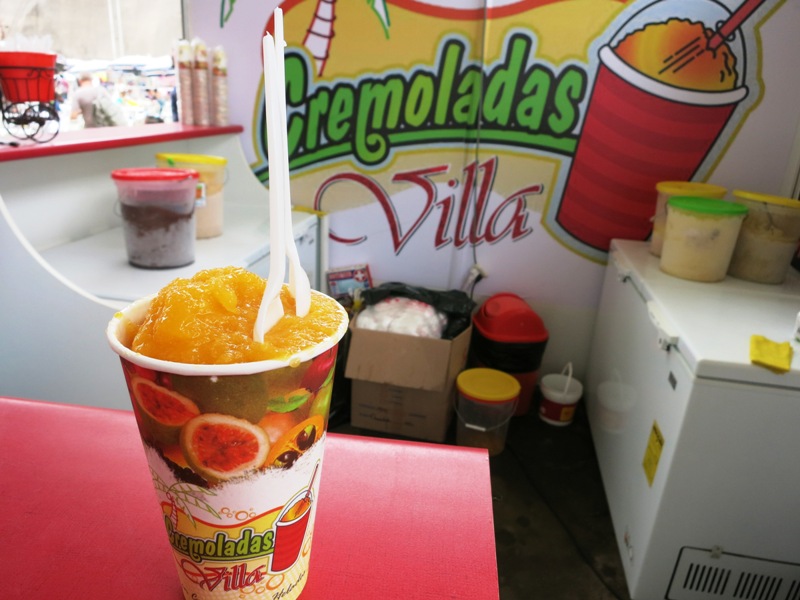 If you don't know La Lucila's rocoto relleno, suffice to say it's spicy. So the wife asked for something sweet to wash it down. I got this mango cremolada from Cremoladas Villa. My wife and I have had more than our fair share of cremoladas at the beach, and this one was excellent.
It was so good she wanted another one to-go before we left. To be fair, I explained, it was certainly a superb cremolada. However to get into Mistura, you have to be good. So everything is really good. Any cremolada that is on sale at Mistura — or any rocoto relleno, ceviche, tacu tacu or pisco for that matter — is going to be excellent. I convinced her and we got a cremolada from a different stand, which was also excellent.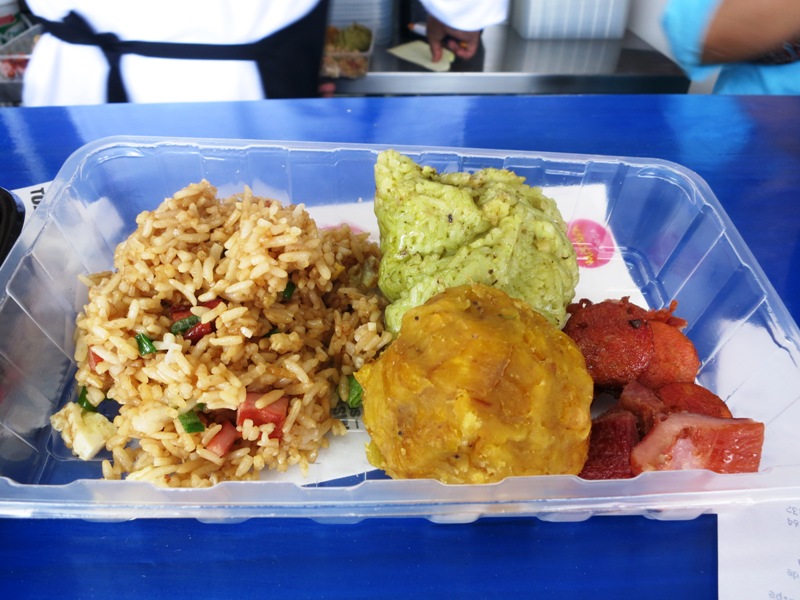 I got a ronda selvetica, or jungle platter, from El Pichito which featured chaufa with pork, juanes (chicken-flavored rice), tacacho (mashed plantain) and cecina chorizo.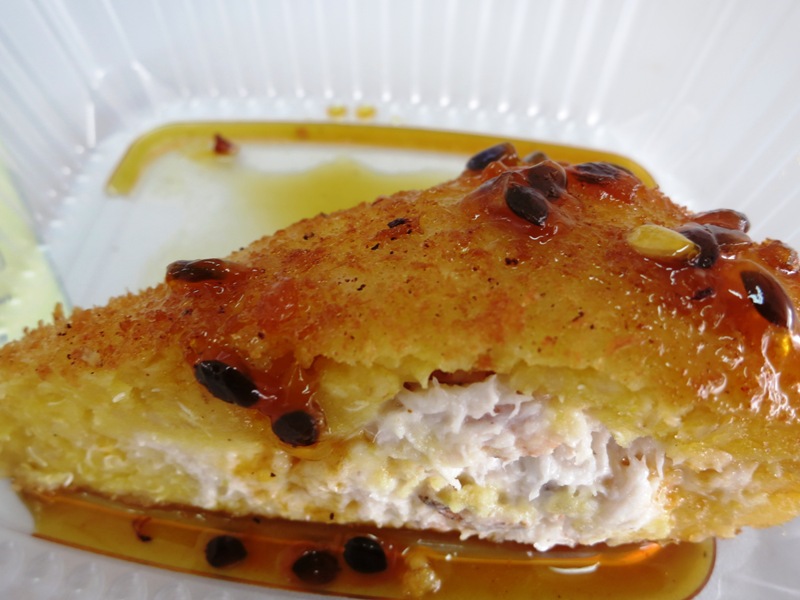 Being a big fan of causa, I headed to the "From the Sea" tent to find one to throw down on. I spotted an odd creation at Tumbes Mar La Molina – causa crocante or crunchy causa. It was deep-fried and drizzled with a sweet maracuya sauce. That is what Mistura should be about: trying new things.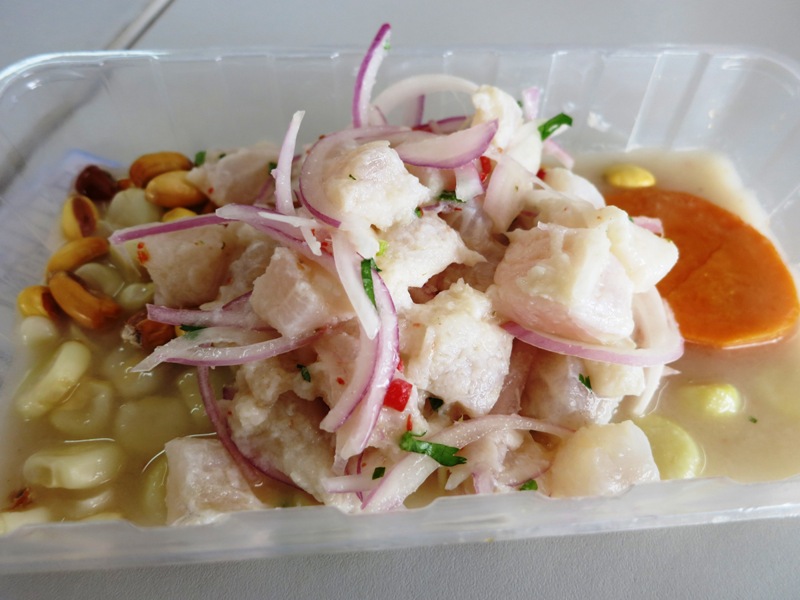 Being in the neighborhood, I couldn't help from getting a standard ceviche. So I got a half portion at Punta Sal. The lime juice was unbelievably fresh. I should have gotten an Arroz Misturero too.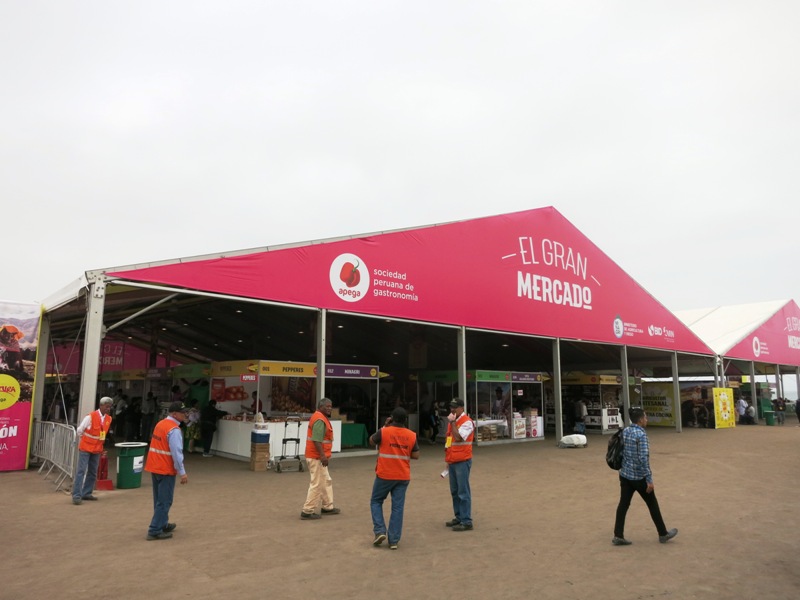 While most of Mistura sells prepared foods, the Gran Mercado sells produce and specialty products from all the regions of Peru. There was everything you could imagine from Peru: potatoes, yacon, guanabana, camu camu, tomate de arbol, other fruits, all of Peru's different peppers, maca, stevia, cheeses from the south, hams from the north, chocolate in all its forms and more.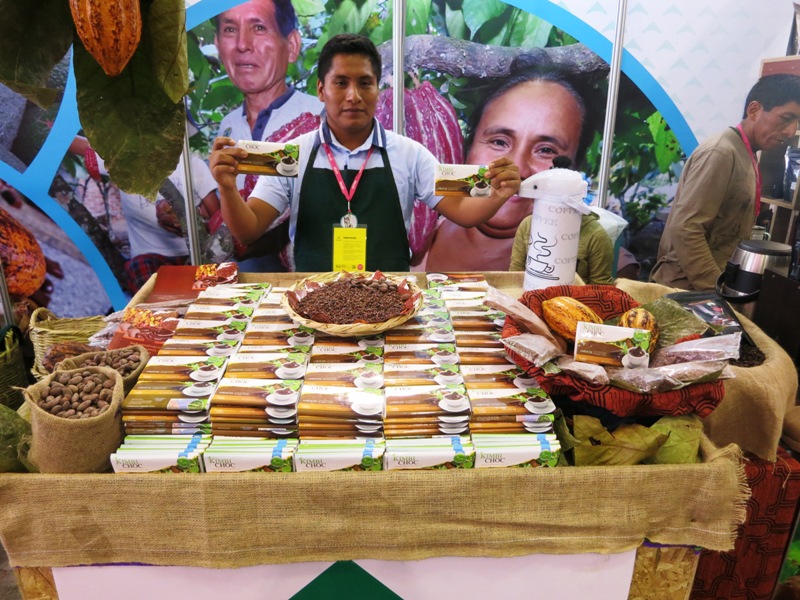 I bought some cocoa paste from the VRAEM. The guy had a nice display and quickly served me a steaming hot sample of sugar-free cocoa and it was everything you could imagine cocoa butter to be, so I took a brick for 5 soles to go.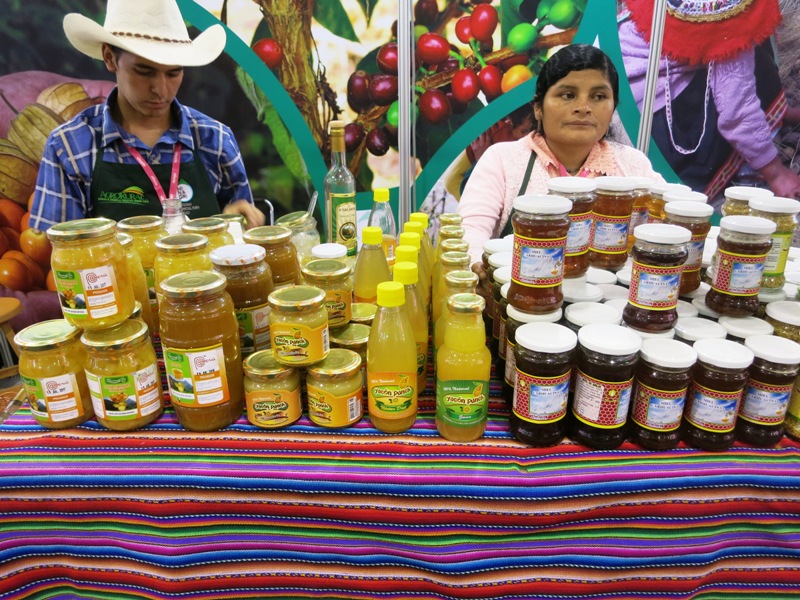 Later I found a stand selling Yacon products from Cajamarca. Yacon is interesting in that it is sweet but its sugar is inulin, which is indigestible by the liver. So it does not spike your blood sugar. Dr. Oz featured it on his show. I drank a bottle of Yacon punch for 3 soles. He offered me a sample of Yacon liquor but I respectfully declined.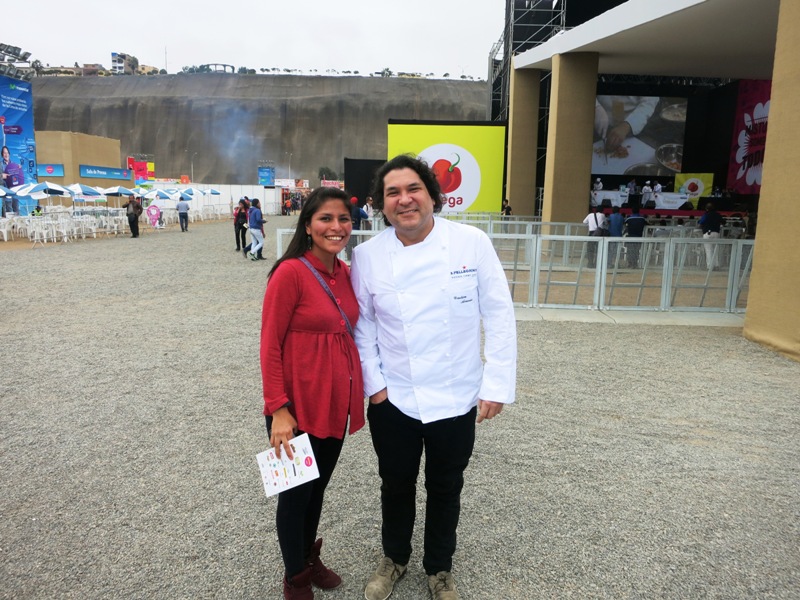 There were so few people that, when I spotted Gaston Acurio, I convinced him to pose for a pic with the pregnant wife. I told him we planned to name the boy "Gaston." Too bad it's a girl.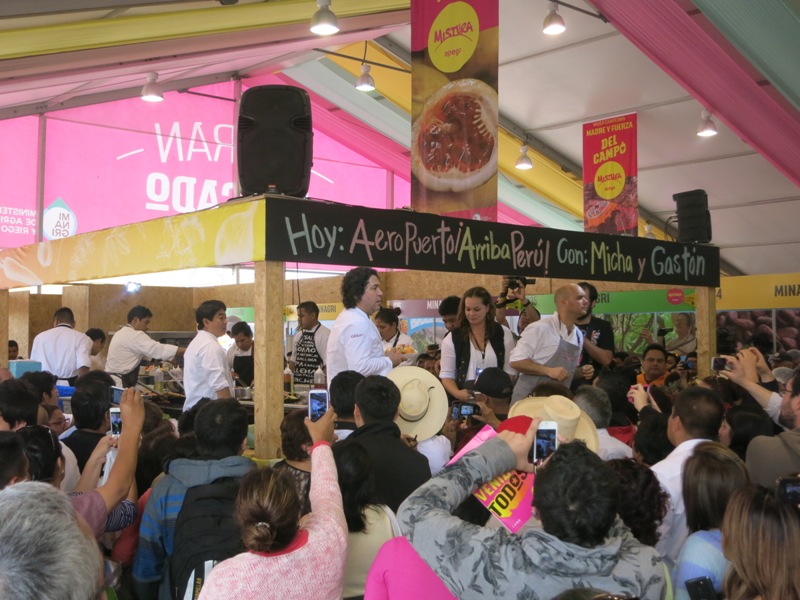 Later Acurio participated in a cooking demonstration with Japanese-Peruvian fusion chef Mitsuharu "Micha" Tsumura. There were hundreds of people vying for a view so I moved on. The next day I read in the news that they turned out a special aeropuerto which they sold for as little as 5 soles. DOH!
Tips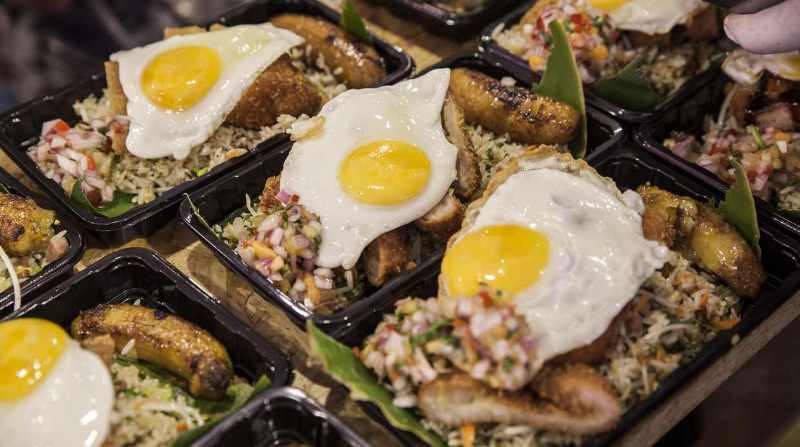 Buy anything the celebrity chefs make.
They're probably not looking to turn a profit, and it's probably delicious.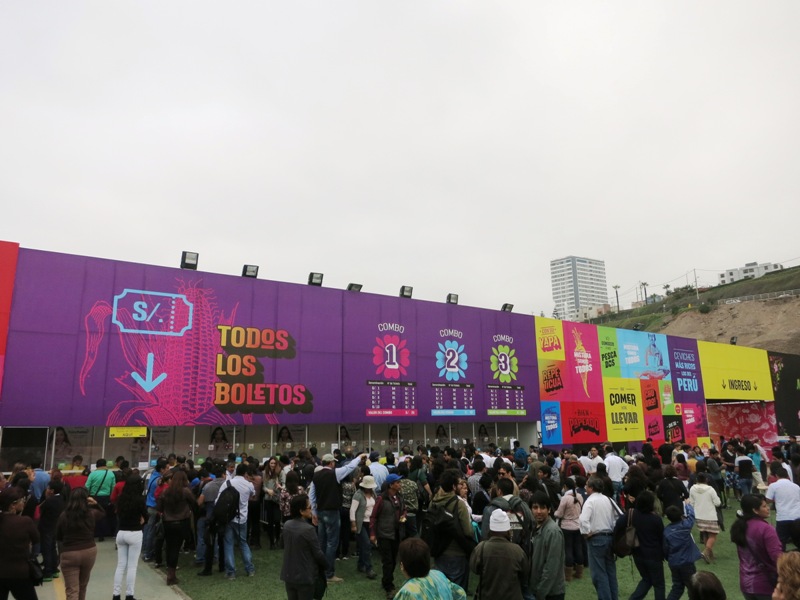 Don't buy tickets at the entrance.
The food stands don't take cash, they take tickets. There are ticket vendors all over the fair. However the longest lines were at the first ticket vendors just inside the entrance – people who apparently believed it was the only ticket stand.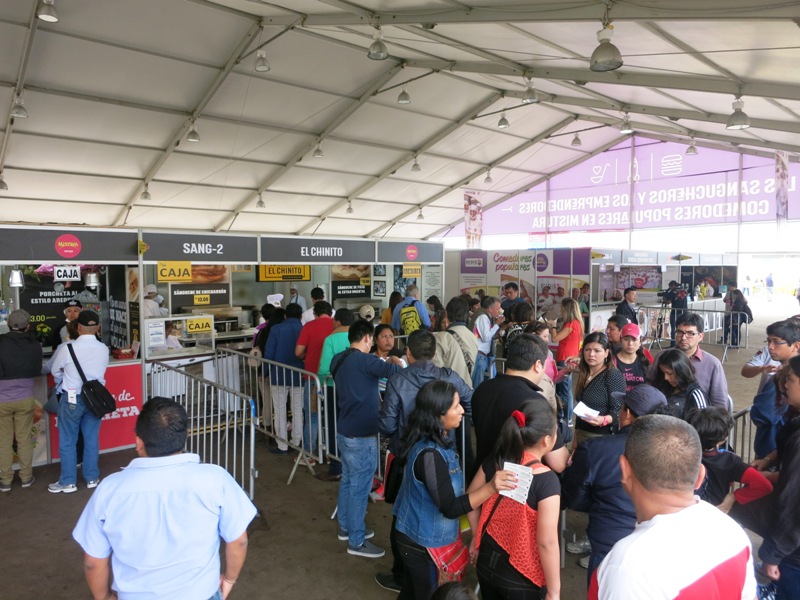 Skip the stuff you can get anytime.
I couldn't believe the line at El Chinito (above, notice no line at the other stands) despite their having four locations in Lima. If you live south of Javier Prado, you can have it delivered. Why would you queue up for it at Mistura?
However I was guilty of indulging every Arequipa craving my wife had, despite our visiting at least twice a year. In hindsight, Mistura should be 100% trying new things like the causa crocante from Tumbes Mar which, while in Lima, I would probably never go all the way to La Molina to eat ceviche.
Always ask for the half order.
There are so many things to try, and everything is delicious. They would not have gotten into Mistura if it wasn't good and you're not going to try anything, your share of stomach is the scarcest resource for Mistura. Don't get anything at a full portion. And despite the delicious cremolada I had, I would not get it again because it was 7 soles and not small.
Blow some cash.
Despite the fact we were only two who would be there only two hours, I bought 100 soles of tickets. Mistura is not the time to be frugal. Change a lot of cash into tickets and spend it like Monopoly money.
Go more than once.
Lima residents and people who feel they have sufficient access to Peru's best cuisine can skip this piece of advice. But if you're a tourist or only living here for a temporary assignment, you should be there at least twice if not three times or more. It's like going to a buffet but, unlike a buffet, you can try the best version of each dish.
This last tip might stem from the fact that we tried to squeeze it all in with just over two hours. I was angry when it was time to go. While it was a nice way to squeeze in a nice feast for me and the wife, I wanted more. So I'll be going back. Unfortunately it will probably be over the weekend so I'll have to brave the crowds.
Stay tuned for Barry's review!
Pictures
See the Mistura 2015 album on the Lima City of Kings Facebook page.