Lima's annual food fair featuring Peru's gastronomy has moved to the Rimac district for its 2017 edition, and a change of date moves the festival to early spring.
Latin America's largest food festival is usually held in September, when it's cool and overcast, and the last few years were along the coastline in Magdalena del Mar.
New location in Rimac
Mistura 2017 is being held inside Club Internacional Revolver, with the entrance at the top of the Alameda de los Descalzos in historic Rimac at the bottom of the Cerro San Cristobal mountain.
Apega had been hoping to designate a permanent site for Mistura, and it had also been looking to get away from the Costa Verde. Having a permanent site for such an important event is self-evident, but the Costa Verde would never do because it was so difficult to get to. It's not centrally located, there is no existing public transportation and it was difficult coming and going to a location on a highway separated by a barricade.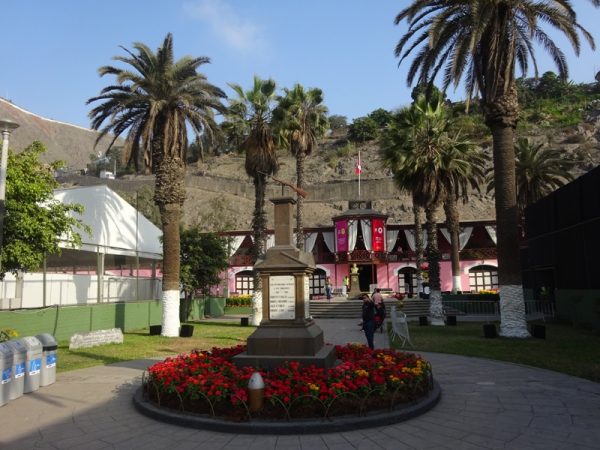 In my opinion, the Rimac location is a 100% better. Not just because of logistics, but it also gets tourists off the beaten path and into an otherwise overlooked historic area of Rimac. The only thing the Costa Verde had going for it was the sea and cliffs. But Rimac has the Cerro San Cristobal mountain, the alameda, historic Lima architecture galore and a short walk from downtown Lima.
Late October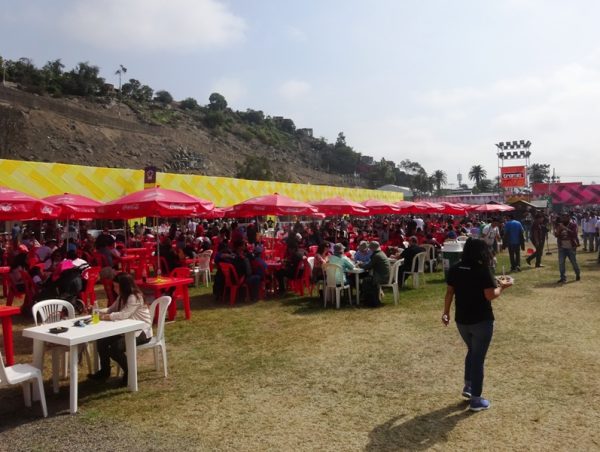 Apega also seems to be experimenting with a new time with the late October and early November dates. On the way in to the festival, I thought this would be a great feature for international visitors coming to Lima specifically for the food because they could also see the Señor de los Milagros procession, although I imagine downtown Lima will be absolute chaos today (Mistura and Señor de los Milagros procession on a weekend!).
However, I had second thoughts as the afternoon sun came out. We were constantly searching for shade, and there simply isn't enough for everybody.
What's worse is that it's too hot to enjoy some foods. I'm sure the ceviche stands did great, but I bet this was a bad year for anybody selling soups, heavy dishes like tacu tacu or Arequipa food and definitely the coffee vendors.
The Lima winter is mild with no sun and temperatures in the mid-60s. It's not too cold to eat ceviche and drink pisco sours, and there is no oppressive sun discouraging many of Peru's best foods.
Finally, Mistura was notably scaled down from last year. Less foods, less beverages, no food trucks. I imagine this was in response for being criticized last year for having too much. I was indifferent on this point, but I did notice that some items were not available this year. I only saw one stand selling carapulcra, and I couldn't find a cremolada in the blazing sun.
My two cents. On to the food!
Food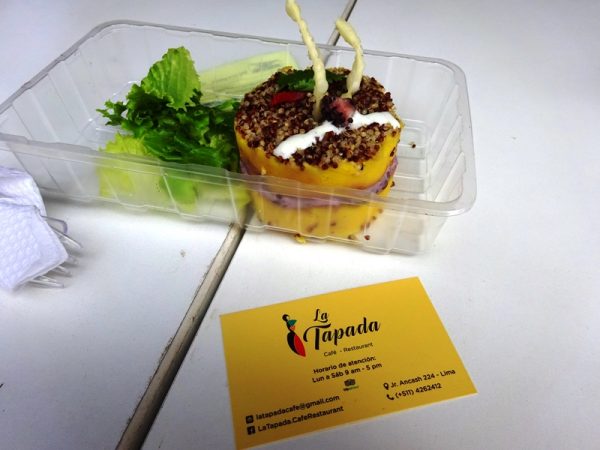 Causa de pulpo al olivo (octopus in black olive sauce) topped with quinoa, from La Tapada in downtown Lima.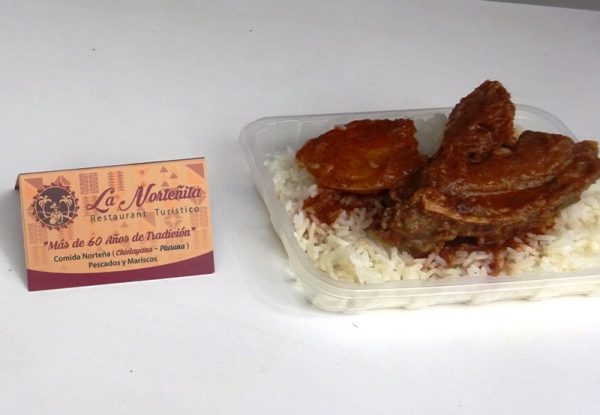 Seco de cabra (goat) from Rimac-based northern-style restaurant, La Norteñita.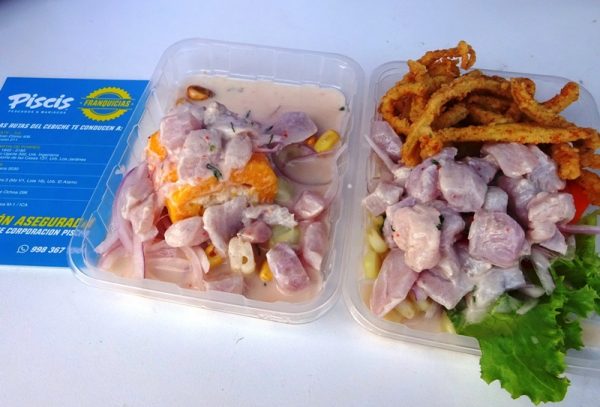 Causa acebichada and a ceviche. Causa acebichada is the most wonderful innovation in food I could imagine, as a lover of both causa and ceviche. I've noticed it popping up everywhere just in the last year. It's causa soaked in leche de tigre with a few pieces of raw fish … heavenly. These two from Piscis, a cevicheria chain with most locations in north Lima.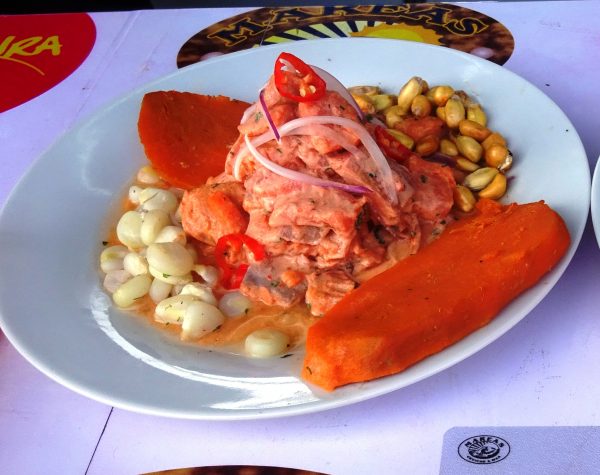 Each year my wife and I designate a winner for the year. Obviously we can't try everything at Mistura, but the best dish we had this year was the trout ceviche from Puno restaurant, Mareas. They also served a trout chaufa, which was also delicious.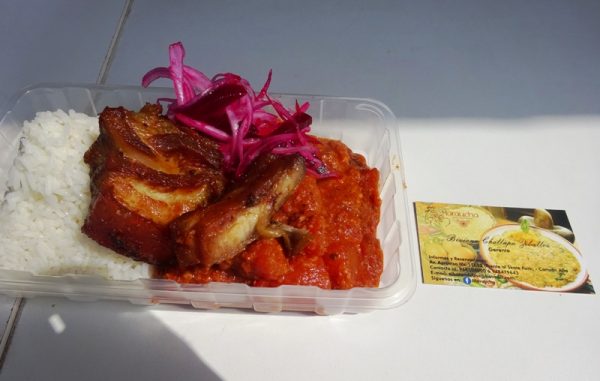 Runner up would be this surprise treat, Ayacucho-style Chicharron with Puka from Maraycha. I had a bit of cognitive dissonance walking the puka back to the table, but its strong peanut flavor was delicious.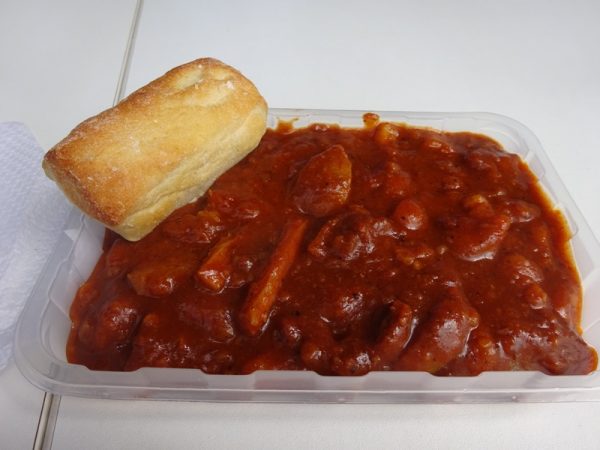 Another surprise was this Picante a la Tacneña, which I had never heard of but is apparently the regional dish of Tacna. The flavor was amazing, I just wish it had something besides tripe and cow's feet as the protein! They had no business card, and I can't find "La Tacneña" anywhere on the web.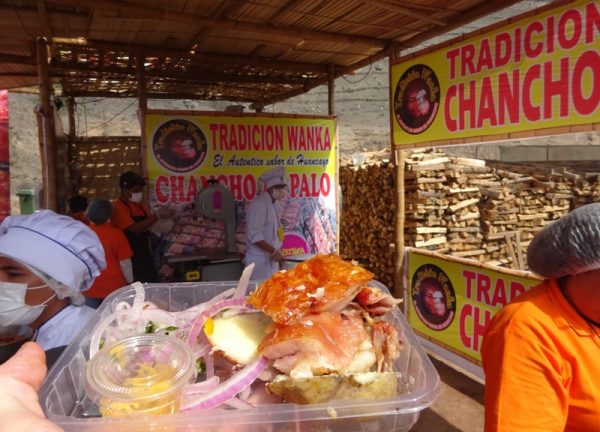 Chancho al palo or caja china, barbecued pork, is a mainstay at Mistura and any street festival in Lima. San Martin de Porres-based Tradicion Wanka serves theirs up each year.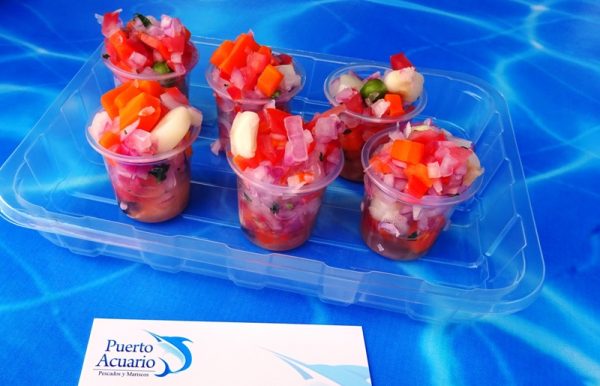 Choros a la chalaca from Puerto Acuario, which interestingly was serving only choritos.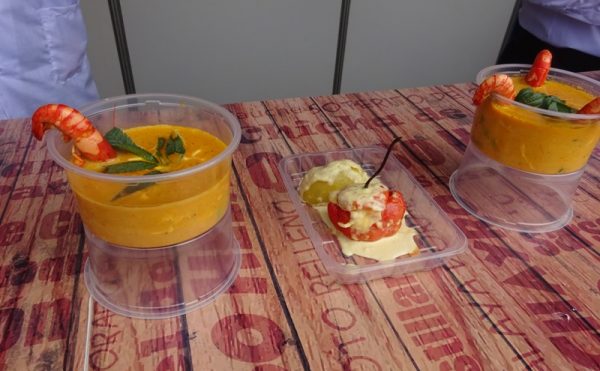 Every year my wife wants chupe de camaron from her hometown of Arequipa. Ironically, the best chupe she's ever had is from a restaurant here in Lima: La Olla Arequipeña in Comas.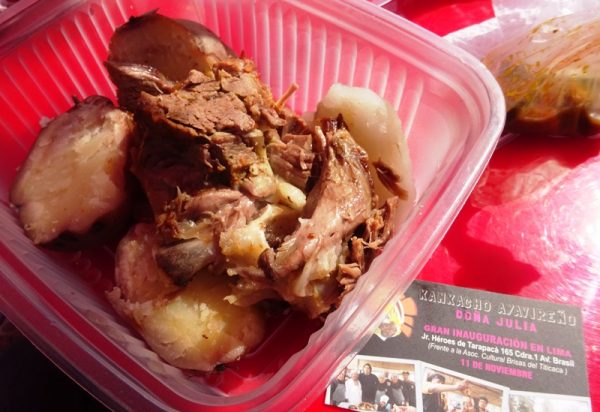 I always look for the kankacho (barbecued lamb) from Puno-based Doña Julia. It has been a winner in a previous year. I was pleased to see they're opening a restaurant in Breña this year.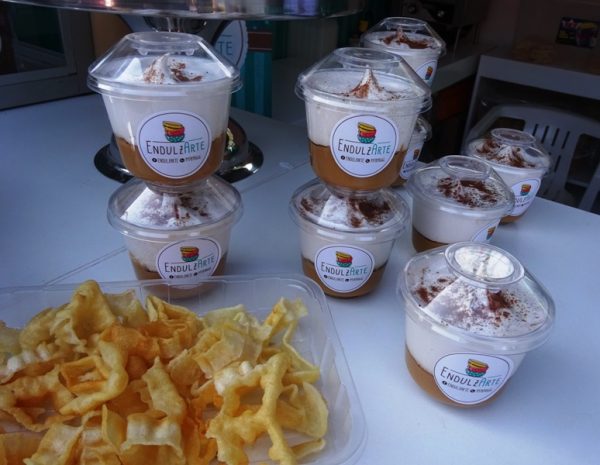 I always get Suspiro de Limeña for dessert if it's an option. America TV shot some footage of me spooning Endulzarte's into the baby's mouth, so I might be on the tele this Sunday.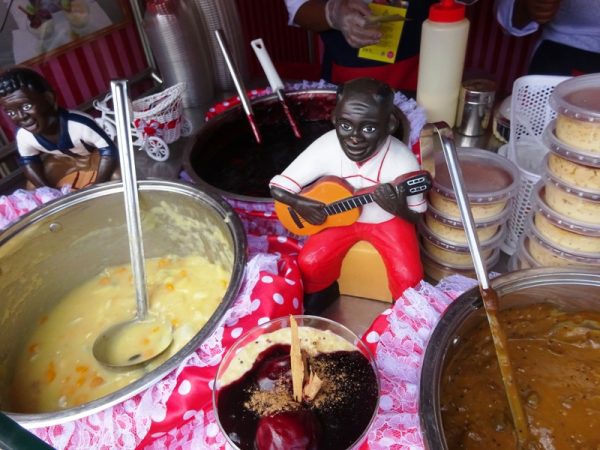 I'm not a fan of Mazamorra, probably Lima's most popular dessert, but I got some for my wife and baby and I must say, this place had an amazing combination of arroz con leche and mazamorra. If every mazamorra tasted like this one, I could see how it's so popular.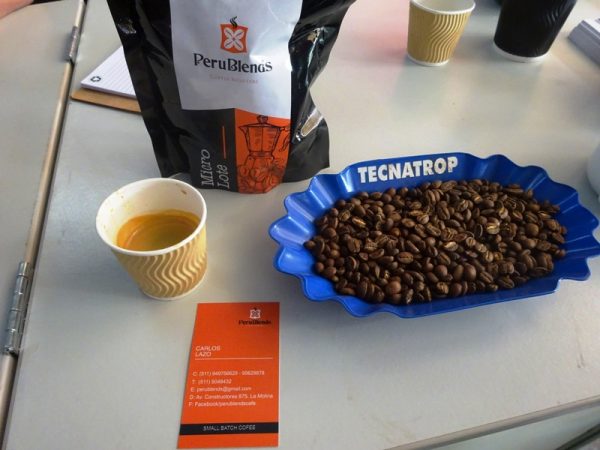 We brought out youngest baby, and Peru Blends helped us with hot water so we could prepare her formula. The espresso I bought was almost sweet, amazing flavor, so I got a bag of coffee too. I don't have a picture, but I also got my wife a bottle of fig liquor from a Huancayo-based wine and spirits vendor nearby.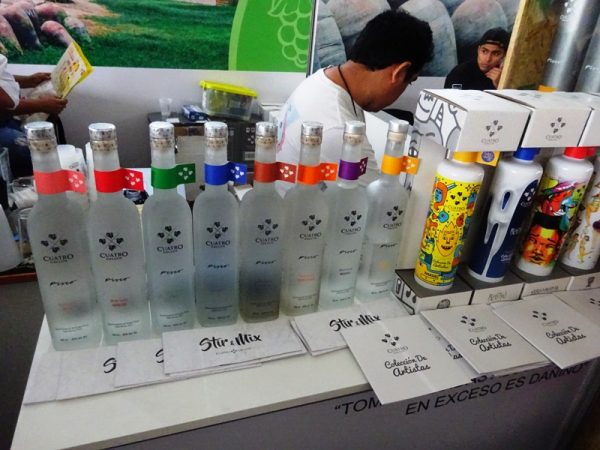 I always buy too many tickets. So we drank pisco sours afterward and even took a bottle home.
This mime was popular.
Take a virtual tour of all my high-res pics by viewing the Mistura 2017 album on the Lima City of Kings Facebook page.