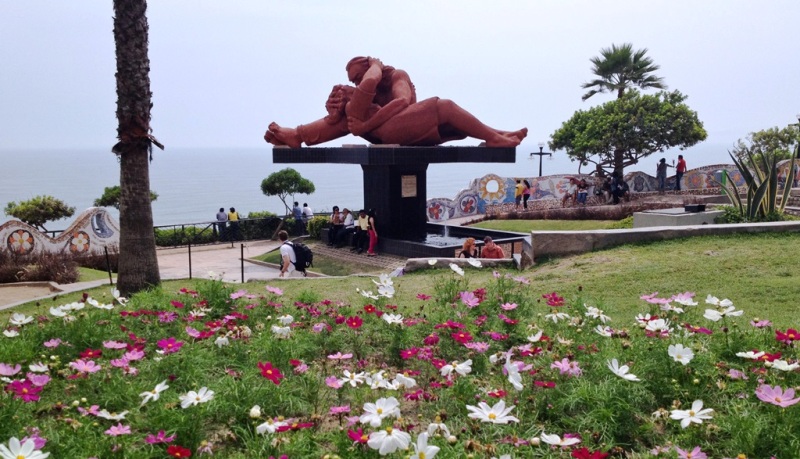 Miraflores is Lima's heart of tourism, international business and leisure. Known for shopping, gardens, parks and beaches, Miraflores is Lima's best-known upscale district.
While Miraflores has many points of interest, this route offers the best sites to see within one walk Continue reading for detailed descriptions of where to turn.
Parque Kennedy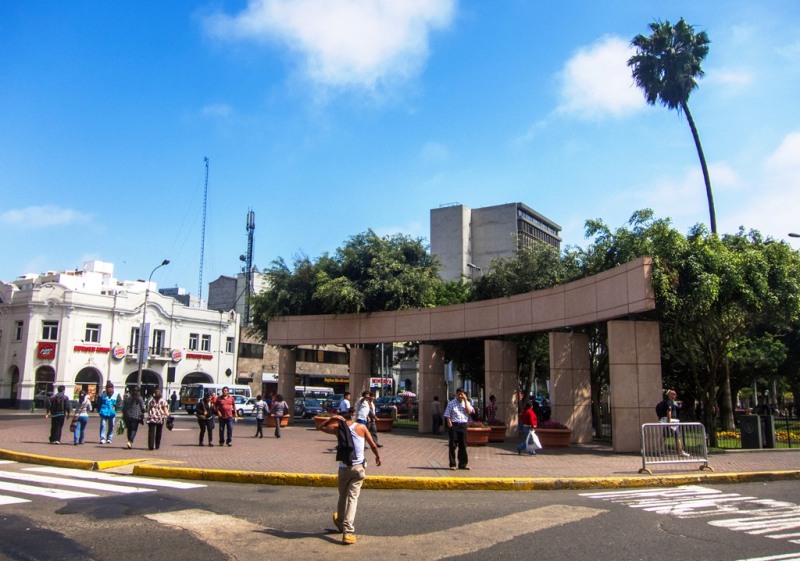 Start at Parque Kennedy, the focal point of tourism in Lima located just south of the circle intersection of Larco and Jose Pardo avenues. To make things confusing, the focal point of tourism in Lima carries the official names of Parque Central, Parque 7 de Junio and Parque Kennedy. But to keep things simple, Lima residents use "Parque Kennedy."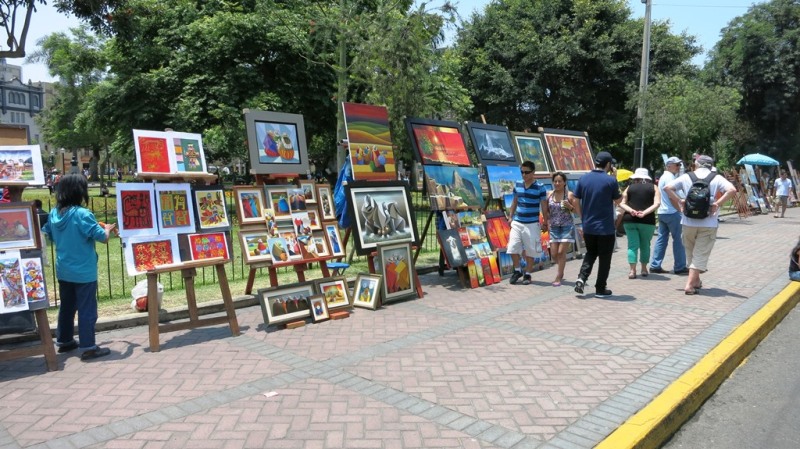 On the west side of these two parks is Diagonal street, lined with restaurants including McDonald's, with one-way traffic heading southbound toward the sea. After exploring Miraflores' central park, cross Diagonal and find the pedestrian pathway, Calle de las Pizzas.
Calle de las Pizzas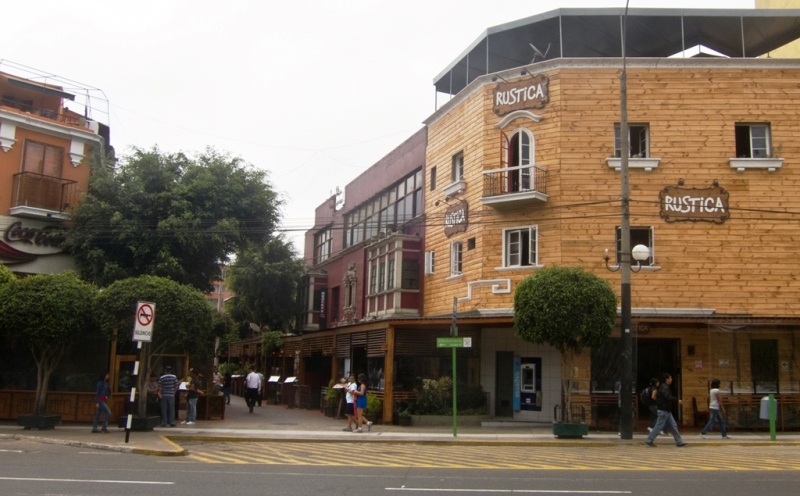 Pizza Street is a row of restaurants, bars and nightclubs. Arguably the heart of Lima nightlife, this small pedestrian walkway runs between Diagonal and Bellavista Street and is easy to spot from Parque Kennedy.
Filled with pizza shops offering mediocre food, hosts and hostesses entice passersby with a free glass of wine or pisco sour. Some are a little aggressive in trying to lure you in. Calle de las Pizzas is worth a visit if you're short on time in the city, but once is enough. If you want to party here, be wary of prostitutes and women who drug your drink.
After seeing Pizza Street, head back towards Parque Kennedy. Cross the avenue to pass the park and the church until you reach Larco Avenue. Turn right on this major avenue with northbound traffic heading toward the city center.
Avenida Larco
Larco Avenue has high-end restaurants, hotels, casinos, boutiques, office buildings and more. This thoroughfare is a major vein for business and tourism in Miraflores.
Walk south on Larco about eight blocks, until you see the Marriott hotel towering over the Lima coast. Larco ends at this intersection. Be careful in crossing this heavy-traffic intersection toward the sea. It can be tricky, so use the pedestrian crossing to arrive in the park above Larcomar.
Larcomar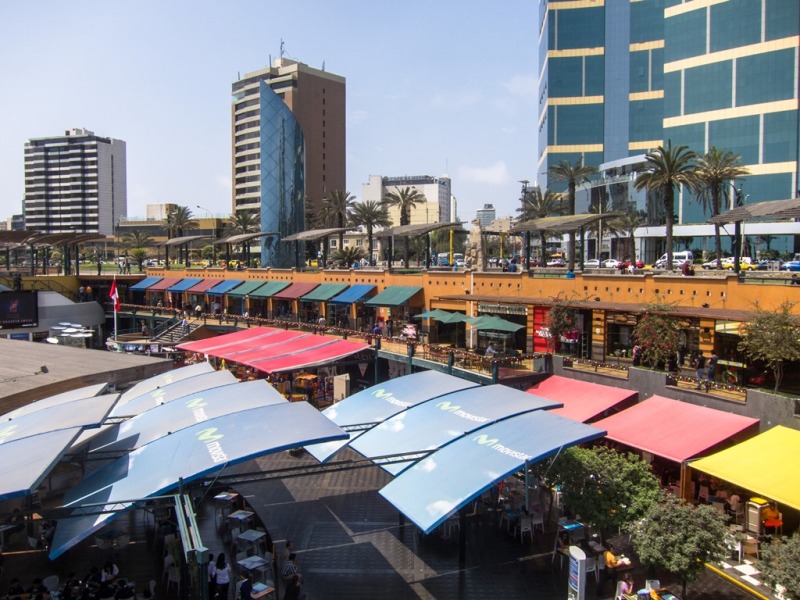 Larcomar is a shopping mall with the city's best view over the Pacific Ocean. Built into a cliff along the coast, this modern mall boasts shops selling traditional Peruvian gifts, international fashion brands, local boutiques, restaurants with sweeping Pacific views, upscale dance clubs, a movie theater and a bowling alley.
Even if the mall is too expensive or Western for your tastes, the view can't be missed. From above Larcomar, you can see much of Lima's Green Coast from north to south. In the waters below, surfers catch waves off the rocky coast.
When ready to move on from the lookout point, walk north (keeping the sea on your left) to follow the Malecon.
Malecon

The Malecon is a six-mile strip of parks, gardens and green space along the cliffs overlooking the sea. Paragliders launch from just north of Larcomar.
The entire Malecon is worth seeing, but not on foot. Rent a bicycle or jog if you want to see it all.
Continue walking until you come to a bridge. After crossing the bridge you'll come to Parque del Amor.
Parque del Amor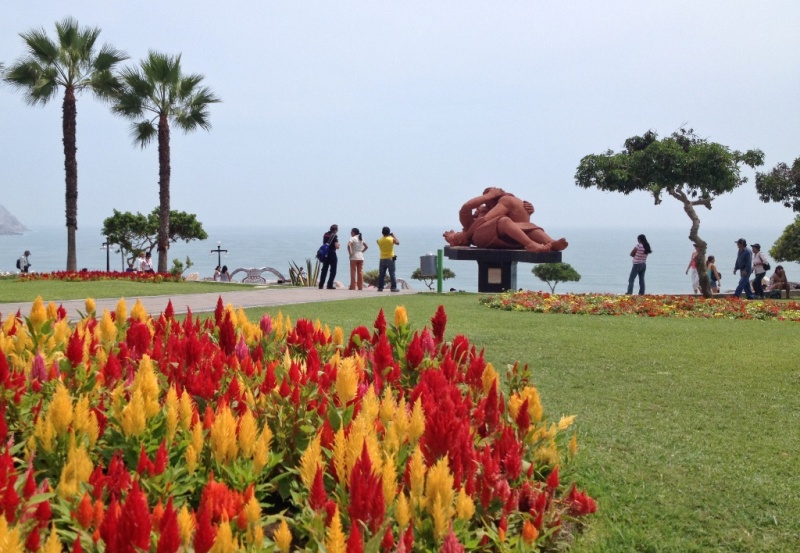 Parque del Amor, the Park of Love, features the famous "El Beso" statue of a couple kissing. It is one of Lima's most recognized landmarks.
After seeing Parque del Amor, you can continue to explore the views of the sea, exercise facilities and children's playgrounds of the Malecon for as far as you can walk. Less than a half-mile further is the La Marina Lighthouse, another Lima icon.
Below are the best sites, not all of which are covered, within walking distance of Parque Kennedy and Larcomar:
Parque Kennedy
Calle de las Pizzas
Avenida Larco
Larcomar
Malecon
Parque del Amor
Parque Salazar
La Marina Lighthouse
Parque Reducto No. 2
Parque Las Tradiciones