Paragliding is one of the best tourist activities to do in Lima, and it offers the best view of the city.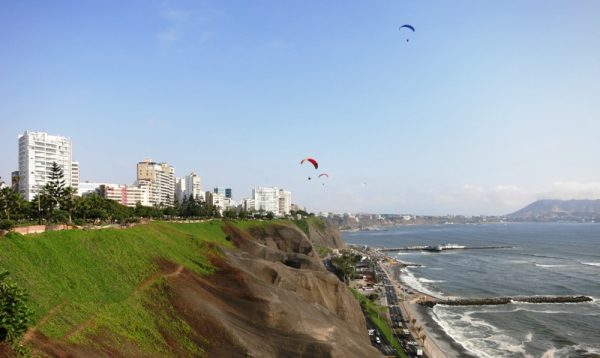 Spend any length of time in Miraflores and you'll inevitably notice paragliders swooping up and down the Costa Verde, and even buzzing past Larcomar's restaurants at lunchtime. Taking to the air gives a quick thrill and the best view in all of Lima.
Most of the views from high vantage points in Lima are less than inspiring. From Cerro San Cristobal, you see a flat, sprawled city with few interesting landmarks, rendered even duller by the ubiquitous gray and brown.
The Arco Morisco at Parque de la Amistad doesn't get high enough to see much beyond the park itself. A shantytown tour will get high enough for great vantage points, but like Cerro San Cristobal you're looking at urban sprawl of short buildings the color of bricks and desert.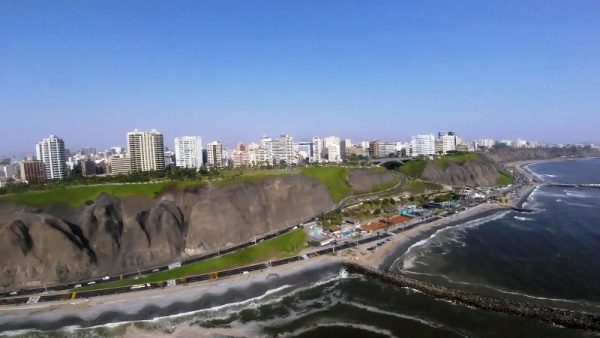 Paragliding over Miraflores gives a bird's eye view of the sea, green cliffs and the modern, upscale apartment towers of Miraflores, Barranco and San Isidro. It is inarguably the best view in Lima, albeit an expensive one.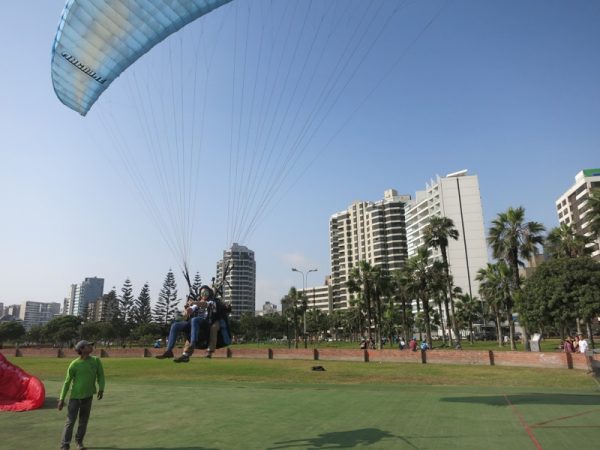 I am not at all an adventure junkie or extreme-sport enthusiast, which I only mention to say the ride itself wasn't too intense. It's a light rush, and certainly not a "thrill." You fly slowly and the guide does all the work. Above is a clearly satisfied customer finishing her trip, and you can see the guide is strapped behind her.
Unless you have a paralyzing fear of heights, don't be afraid of paragliding. The attraction is not any adrenaline rush so much as the beautiful, 360-degree view. In fact, in my video above you can hear me over the music casually talking to my guide.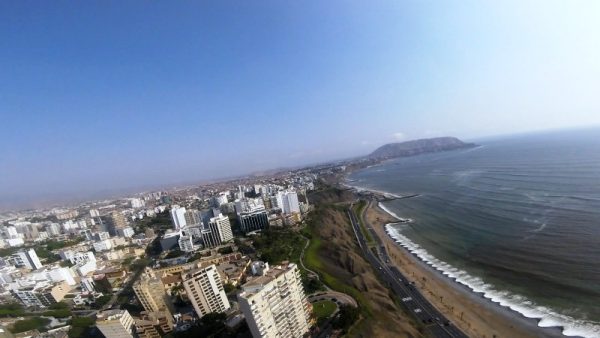 Like Machu Picchu, pictures and video don't do the view justice because it's a 360-degree view. You're taking in everything to your sides, below and ahead. An incredible sight.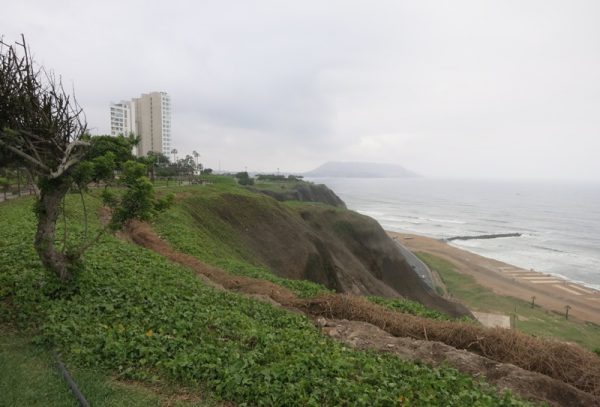 The view over Miraflores is best during the summer when the city's not blanketed in fog. But the winter is when the winds are strongest, and the green coast of Miraflores certainly has its charms in cloudy weather.
Location and info
Parapuerto
Parque del Amor, Miraflores
970 547 238
Price: 260 soles
The takeoff point is located in a grassy field in the Malecon boardwalk between Parque Raimondi and Parque del Amor, a short walk from Larcomar. The 10-minute passenger flights cruise up and down the coast over Miraflores between 230 and 500 feet in altitude.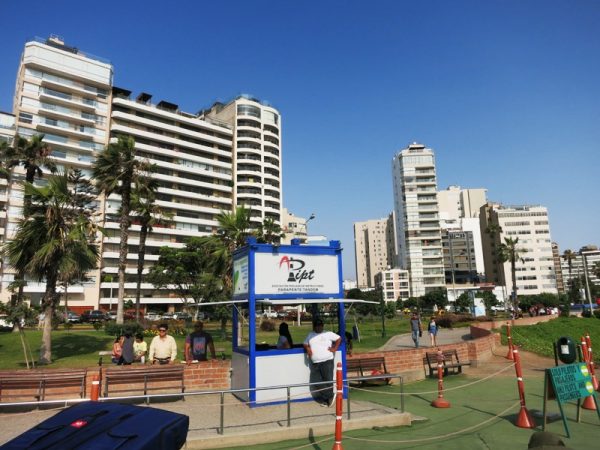 Many different operators offer passenger flights, but they are all directed through one kiosk managed by Parapuerto, a private company licensed by the Miraflores district. So you do not have to book a professional beforehand. Just show up at the launching point.
The tandem flights cost 260 soles, or $80, and the guides only accept cash. The price comes with an HD video of the flight, which they give you on a memory card.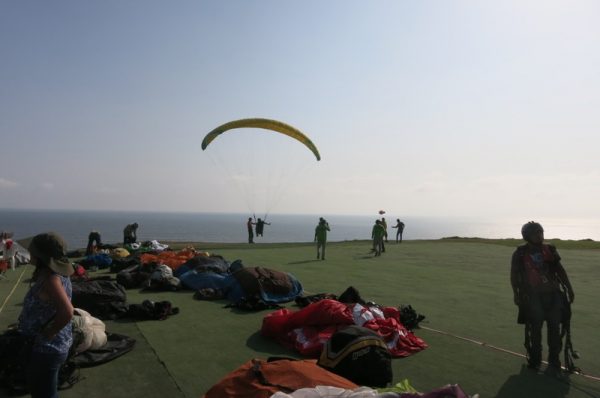 Paraport manages the flights, but the guides who take you up in the air are independent operators. Many of them offer discounts if you ask for them by name, so you can save a few soles by searching "Lima paragliding" and contacting them through their websites.
Aeroexteme and PeruFly are two of the more popular companies. Many of them teach classes where you can learn how to paraglide alone, but authorization to fly over the cliffs will likely require an eight- to 10-day course.
Tips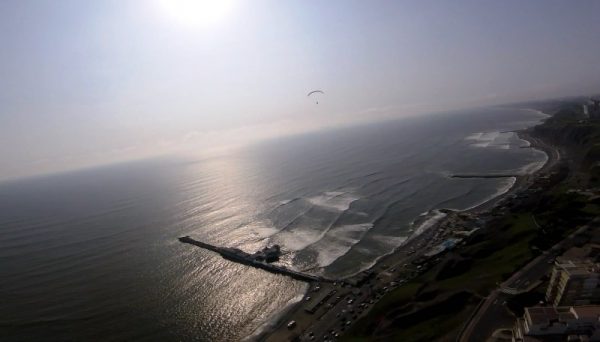 While you do not have to book a flight beforehand, you may want to call Paraport to confirm that weather conditions will allow you to go. When the winds are not strong, the company reduces the weight limit for tandem flights. On normal days, the weight limit is 265 pounds.
But on days with light winds, they can reduce that limit to 180 pounds. A Paraport official told me that on rare cases, winds get so light that they have to reduce the limit to just 110 pounds.
I went on a day when the limit was 180 pounds, and I weigh 230 pounds. Fortunately a lighter instructor (Luis of Fly Adventure) who could take me was working that day. So it's a good idea to call beforehand to confirm wind speeds. They speak English.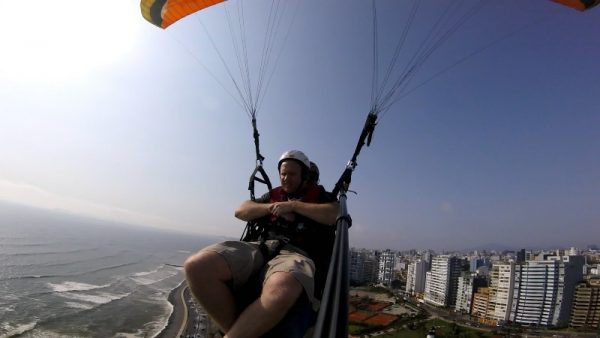 The trip comes with an HD video which they give you on a memory card. But if you want the video to capture the view, tell the guide before takeoff to turn the camera around. The default camera shot is of the passenger, which was rather annoying to learn in my case given I needed an enticing video for this website. Video of me looking stupid enjoying the view probably isn't as enticing as the view itself. Fortunately Luis was able to turn the camera around mid-flight, but if you don't want to go through that fun, then get it straight from the start.
Pictures
For high-res slideshow viewing, see the Paragliding in Lima album on the Lima City of Kings Facebook page. However, only a few of the pictures are from above. For the view, see more Lima paragliding videos on YouTube.