On a rare night when we were lucky enough to have a babysitter, my wife and I went for a date at La Rosa Nautica in Miraflores, one of Lima's most famous restaurants. You've certainly seen it located at the end of a pier in the Pacific Ocean, right where all the surfers look for big waves off the rocky shores below the Costa Verde.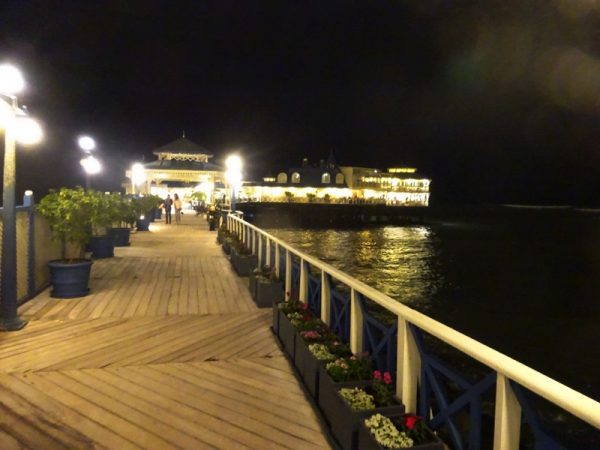 I must apologize for the low-quality images. I still haven't learned to take great pictures at night. But the food pics are on point!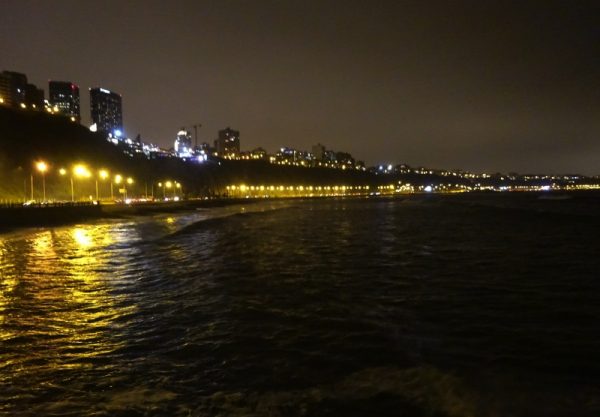 Enjoy a view of Lima's green coast from out at sea en route to the restaurant.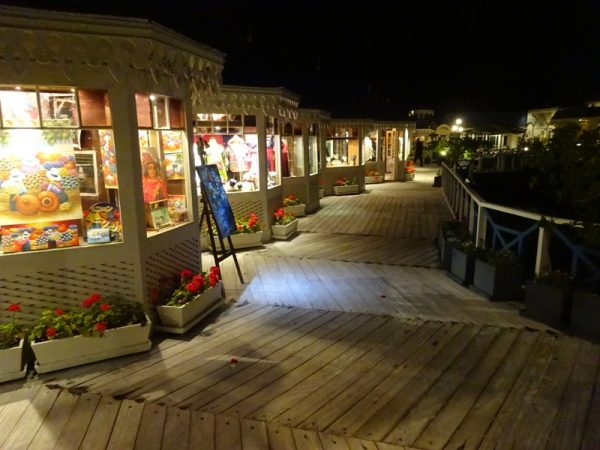 Along the pier are several interesting shops selling artwork, clothes, herbal supplements and other tourist goods.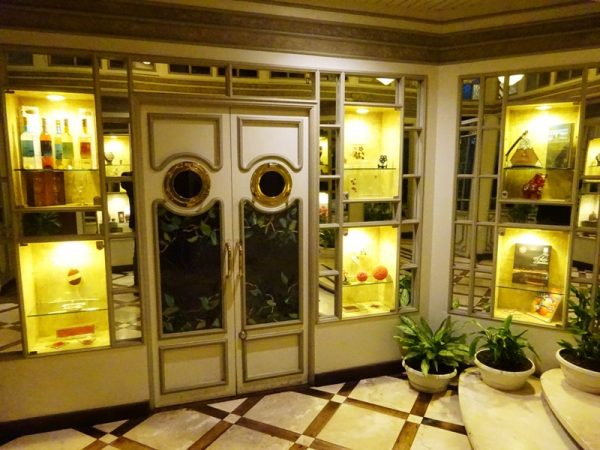 Elegant lobby.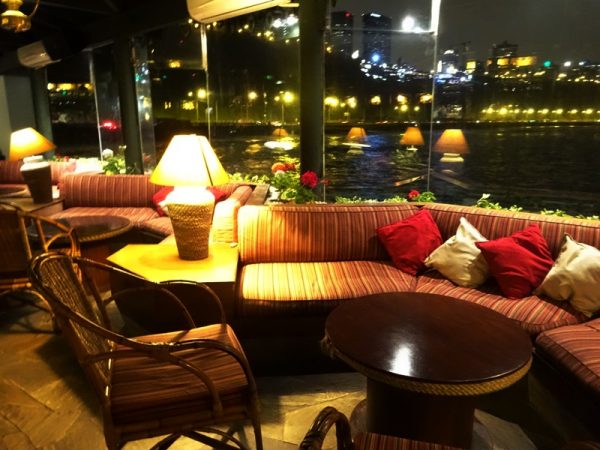 A beautiful little bar looks out over the sea and cliffs of Miraflores, Barranco and Chorrillos. If there are no tables available in the restaurant, as there weren't when we arrived, the bar and lounge is definitely fit for eating fine food.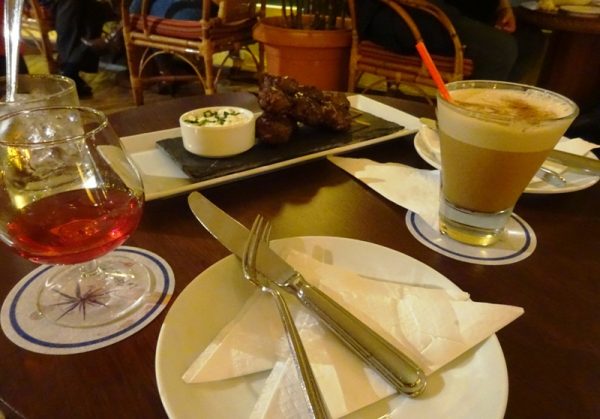 We started with lamb brochetas which don't seem to be on the menu anymore. Pictured with my Campari and my wife's algarrobina.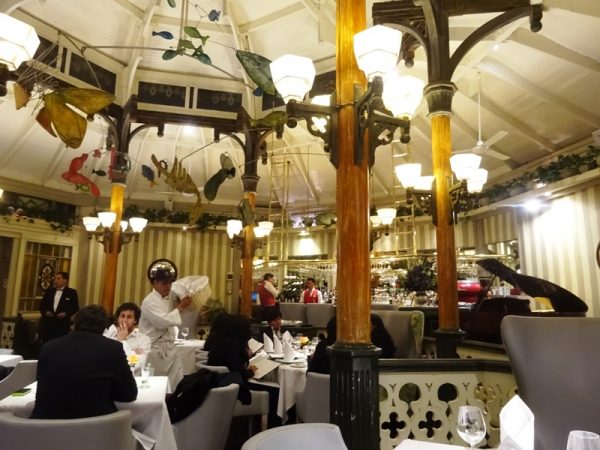 We waited for a table in the main dining room to order our main course.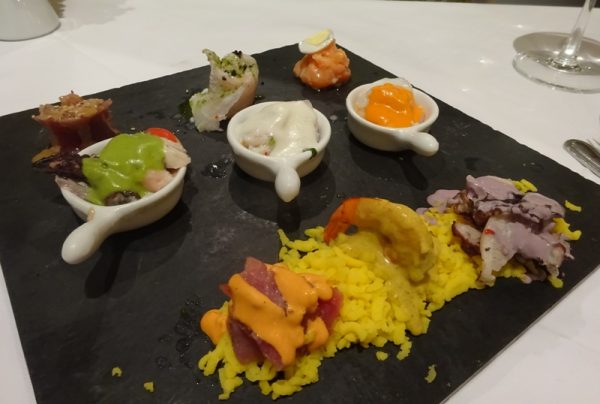 Given they're located on a pier and specialize in seafood, I ordered a ceviche tasting menu, which according to the restaurant's English menu is "Ceviche limeñito with yellow chili pepper sauce, octopus with vinaigrette and olive oil, seafood salad with balsamic vinaigrette, Chalaca-style mussels, drunken scallops in key-lime tomato sauce, shrimp causitas with ocopa sauce."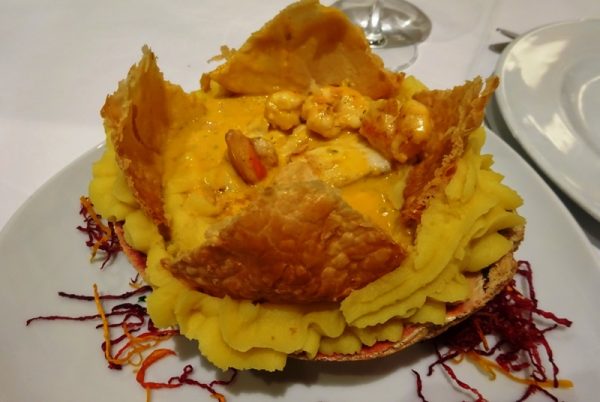 My wife ordered the "Rosa Nautica Seabass, cooked in a Pernod sauce, served with scallops and crayfish, on a bed of yellow Peruvian potatoes and crowned with oven-cooked puff pastry shell." In my words, sautéed seabass smothered in a creamy shellfish sauce atop a bed of yellow mashed potatoes. Luckily for me, we shared them both.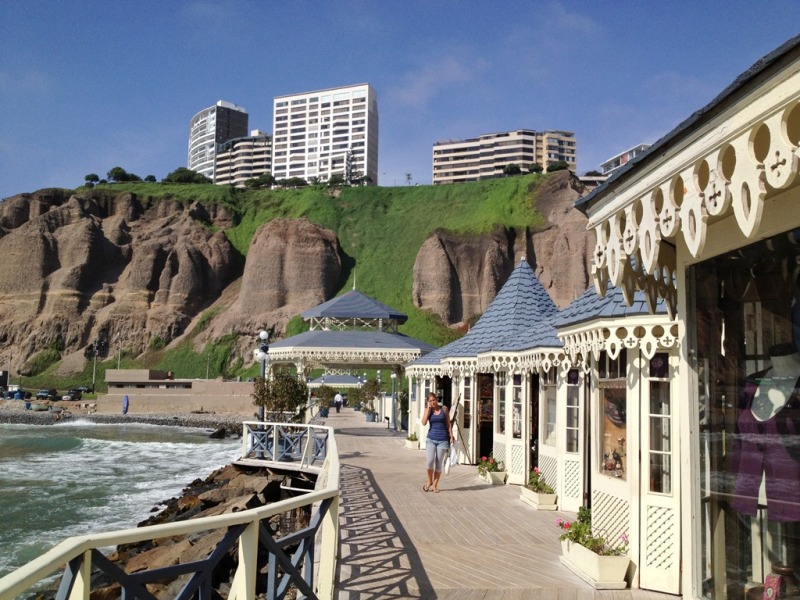 Everything was amazing. And romantic.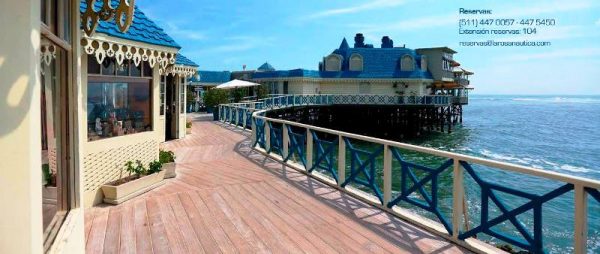 Seriously, I could devote an entire post to pics of the restaurant. To see truly pro pics, check out their official pictures on the La Rosa Nautica Facebook page.
Location and info
La Rosa Nautica is located in Miraflores on a pier in the sea between Parque del Amor and Larcomar. Any taxi driver knows it.
La Rosa Nautica
Espigon 4 Circuito de Playas, Miraflores
Phone: 445 0149
www.larosanautica.com
Pictures
Click to enlarge. Or better to visit the La Rosa Nautica Facebook page.