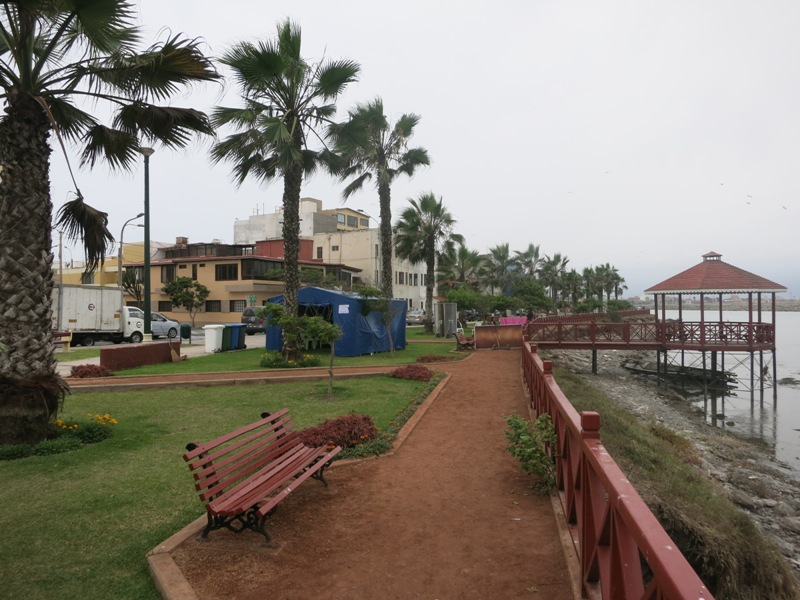 Callao's attractions come from its history, architecture, naval culture, rocky beaches, seafood and the upscale La Punta district.
All the foreign tourists to Lima inevitably visit Miraflores, Larcomar, Barranco and the historic city center. But unfortunately left out among Lima's most interesting sites is the La Punta district of Callao.
In fact, Callao is not only prominent in my top 10 things to do in Lima, I would place it above Miraflores and Barranco for those looking for distinctly Peruvian character.
While the area makes up part of the Lima metro area, Callao is a "constitutional province" administered by a different state government. The look and feel of the streets, and certainly the people (nicknamed "chalacos"), have a flavor distinct from greater Lima.
Many Peruvians don't visit the area because "Callao" in Peru carries the same connotation as "The Bronx" in the United States. Most of Callao is low-income, high-crime. La Punta, however, is an upscale oasis with rocky beaches and spectacular views.
Plaza Miguel Grau and the Port of Callao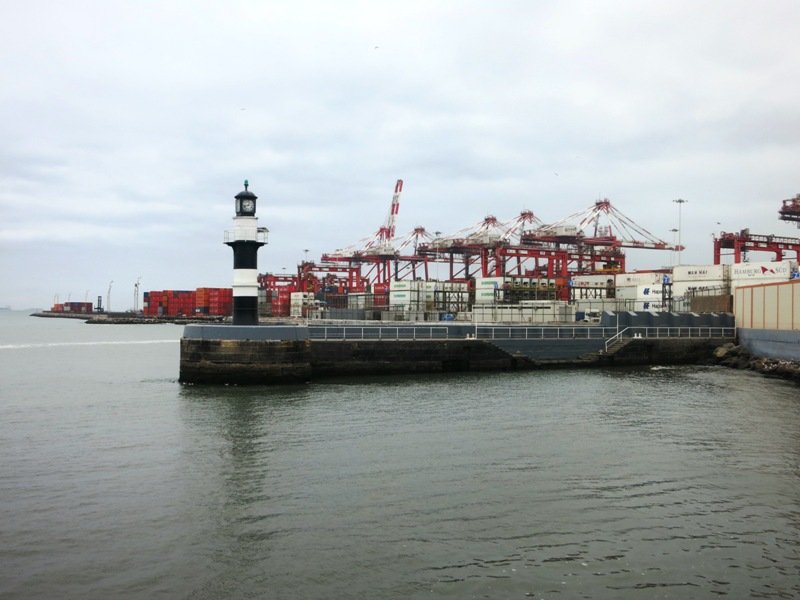 In an unnecessarily complicated scheme, taxi drivers must be licensed to operate in both Callao and Lima. So don't be surprised if a few taxis refuse to take you to La Punta. It's not that they don't want to, but they do not have license and could be hit with a heavy fine if they are stopped by police.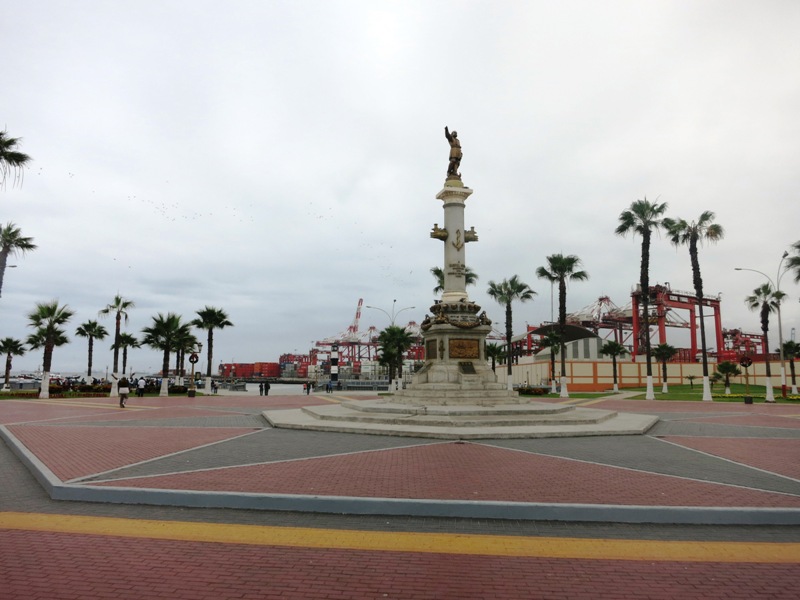 Most taxis will drop you off at Plaza Grau because there is an extra fee for entering La Punta. At the base of Muelle Sur or the "primer puerto," Plaza Grau and the first port are located in the historic downtown district of Callao.
The plaza features a pier where you can look over the rocky coast and dozens of fishing boats anchored near the port. In my experience, the best boat tours of Callao leave from this pier. They are the best because they are given in motorized boats (as opposed to rowing skiffs in La Punta) and they offer glimpses inside the port as well as along the upscale coastline of La Punta.
Economic nerds can marvel at the size of South America's most important seaport on the Pacific coast, handling over 25 million tons of merchandise every year. Mostly exported are durable and precious metals as well as fish products, while Peru imports just about everything else.
Francisco Pizarro chose Lima, which he named Ciudad de los Reyes (City of Kings) as the capital of the new Spanish colony because Callao offered a natural harbor protected by the Palomino Islands and the La Punta peninsula.
Over the next few hundred years as a Spanish colony, millions of tons of Peru's mineral wealth was shipped out of Callao to Panama and carried overland before being shipped to Spain.
Palomino Islands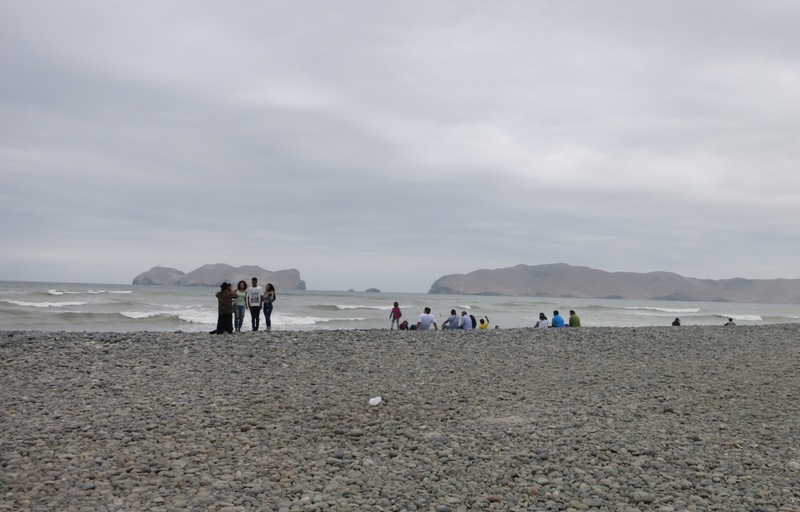 For a more ecological experience, you can also take a boat tour from Plaza Grau to the Palomino Islands six miles off the coast. San Lorenzo and El Fronton islands are home to penguins, sea lions and more, as well as piles of guano (unbelievably valuable bird dung).
San Lorenzo was used by pirates to stage attacks on Callao. El Fronton is home to an infamous jail which held former President Francisco Belaunde under the Velasco dictatorship, and later Shining Path guerrillas.
I haven't done it yet, but it is on the list and I will post more info as soon as I do. For now, watch a Spanish-language news segment on touring the Palomino Islands, swimming with the sea lions and more.
Cercado del Callao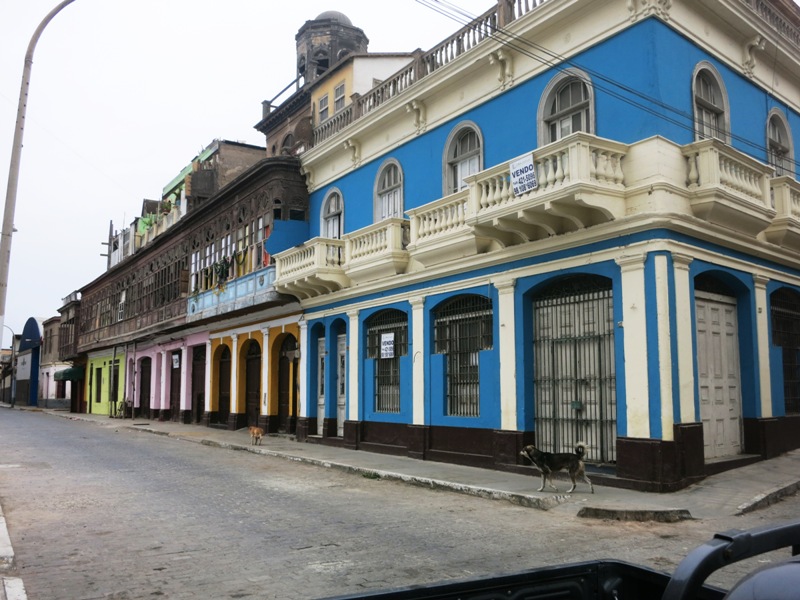 Historic downtown Callao is the area east of the port, or walking straight out or to the left from Plaza Grau.
As a colony, Peru lived under a mercantilist monopoly so all trade had to go through Spain. Independence opened Callao, Peru's international window to the world, to investment from other parts of the world. The area flourished as money poured in from international shipping and trading companies.
Like many boom towns, however, Callao has fallen from its heights. You can tell the area is "historic" by the state of some of the buildings. The wooden balconies of many buildings, a signature feature in Lima architecture, seem to be on the verge of collapse. While downtown Lima is a more beautiful walking tour for historic architecture, the city center is regularly restored for a pristine look and feel.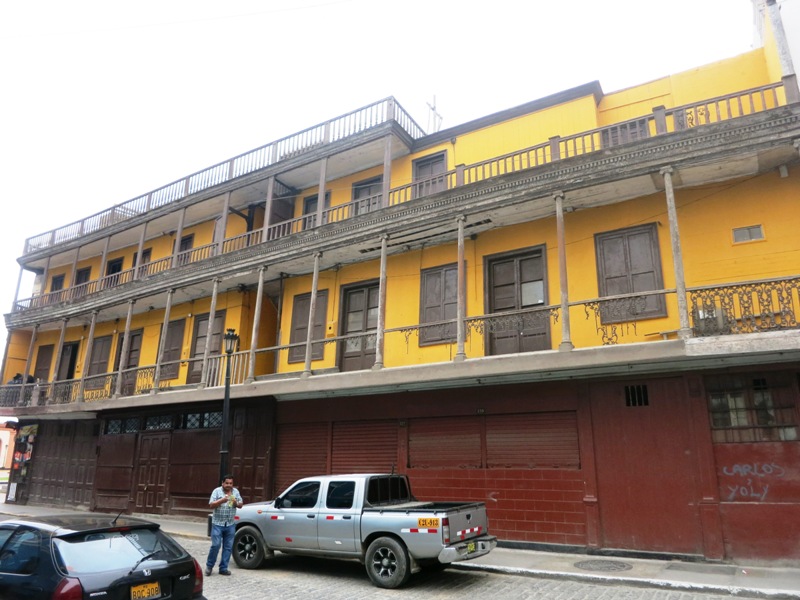 Historic Callao, on the other hand, is decayed enough to give you a sense of how old it is. And that is beautiful to me. I grew up in St. Louis with plenty of family in Detroit. Callao is similar to both cities in that some of its most interesting architecture full of character are in their most neglected, and sometimes dangerous, neighborhoods.
In Detroit and St. Louis, however, you can drive through those areas during the day without any problems. In Callao, you will be on foot. Every time I have explored historic downtown Callao, the locals have warned me not to stray too far from the Matriz church and plaza. I recommend heeding their advice, but it's unfortunate that, for now, foreign tourists can't get lost in the area marveling at the architecture.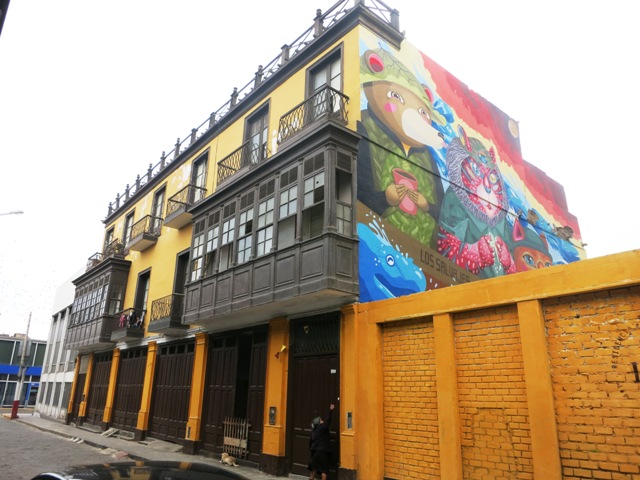 There is an urban-renewal effort underway for old Callao. The city brought in street artists to paint murals on some of the old walls. Casa Ronald, originally Callao's tallest building, was home to the Casa Cor interior-decorating fair this year. The space has been completely renovated and is now home to art galleries, a coffee shop and a nikkei restaurant.
Another point of interest in old Callao is the Cevicheria Mateo restaurant. Eating here as opposed to in La Punta will be a little cheaper without sacrificing quality or ambiance. Mateo has two locations one block from each other. One has patio tables facing the church, and the other is on Jiron Constitucion.
Fortaleza Real Felipe and Chucuito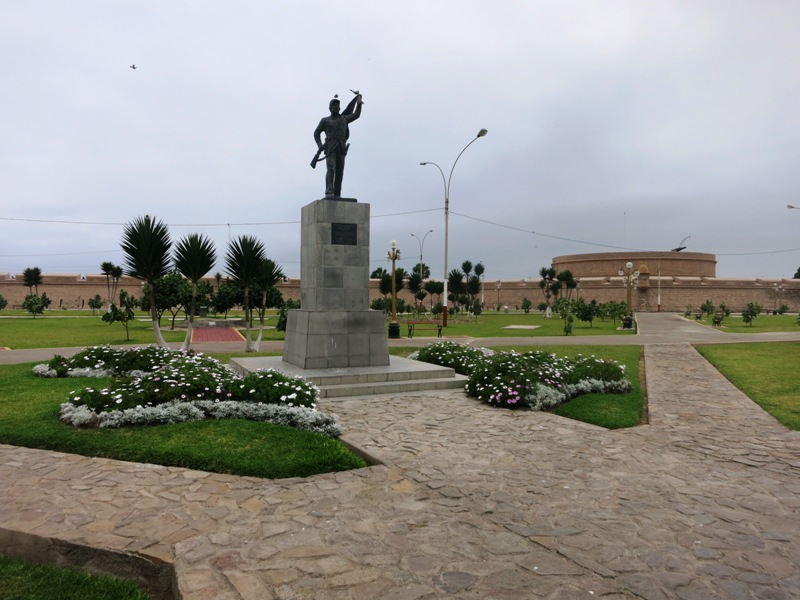 To get to La Punta, start from Plaza Grau with your back to the sea. Instead of going into historic Callao, turn right to enter the peninsula. You will immediately pass Peru's naval museum on your left.
Within a block you will see the Fortaleza Real Felipe (Royal Philip Fortress) on your left. This castle was built in the 18th century to defend Callao from pirate attacks.
Real Felipe was ultimately the last Spanish stronghold in South America, keeping independence armies at bay for four years until 1821. Royalists took the fortress again in 1824 and used it as a base of resistance for two more years before finally surrendering in 1826.
However Spain would not recognize Peru's independence for decades to come. In 1866, in a move to take control of Peru's profitable guano profits, Spain invaded Peru in the Chincha Islands War. Peru repelled a Spanish fleet with cannon fire from Real Felipe.
Today the fortress is home to Peru's museum of military history.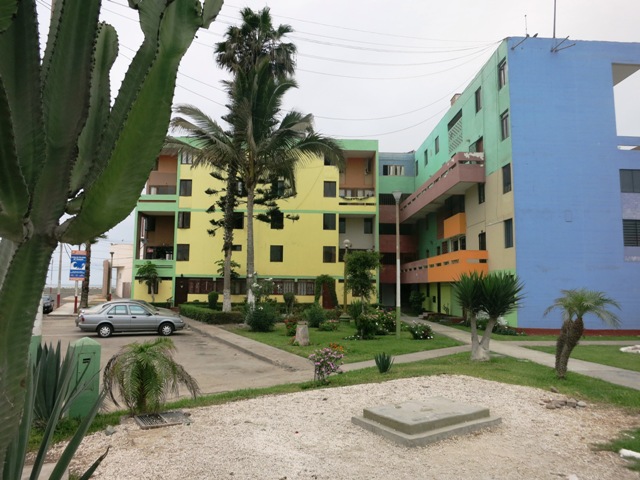 After passing the castle you enter the Chucuito neighborhood, which marks the beginning of a peninsula which is only four blocks wide at this point and will go down to just two.
Chucuito was originally settled by Italian immigrants to Lima in the early 20th century. The neighborhood is known for its multi-colored wooden houses and apartment buildings. There is a beach on the north coast (on your right side), but it is not the main attraction.
Continue past the submarine museum, Peru's SUNAT tax authority building and the Imarpe ocean monitor until you arrive at Plaza Galvez. This is the beginning of La Punta.
La Punta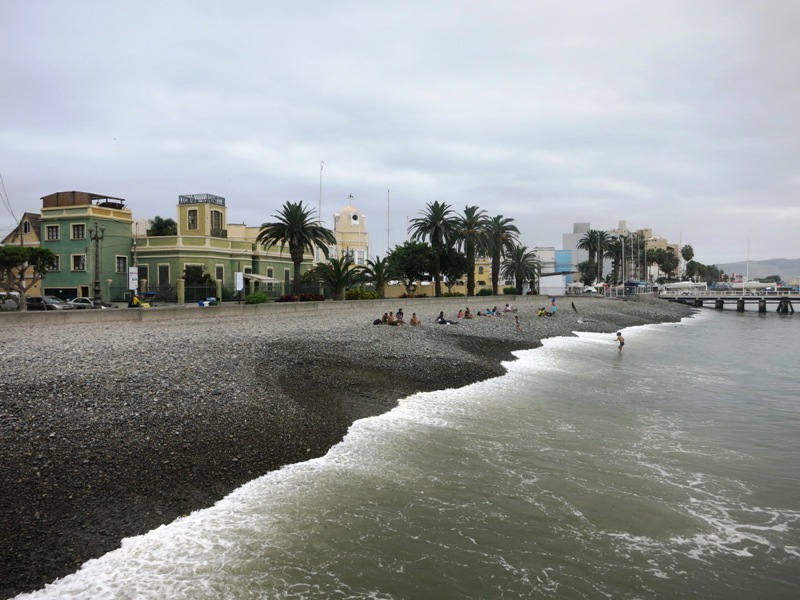 La Punta is where Callao's wealthy live. Navy and marine officers, seaport and airport executives and, as you will see by the prevalence of yacht clubs, boating enthusiasts.
On the north shore is the Malecon Santiago Figueredo boardwalk and Playa Cantolao beach. The beach is rocky and the water cold, but people do swim in the summer. There is an excellent children's playground toward the end of the peninsula.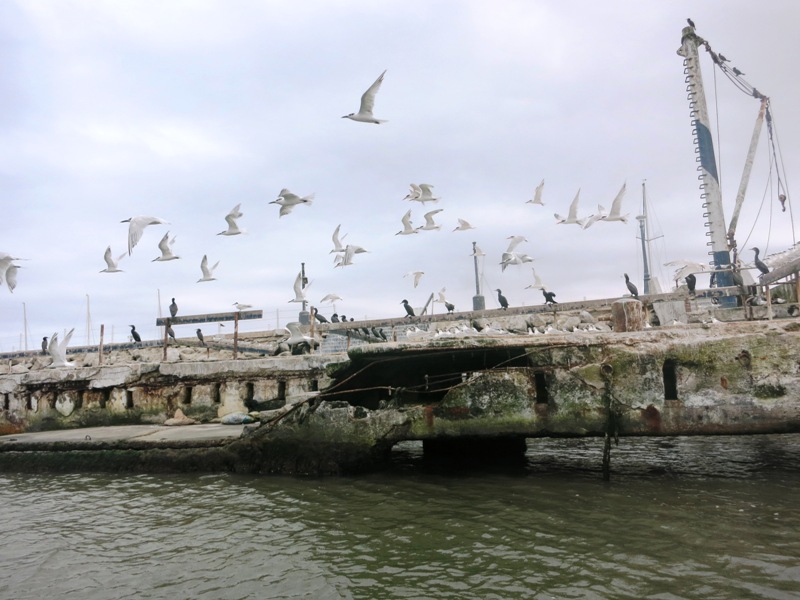 Artisanal fisherman offer tours from the Playa Cantolao beach as well. While not as good as the motorboats, they are never closed and will row you in a skiff past an old pier inhabited by seagulls, pelicans and red crabs. They also offer glimpses of a harbor for congressional boats.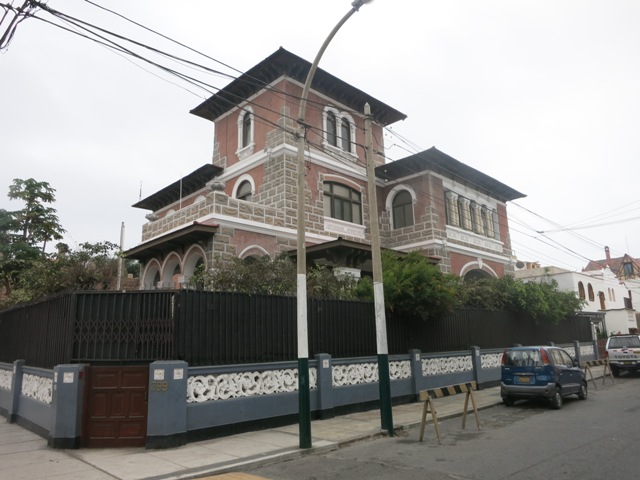 Av. Coronel Bolognesi and Av. Miguel Grau run the length of the peninsula and are home to homes built in a variety of styles: neocolonial, republican and modern. They also feature nice restaurants and stores.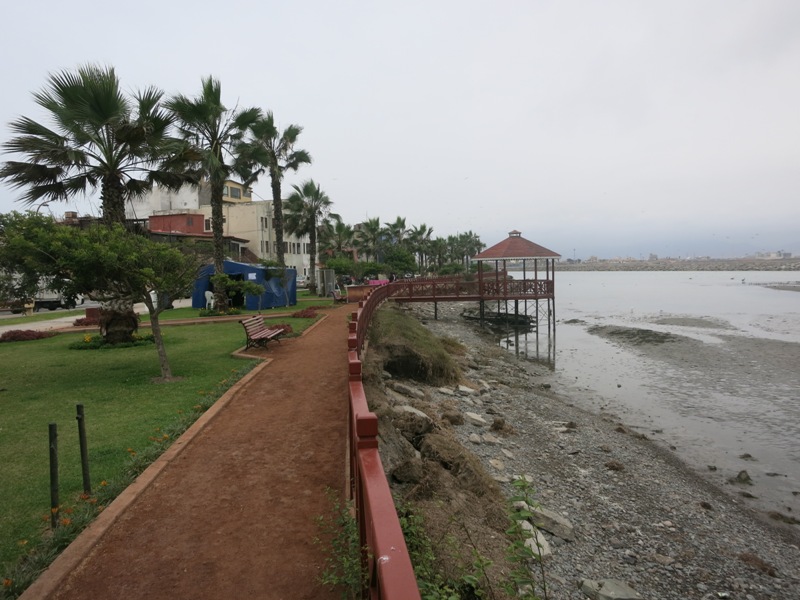 On the south shore is the Malecon Wiese boardwalk and the Playa La Arenilla beach. Despite the name, this beach is muddier than Cantolao. This shore is better for relaxing in the grassy boardwalk and enjoying views of the seagulls in the sandbars. This shore also offers a view of Lima's Costa Verde from Miraflores to Chorrillos. The boardwalk features several gazebo lookouts, bodyweight exercise park, a soccer field and a small plaza.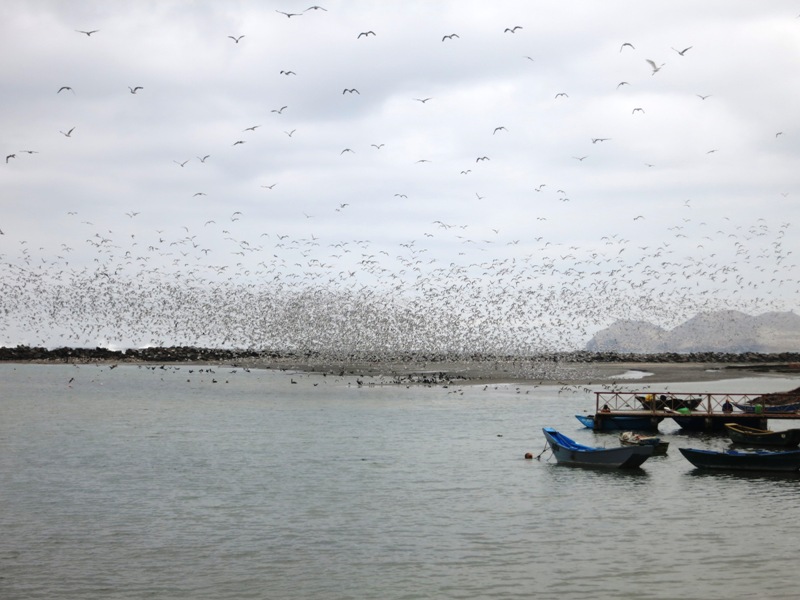 After passing the thousands of seagulls on the day I took pictures, they all decided to get up and fly away at the same time.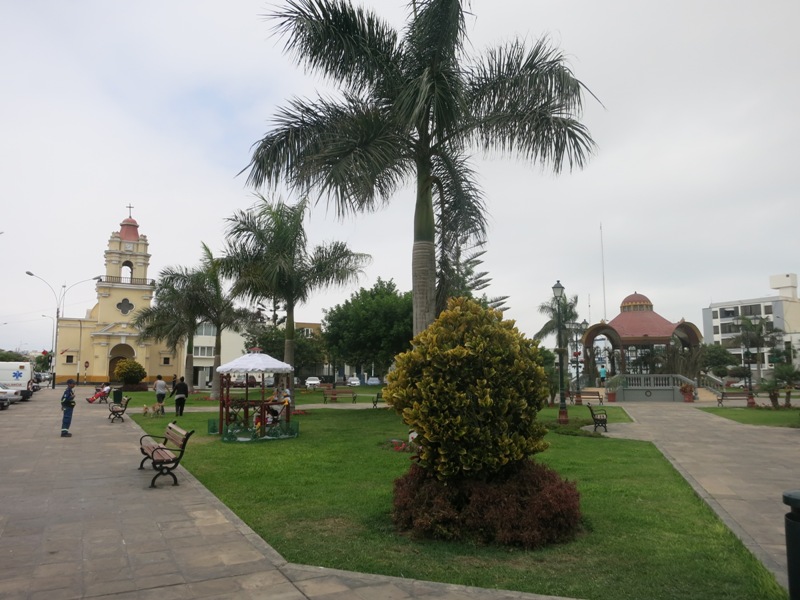 Almost near the end of the peninsula is Plaza Matriz, the central square for La Punta. The streets facing this plaza feature La Punta's most extravagant homes.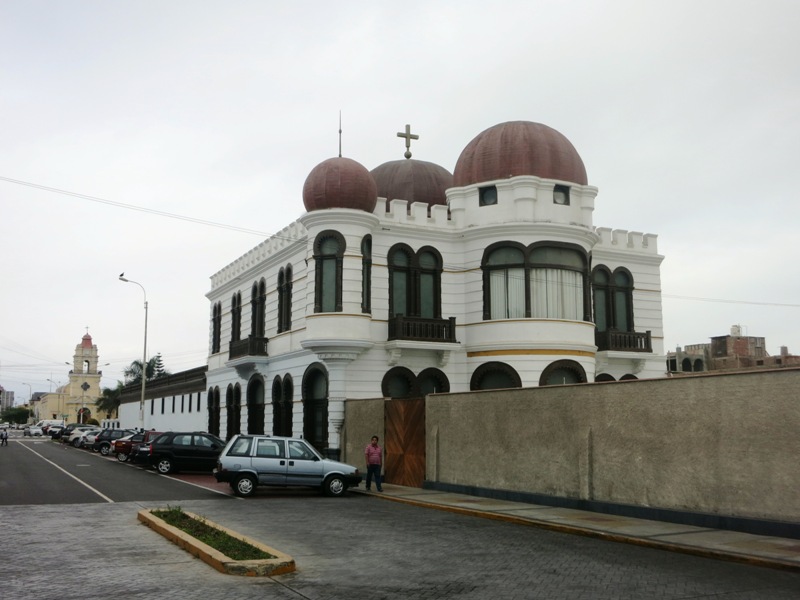 On the northern corner of the plaza are the Matriz and Noviciado Virgen de la Esperanza churches. On the western corner is the Facultad de Teología Redemptoris Mater seminary, which is unmistakable for its Moorish architecture. The Moorish arches and domed roofs are better seen from behind the building in the Plaza San Martin.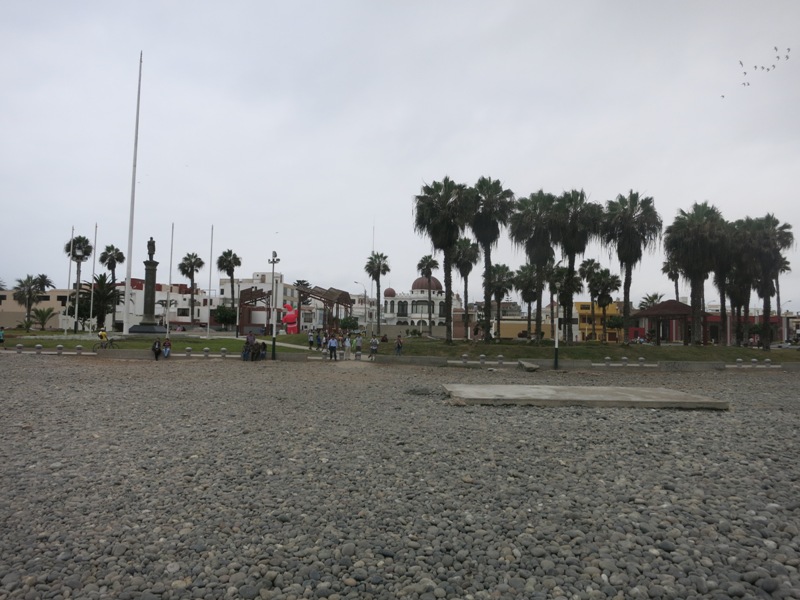 The Plaza San Martin is a large public space at the end of the peninsula. It features rocky beaches, a skate park, restaurants and the best view of the Palomino Islands. It also features a mirador looking point which has never been open to the public on any of my visits.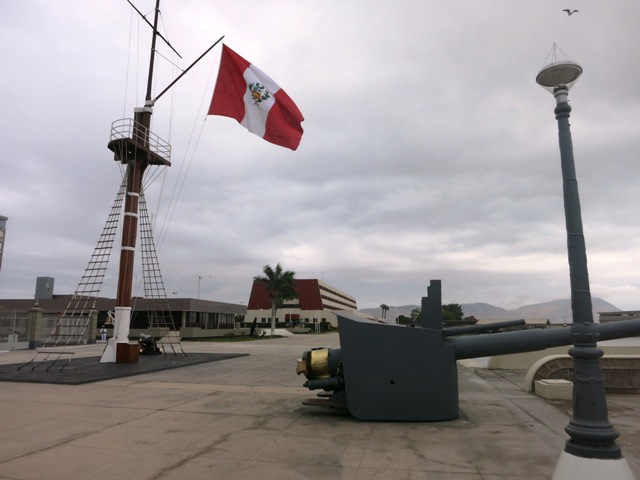 Adjacent to the plaza is the national naval academy, which is closed to the public.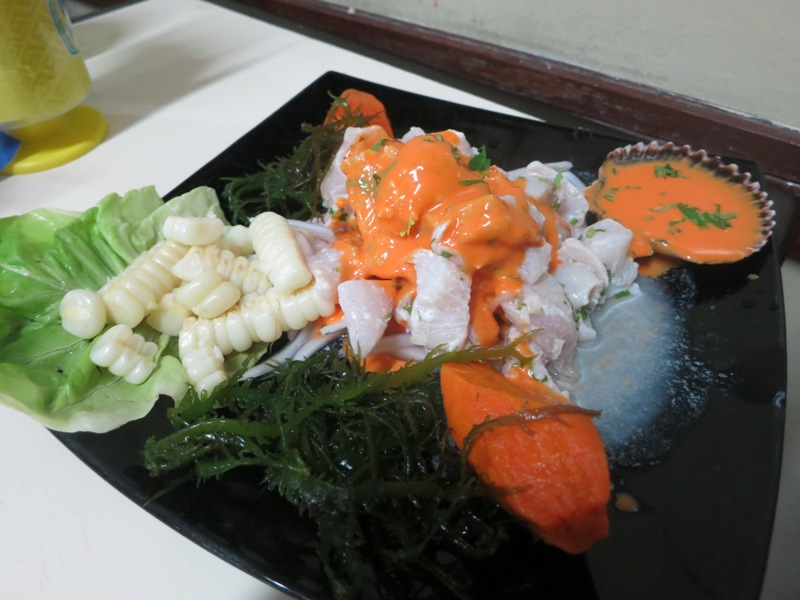 Whether at Mateo in downtown Callao or at the ritziest restaurant in La Punta, the thing to eat is (obviously) seafood. Ceviche a lo Mateo with creamy rocoto sauce pictured.
Pictures
Below is a virtual tour of Plaza Grau and the port, historic downtown Callao, Chucuito, Playa Cantolao, Malecon Wiese, Plaza Matriz, Plaza San Martin and the upscale homes of La Punta. For high-res slideshow viewing, see the La Punta del Callao album on the Lima City of Kings Facebook page.