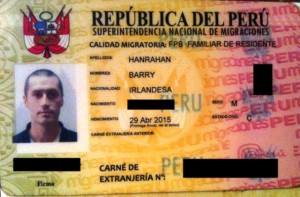 Getting residence in Peru means getting your Carnet de Extranjería, Peru's national ID card for foreign residents. You can open a bank account and sign legal contracts with your carnet. This article explains how to do so for somebody married to a Peruvian national.
The procedure for transitioning from tourist to resident starts with the Cambio de Calidad Migratoria, or Migratory Status Change, with Peru's Migraciones immigration department.
To process your application in Lima, you have to go to Migraciones office at Avenida España 734 in Breña (see a list of offices outside Lima). The process itself is never straightforward and you will most likely go back and forth many times because the staff seem to invent different requirements for each applicant. It's best to arrive as close to 8 a.m. as possible. Any later results in longer waits and more stress.
The documents needed may vary from agent to agent. Below is the longest possible list of documents I or Colin have come across. It includes some things he or I were asked for which don't appear on the website. Make sure all documents are clear, all spellings are correct and you have your middle name written on all forms (they care a lot about that one down here).
F-004 form (two copies).
F-007 form (two copies).
Notarized copies of your passport photo page and last entry stamp into Peru. Passport should have at least one year before expiration.
Copy and original Tarjeta Andina de Migracion (TAM), the paper card they gave you after stamping your passport when you entered the country.
Original marriage certificate legalized by RREE or RENIEC (stamp no older than 90 days).
Notarized copy of spouse's DNI (make sure it says "casado/a" for married).
Sworn economic and moral statement, notarized (signed by Peruvian spouse).
Sworn statement of shared residence, notarized.
Sworn statement of no pending criminal charges, notarized.
Receipt for the S/. 117.60 fee paid for Tributo 1814 to Banco de la Nación.
Receipt for the S/. 80.50 fee for Tributo 08141 to Banco de la Nación (second step).
International police record from Interpol (second step).
Receipt for the S/. 49.90 fee paid for Tributo 1873 to Banco de la Nación (last step).
Don't pay all the fees until you are sure your next step requires a receipt because the fees are increased regularly.
It's best to notarize every single document you bring in. As I said before, some agents will reject documents for seemingly subjective reasons. So it's best to bring everything and have it all notarized.
You notarize documents at public notaries called "notarias." There are hundreds throughout Lima, so certainly one within a few blocks from where you live.
The marriage certificate, however, has to be "legalized." To legally notarize the marriage certificate, I went to the Ministerio de Relaciones Exteriores at Lampa with Ucayali streets in downtown Lima. You pay a small processing fee (S/. 32), hand in your documents and then wait about an hour until your name is called and your documents returned to you. You can also do it at RENIEC offices, which is what Colin did. Howoever RENIEC came with a delay of about a week.
Note: If you got married abroad, the foreign marriage certificate must be legalized at the Peruvian consulate in that country.
All the sworn statements may or may not be needed. Colin and I both turned in the residence and guarantee statements. However Colin had to turn in an extra one stating how he makes his money, and they asked for notarized documents proving his business. He was not able to notarize them, but the agent he dealt with when he returned did not say anything about that. One agent told Colin he needed the criminal history statement. But when he tried to turn it in next time, the new agent said it wasn't necessary.
For each of those sworn statements, don't print them out and fill them in with a pen. Copy and paste the text into Word or whatever word processor you use. Then type in the names and info. For addresses, you have to put the street address followed by district, province and department. For example, "domiciliado en Malecón de la Reserva 610, distrito de Miraflores, provincia de Lima, departamento de Lima …" Type up your own document because you can't fit all that by filling in a printout from the website PDF. It's more of a suggested format.
Go to Migraciones in Breña. Don't forget your passport! Upon entering, there are two ticket issuers who direct traffic. Be as specific as possible with your current task and they'll send you to the right place. The ticket will have a code, and the agent will tell you where you will be received. Go where they tell you and watch the screens above for your code to be called.
You will probably try to hand in all those documents a few times before they are accepted. When they do finally accept them, they will send you to the Lima Interpol office with a new document to check your criminal history. The Interpol police station is a few blocks south of Jockey Plaza.
Official address: Av. Manuel Olguin s/n cuadra 6 (Comisaria de Monterrico)
Layman's terms: six blocks south of Javier Prado on Manuel Olguin (east of Jockey Plaza)
See Interpol's requirements in English here: Interpol requirements in English.
Before you go, pay the S/. 80.50 fee for Code #08141 at Banco de la Nacion. Bring the receipt with the photocopy of your passport and entry stamp, a copy of your Acto de Matrimonio marriage certificate (listed on the English link), along with the page Migraciones gave you. Don't worry about the broken link on the Interpol site. They give you that to fill out by hand while you wait.
Again, get to Interpol early.
In Interpol find the long line at the back and queue up. Here they will take your photo and fingerprints and give you a dental examination. The Interpol results will be ready for you anywhere between two and five business days. Ask the agent when you should come back to pick up your report.
US citizens and Interpol: American citizens also need to have a cashier's check (giro sobre el exterior) for the amount of $18 made out to the Treasury of the USA and an office-sized manila envelope. Get the cashier's check at the BCP inside Jockey Plaza. In addition to the $18, the fee is $13. Before leaving Interpol, you will be given a document to mail along with your cashier's check to the FBI in Virginia, which costs about S/.20 in any Serpost office.
On your second trip to Interpol, you go back to the line and tell them you're back for your report. This visit should not last long (less than half an hour). Once you have your Interpol document, you go back to Migraciones.
Turn in the report and they will give you a new page with a unique tracking number to check the status of your application online. Once it says you were approved, you need to go back to Migraciones and pick up your carnet. This is when you pay your S/. 49.90 fee. Present that and usually another formulario and you will have your picture and fingerprints taken again. Then you will have to wait about an hour for your physical carnet de extranjería to be issued.
Knowing migraciones you will have to go back and get another copy of one document or another because of some (presumed) mistake, but stick with it. I never said it was going to be easy, but keep your eyes on the prize. Follow the steps above, and once it's done the pain is over!
Now you just have to keep up with the annual renewal fees and new marriage certificates.
Good luck!
Here are some extra resources from Expat Peru:
Their fees are out of date as those listed here will be soon given how frequently Peru raises them.