Celebrity chef Gaston Acurio pays homage to El RQNC, and Teresa Izquierdo explains the Tacu Tere.
On Saturday I brought the wife and kid to what is probably my favorite restaurant in all of Lima: El Rincon Que No Conoces (The Corner You Don't Know).
El RQNC, as they abbreviate themselves, is a Lima institution dating back to 1978. The famed celebrity chef who started the restaurant, Teresa Izquierdo, launched the restaurant to sell desserts in the streets of Lince. Her business grew to become one of the capital's top criollo restaurants.
According to the website, RQNC does not offer an extended menu as most Peruvian restaurants do because the late Teresa Izquierdo wanted the kitchen staff to focus on perfecting each dish. The strategy clearly works and, in my opinion, most Peruvian restaurant menus run into paradox-of-choice territory.
My wife ordered the Frejoles con Asado de Tira y Salsa Criolla — stewed beef rib in a rich gravy served with canary bean stew, rice and sliced red onion tossed in lime juice and cilantro. (S/. 35 or $11)
I fully intended on getting something different on this visit, but I was unable to resist the Tacu Tere. Tacu Tacu is an emblematic Afro-Peruvian culinary creation featuring a mixed ball of onion, garlic, yellow aji peppers and yellow canary beans.
The Tacu Tere is Izquierdo's signature variant which bears her name. The Tacu Tere features the Tacu Tacu stuffed with beef or pork loin and deep-fried. Served with fried plantain, chorizo and salsa criolla tossed with bacon bits. The fried egg sits on top a slice of deep-fried dough for texture. (S/. 49 or $15)
I had only ordered the Tacu Tere with beef before. This time I asked the server which was best, leaving the door open for the pork. He confirmed that he prefers the pork. It was delicious to be sure, but next time I will return to my old standby, the Tacu Tere with beef tenderloin.

Frejoles con Asado de Tira y Salsa Criolla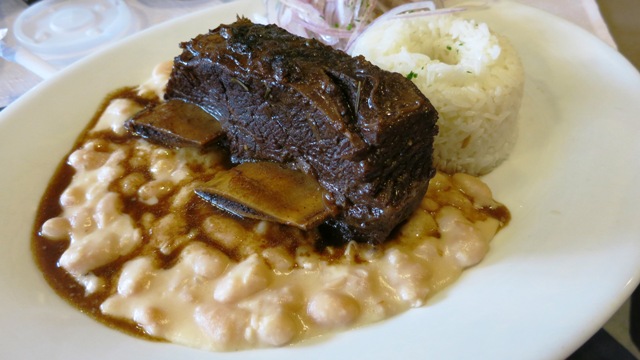 Tacu Tere (with pork)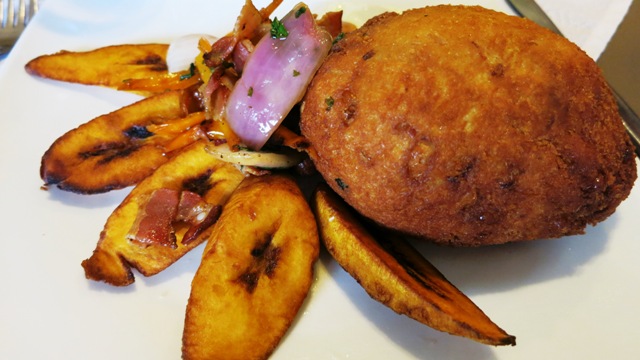 Some more shots from the restaurant.
Visit El Rincon Que No Conoces at: