Just 60 miles northeast of Lima along the Chillon River valley, the picturesque town of Canta has long been a favorite weekend getaway for Limeños looking to escape the gray skies of Lima during the winter months.
Rolling mountains, clear blue skies and clean, fresh air are some of the reasons why you should visit Canta. There is so much to see and do that a weekend isn't enough. You will want to come back for more, like my wife and I have done three times.
How to get there
It takes about three hours to reach Canta by car. Follow the Panamericana Norte and take the Tupac Amaru exit in Caqueta, turn right and continue on this road for 60 miles.
There are small buses and colectivo taxis that leave for Canta from kilometer 22 of Tupac Amaru in Carabayllo. The buses charge 10 soles ($3) per person and the colectivos vary between 15 and 20 soles ($6) per person. To reach km 22 of Tupac Amaru you can take the Metropolitano to the Naranjal terminal. From there take the Carabayllo Alimentadora bus and tell the driver to let you off at km 22.
You can also hire a tour guide to take you to Canta with day trips starting from 85 soles ($25) per person. A quick google search will give a bunch of different options.
Preparation
Hostels and hotels in Canta ranging in price from 20 to 100 soles a night ($6 to $30).
What to bring:
Hat
Sunglasses
Sunscreen
Warm clothing (It gets cold at night)
Things to Do
Firstly I would recommend taking a walk around the narrow streets of Canta as the colonial architecture is a pleasant change from the unfinished boxy structures you see in most of Lima.
On the main strip you will find vendors selling the typical Peruvian handicrafts, but at a much lower price than the tourist traps of Lima or Cusco. If you didn't bring a hat, buy one in town because it's 9,000 feet above sea level. The sun is pretty strong.
Obrajillo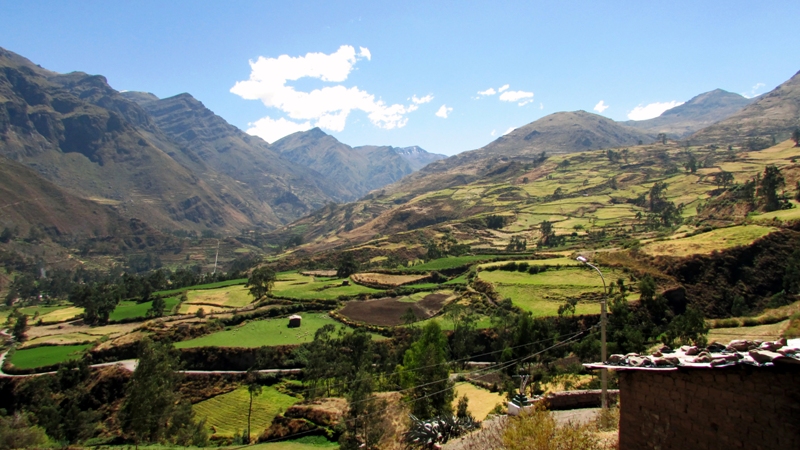 Take a combi for 1 sol ($0.30) or a colectivo for 2 soles ($0.60) to the nearby town of Obrajillo just two miles away. Obrajillo is famous for its fresh trout ("trucha" in Spanish). There is a plethora of restaurants down by the river, so it's a good idea to chow down before going out to explore the countryside.
You can set out on foot from Obrajillo, but I prefer to ride a horse. The nearby waterfall and ghost town take an hour to walk, or half that time by horse for 40 soles ($12).
Cantamarca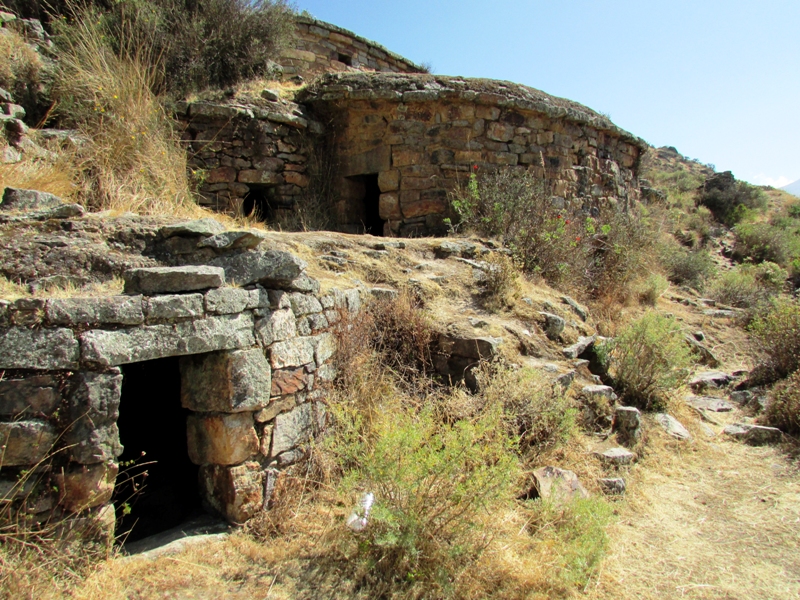 The pre-Inca citadel of Cantamarca, situated 12,000 feet above sea level, dates back to 1100 AD and was the main population center of the area until the Spanish conquistadors moved everybody in 1550 AD to where Canta now stands.
Cantamarca is home to many structures in good condition complete with the original stone roofs. When the Spanish dominated the area they built a stone chapel right on top of it which still stands today and is quite pretty.
You can hike up the mountain to Cantamarca from Obrajillo in about three hours up there and back. You could do it without a guide as you can see the chapel on top of the mountain for almost the entire trek so the likelihood of getting lost is pretty slim. Don't forget to bring water. Alternatively you could take a horse costing 70 soles ($21) per person per horse.
Pumacoto
Pumacoto, which is Quechua for "Sacred Place of the Puma," sits at 13,000 feet above sea level and is a spectacle to behold. Due to its inaccessibility the site is overgrown with shrubbery but that just adds to the experience as it feels like you are the first person to discover it. It really is like being transported back in time. We saw tonnes of wildlife including a cunning fox that escaped before I got a chance to snap a picture.
Before trekking up the mountain to Pumacoto, we asked the owner of our hostel how to get there and how long it would take. She assured us that it would take two hours on foot and pointed us in the direction. After two hours of walking we came across a farmer who said it's about four hours and that we were actually walking in the wrong direction! He agreed to take us on horseback after taking his cattle back down to his house.
The ascent to Pumacota is almost vertical at times so we often had to dismount from our horses, and also every thirty minutes for them to take a break. All in all it took us about an hour and a half to reach the citadel and about four hours to get back down as we couldn't ride the horses back down for the most part due to the steepness.
So don't go hiking to Pumacoto without a guide or you will most likely get lost. And bring plenty of food and water as it will take six hours to walk there and about four hours to come back. You can find tour guides in Canta or Obrajillo.
I recommend going by horse. It will cost you 100 soles ($30) each but it's well worth it. The horses leave from Obrajillo just over the bridge.
Other Attractions around Canta
Puya Raimondi forest – two hours from Canta
La Viuda mountain range – two hours from Canta
Checta petroglyphs – en route to Canta from Lima, at kilometer 60
Huishco – Archaeological ruins one hour horse ride from Huaros
Aynas – Archaeological ruins one hour walk from Huaros

Pictures
For high-res slideshow viewing, see the Canta album on the Lima City of Kings Facebook page.