Prorroga de Residencia – Familiar de Residente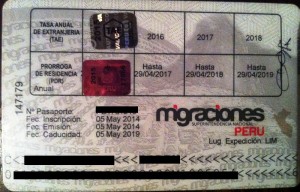 Every year on the anniversary of your Carnet de Extranjeria you must return to Migraciones in order to renew your residency and stay legal.
Note: If you haven't gotten residency yet, see How to Get Residence in Peru (tailored for spouses of Peruvian nationals).
If you don't renew it you may run into difficulties when trying to sign contracts as any eagle-eyed employee will quickly notice that your current hologram is missing from the back of your Carne.
Before you go to Migraciones you will need the following documents
Receipt of S/. 25.60 ($7.87) payment from Banco de la Nacion for Code 01857
Original copy of marriage certificate (Acta de Matrimonio)
Copy of your spouse's DNI
Copy of your passport
Printout of appointment
Printout of F-007 form
Note: You will also need to have paid the Foreigner Tax (Tasa Anual de Extranjeria) in order to process the Residency Renewal (Prorroga de Residencia).
First things first, head to the nearest Banco de la Nacion and pay 25.60 soles for the permission to process the annual renewal using code 01857. Keep the receipt; you will need this to book your appointment.
Next go to Reniec and ask for your Acta de Matrimonio. Alternatively you can now request one online. If you got married outside of Lima there is a chance that your marriage has not yet been registered with Reniec. If that is the case you will need to travel to the municipality where you got married and request one there.
If you got married abroad you will need to go to your nearest consulate or embassy to request a new one. This will then have to be legalized at the Ministerio de Relaciones Exteriores at Lampa with Ucayali streets in downtown Lima.
It's a good idea to get at least two original copies of the Acta de Matrimonio just in case one goes missing or if you plan on processing the Foreigner Tax (Tasa anual de Extranjeria) on the same day, which is exactly what I did.
The Acta de Matrimonio or marriage Certificate will then have to be authenticated by the Fedatario which you can do on the same day of your appointment as you can only do this in Migraciones.
Next your partner must fill out the Declaracion Jurada and bring it to a notary to get it signed and stamped.
Note: this document must be typed, not handwritten.
Now you are ready to book the appointment which you can do by following this link. If you are married to a Peruvian you are exempt from paying the $50 tax (tasa de prorroga) so you can check all the other boxes except that one and click "Siguiente."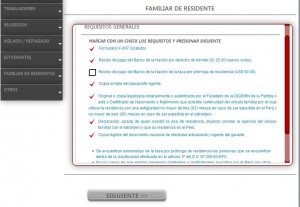 You will be brought to an online version of the F-007 form. Fill in all the boxes which have an asterisk beside them. Once this is filled out you must then print it to bring with you on the day.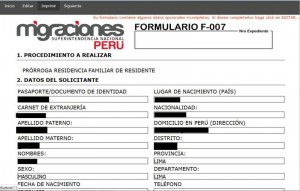 The next page is where you will need the receipt from Banco de la Nacion. Fill in the three boxes and click siguiente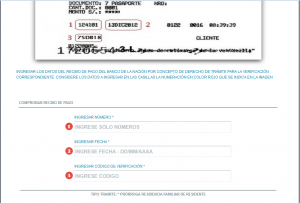 Next pick a date and time for your appointment that suits you best. Don't forget to print out the appointment page as you will have to present this along with all your other documentation on the day.
Veteran Tip: Make several copies of all documents
On the day of your appointment, arrive early because you will need to get your acta de matrimonio authenticated by the Fedatario.
You can do this on first floor of Migraciones. Just inside the entrance you will see a clerk next to a computer usually with a small queue behind it. Tell him you need to see the Fedatario he will give you a ticket and tell you which window to go.
After you receive your authenticated marriage cert walk towards the stairs there you will see another clerk next to a computer. Hand him your printed appointment page, he will give you a ticket and direct you to the back of the building to where they process the renewals.
When your number is called present yourself at the correct window and hand the clerk all your documents for him to check, if everything is in order he will request your Carne de Extranjeria card and tell you to wait for your name to be called.
After maybe thirty minutes they will call your name and return your Carne de Extranjeria complete with new hologram on the back.
That's all there is to it, not that bad after all.