The Larco Museum in Pueblo Libre is one of Peru's best museums showcasing pre-Columbian art.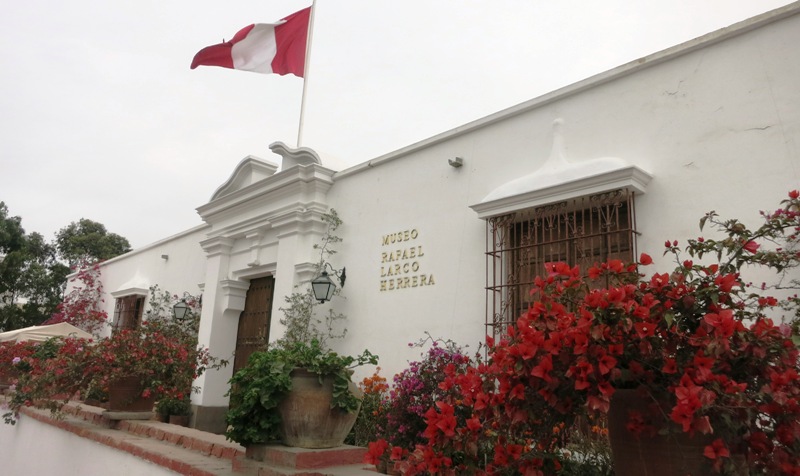 The Larco Museum is usually the foreign visitors' favorite museum in Lima. Founder Rafael Larco Hoyle was an early-20th-century historian whose obsession led him to collect thousands of artifacts from different Peruvian cultures, at a time when indigenous cultures were not highly regarded by the Peruvian elite.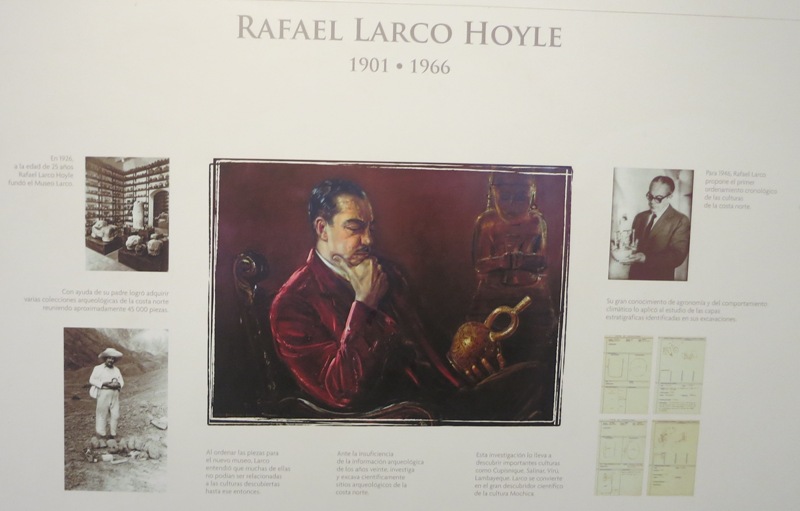 Larco is credited with discovering the Moche Culture, which claims the best and most prolific artists among Peru's pre-Columbian civilizations. The museum also features artwork from the Cupisnique, Vicus, Chimu, Lima, Chancay, Paracas, Nasca, Chincha, Chavin, Tiahuanaco, Huari and Inca cultures.
The museum is split into the Introductory Room, Cultures Gallery, Textile Room, Sacrifice Ceremony Room, Ceremonial Vessels Room, Gold and Jewelry Gallery and Erotic Art Gallery.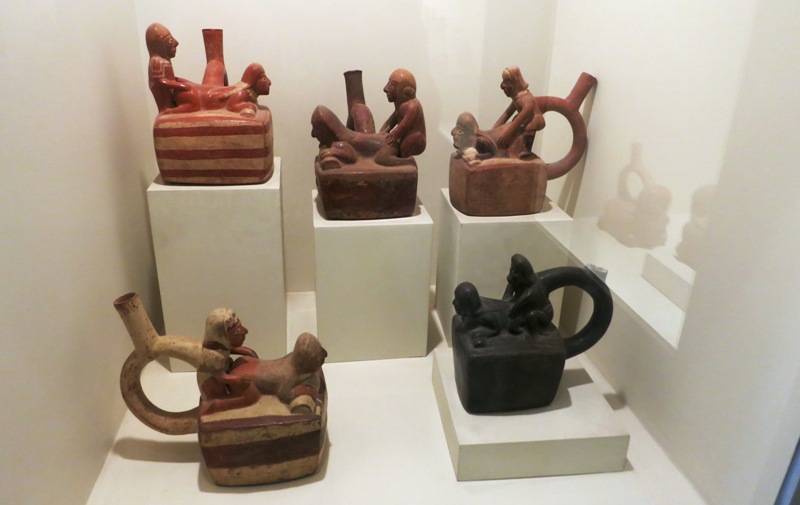 Larco Museum has most likely risen to the favorite among tourists because of the famous erotic pottery, which was courtesy of the Mochica. These ceramics portray men and women in all the sexual positions as well as animals, deities and the dead.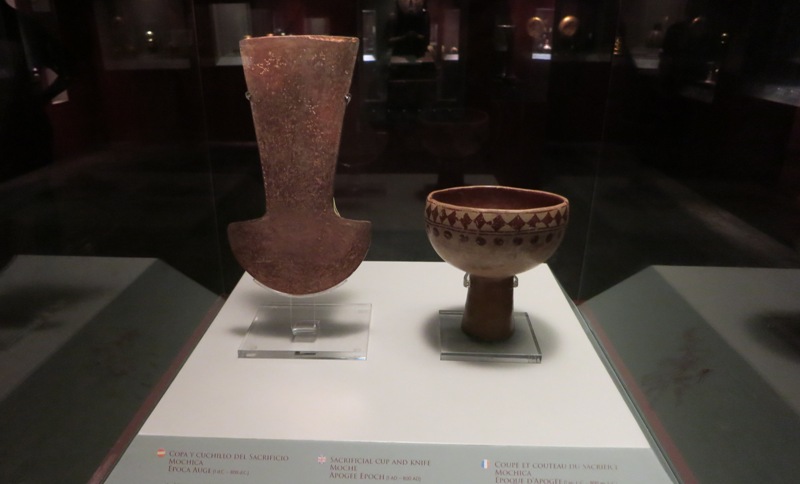 The human-sacrifice and cannibalism exhibits, much of which also come from the Mochica, probably fuel more gringo interest. Above is a blade used to cut the throats of other tribes' defeated soldiers, and the chalice used to drink the blood.
According to an exhibit at the museum, "The Sacrifice Ceremony was central to Moche religion. The offering of the blood of the vanquished to the principal gods was the climax of the ritual combat."
"At several archaeological sites on Peru's northern coast the tombs of Moche lords and ladies have been excavated, and the abdomens and other funerary objects discovered have enabled researchers to identify them as the individuals who participated in this ceremony."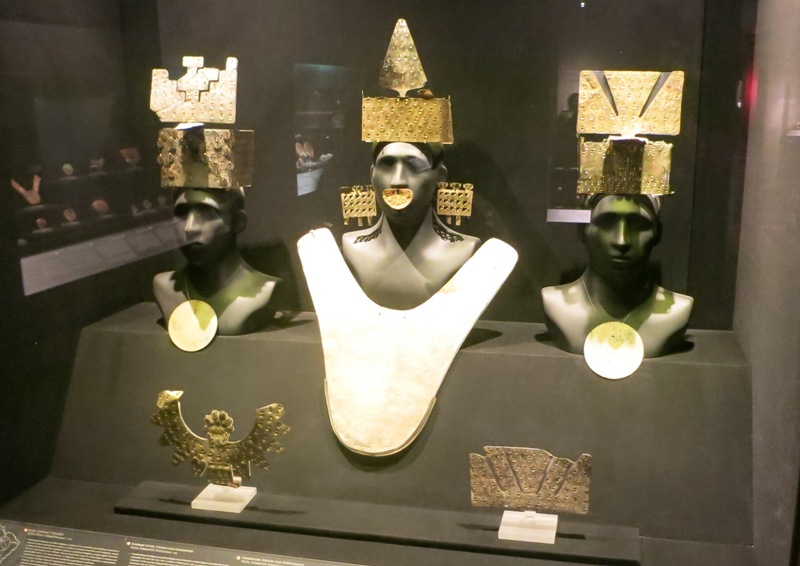 The gold-and-silver gallery give a look at what the nobles would have looked like in their metal dress.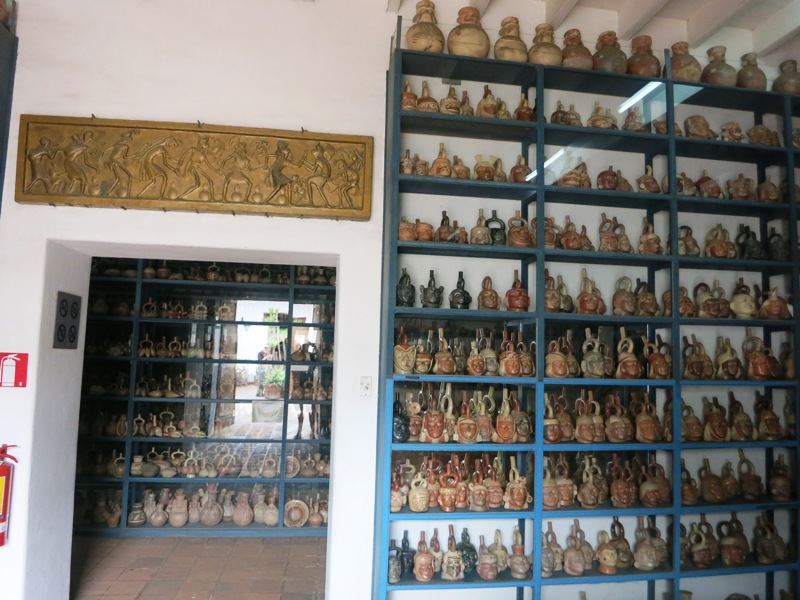 A warehouse-style gallery illustrates how relentless Larco was in building the most extensive collection possible.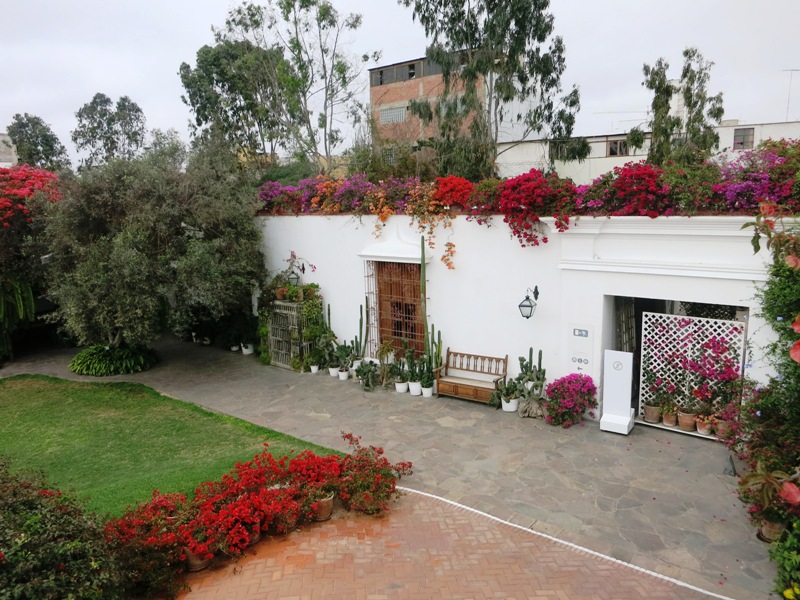 The elegant building and garden illustrate how to bring beauty under Lima's gray skies, and the museum also features an excellent restaurant which offers many of Peru's traditional Creole plates and more.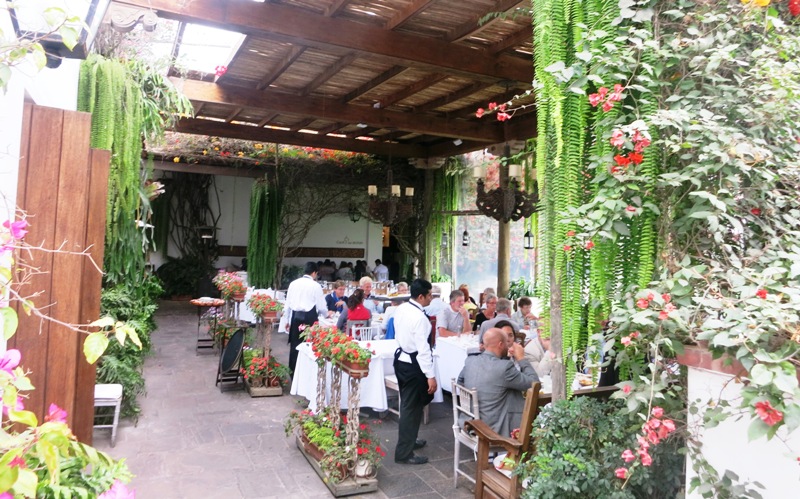 Location and Info
Museo Larco
Av. Bolivar 1515, Pueblo Libre
Hours: 9 a.m. to 10 p.m.
Admission: 30 soles ($9)
www.museolarco.org
Museo Larco on Facebook
Pictures
Take a virtual tour of the Larco Museum below. For high-res slideshow viewing, see the Larco Museum album on the Lima City of Kings Facebook page. Or for pictures which are clearer than the paintings themselves, see the Museo Larco page on Google Arts and Culture. Before the pictures, watch a longer presentation of the museum produced by the museum itself.
gallery