The Festival de la Vendimia is a wine festival in Lima's old grape-producing district of Santiago de Surco.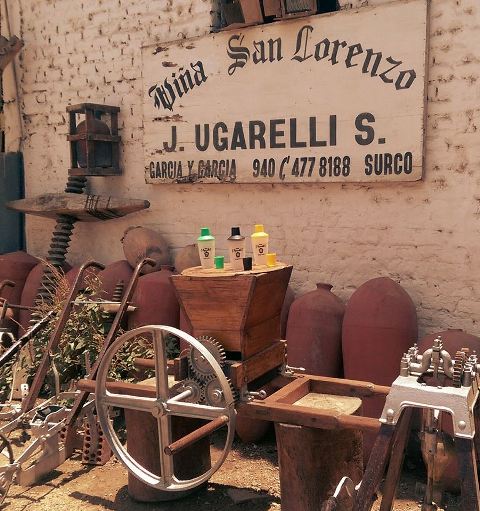 Photo credit: Piscos y Vinos J.Ugarelli
Surco was always home to grape-growing farms, but the Italian immigration of the 19th century converted the district into a regional powerhouse as grape vineyards occupied 1,100 acres. The grapes were grown for food, wine and Peru's national spirit of pisco.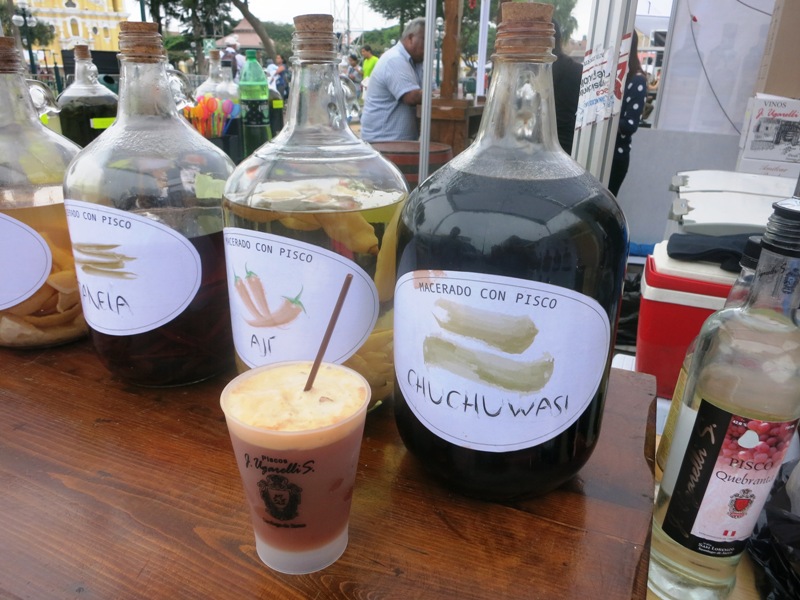 Pisco is un-aged brandy, which is transparent because it never sits in wooden barrels. Above are piscos infused with various ingredients. I ordered a Chuchuhuasi Sour (Pisco Sour using chuchuhuasi-infused pisco).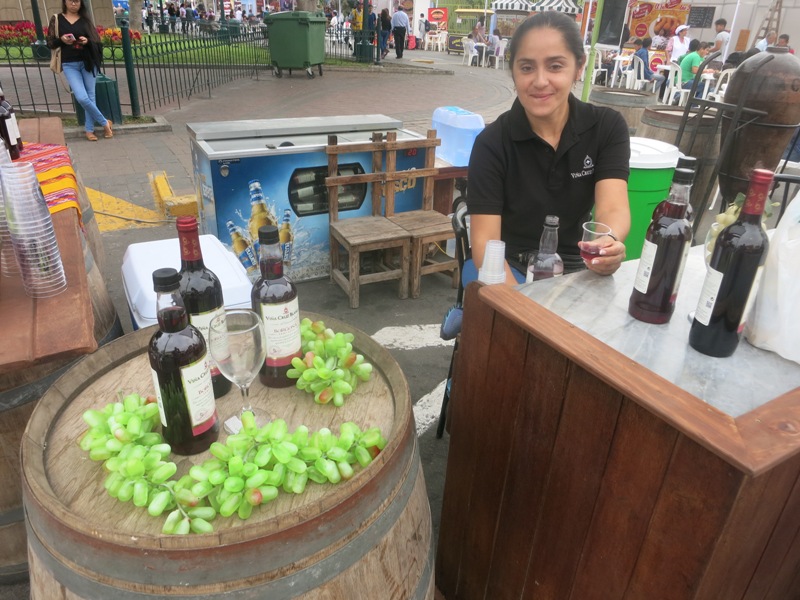 In my experience, wine enthusiasts hold Peruvian wine is contempt. But I've never been a wine snob, so I like it just fine. The only thing to be careful of is "semiseco" or anything with the word "dulce." Peruvians generally drink sweet wine, and anything not categorized as "seco" will be sweet to the gringo palate.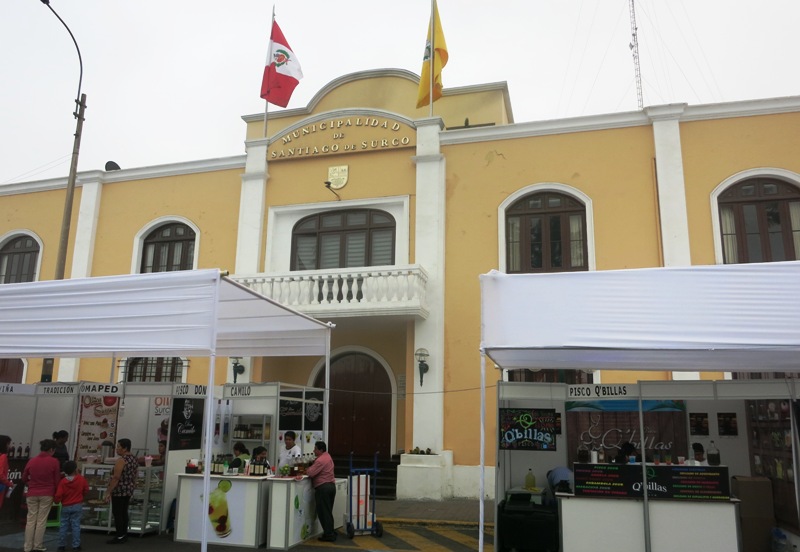 The vineyards have long since disappeared from Surco since the metropolitan area of Lima invaded with high-end real estate. Most of Peru's pisco and wine is made in the southern state of Ica, but Surco's wine-and-pisco tradition is celebrated in Surco's Plaza de Armas every year.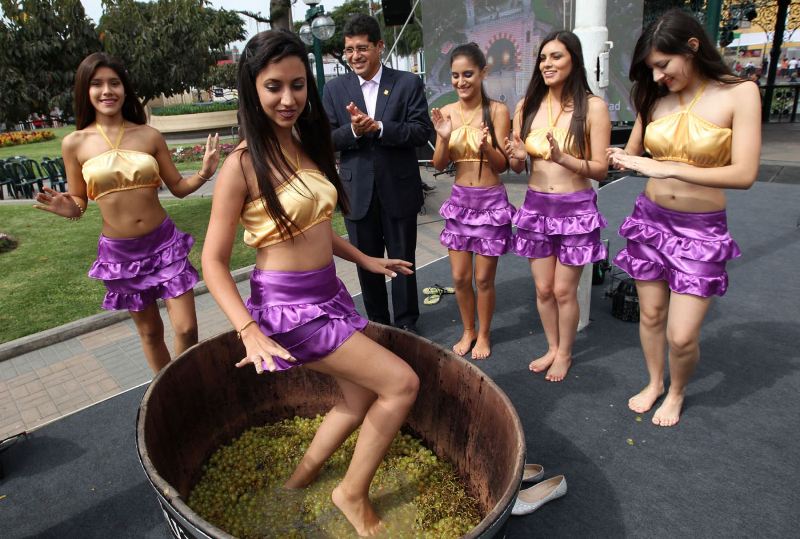 Photo credit: Andina / Hector Vinces
The annual fair features plenty of grape-based alcohol in wine and pisco, as well as cuisine, live music and its beauty pageant in which barefoot contestants dressed in short skirts step on grapes to extract the juice.
The festival is also known for the traditional Afro-Peruvian dance, festejo. See the beauty contest contestants dancing in the video above.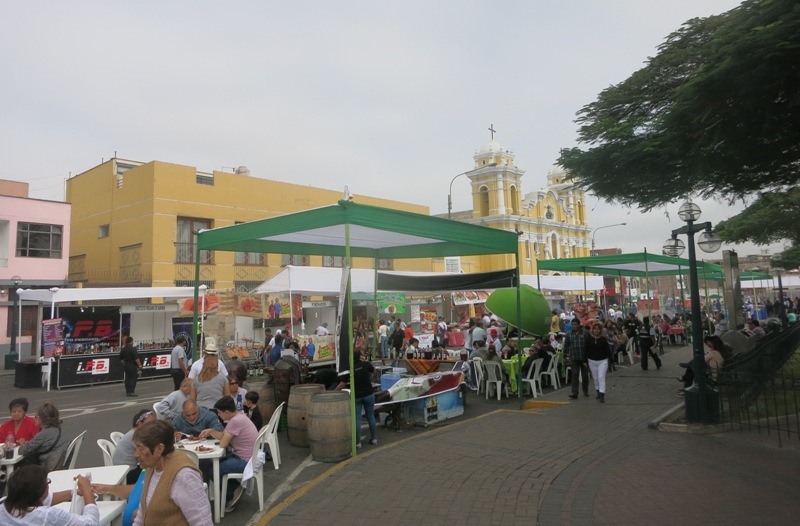 While the festival is dedicated to alcohol, it is fairly family-friendly during the daytime. The beauty pageant, held at around 5 p.m., is when it becomes more adult-oriented. The focus on alcohol surpasses that of food, an amphitheater hosts live music and the crowds get too thick to take care of small children.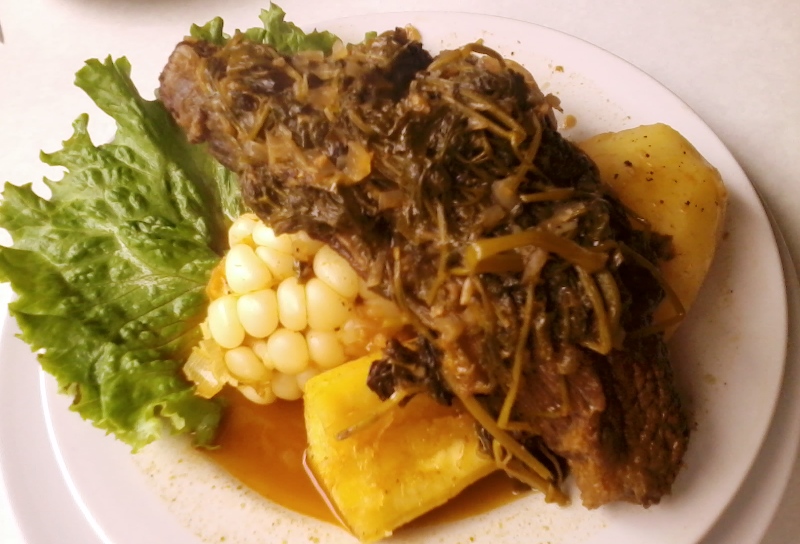 Photo credit: Descubre, Surqueando
The thing to eat at the Vendimia festival is Huatia Surcana and Sopa Surcana, two beef-based plates typical of Surco.
Location and info
The Plaza de Armas of Surco is located on Ayacucho Avenue four blocks north of Jorge Chavez in the heart of old Surco. It can be a little tricky to find on your own, but any taxi driver will know it.
The months have changed over the years, with some held as early as March. But the Santiago de Surco district seems to have settled on the month of May to hold its annual wine-and-pisco festival. The pictures in this article were taken at the 78th annual festival in 2016, held from May 19 to May 22.
Pictures
See more than 30 pictures of the 2016 festival in the Festival de la Vendimia album on the Lima City of Kings Facebook page.