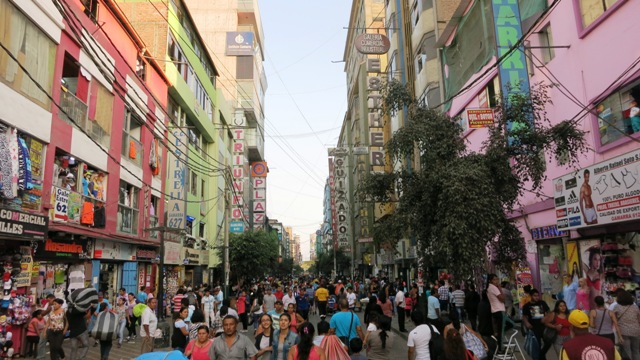 Gamarra is the largest clothing and textile market — if not the largest informal market — in Latin America. If you like to shop, Gamarra is a must-see for clothing aficionados. I recommend it as an off-the-beaten path activity you won't find in other tourist guides.
Up to 40% of Latin American businesses are informal; they don't report to the government or pay taxes. Visiting Gamarra is the best way to see the informal economy in action, so it's also cool for economic nerds like me.
Located in the La Victoria district, Gamarra's 20,000 textile shops, manufacturers, contractors, and retailers employ over 100,000 people. The Gamarra economy is estimated at over $1.4 billion a year. Taking up 24 square blocks, the city estimates the area receives an average 100,000 visitors a day. Most of them visit during the weekends (if you don't like crowds, skip Gamarra).
At Gamarra you can find everything: t-shirts, jean, socks and underwear, lingerie, maternity dresses, suits, tuxedos and bridal dresses, shoes, accessories, sports jerseys, hats, traditional Peruvian fabrics like alpaca, imitation replicas of designer brands, and more. Seeing all of Gamarra would take weeks. The prices are low, and be prepared to haggle. Being a foreigner, you'll be quoted higher prices than normal.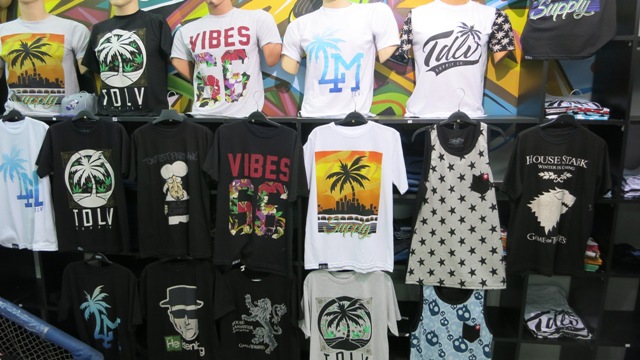 The downside to Gamarra clothes is the quality. I've bought a few Lacoste rip-offs that, after one time in the wash, shrunk to the point of being unwearable. Or a bold blue will fade to "sky blue" or "powder blue." Keep in mind that the people who shop at Gamarra are Lima's lower classes, people who don't have washers or dryers. So if you buy a "replica" brand (imitation), my recommendation is to hang-dry it only.
There are high-quality clothes in Gamarra. But the problem is that, with 20,000 vendors, finding one is like searching for a needle in a haystack. My recommendation is to avoid the guys who will swarm you in the street with flyers, business cards, and coupons to their specific stores. The quality vendors don't send people into the street.
Also, skip the replicas. The highest quality clothes I've found are by independent designers, of which there are many in Gamarra. I have a guy who specializes in XXL Hugo Boss replicas which don't shrink, but he is a rare exception to the rule.
My wife likes a woman who designs jeans which aren't made of denim. So not really jeans, but they look like jeans and are as comfortable as tight sweat pants. In my photos below you'll see a designer who uses the Affliction style of men's t-shirts but, instead of skulls, features images of the Peruvian indigenous kings and gods. Most indie designers get their start in Gamarra before getting big and moving on.
Interactive Map
Use the icons to locate food, currency exchange, taxis, and even hotels (I wouldn't recommend staying overnight). For those looking to buy raw fabric (telas), note the red line on Jiron America street is where the fabric stores are.
History
The textile industry in Lima's La Victoria district began in 1889 with the opening of Fabrica de Tejidos Santa Catalina (Santa Catalina Textiles Factory), the first of many textile factories opened by mostly Italian immigrants.
During the economic and social unrest of the 1930s, Peruvian military officer Luis Miguel Sanchez Cerro took power in a coup d'etat against business-friendly dictator Augusto Leguia. Sanchez Cerro, who was assassinated two years after taking office, and his successor General Oscar Benavides took steps to placate the working classes.
More than 4,000 housing units were built in La Victoria. The policy was ended in 1939 under Manuel Prado, but La Victoria had already become a workers' district. In the 1940s factories continued to open, including the famous La Parcela (The Plot) and Mercado Mayorista y Minorista de Lima (Lima Wholesale and Retail Market).
Economic policy which consistently favored Lima and exports through the port of Callao caused a sustained, massive migration of peasants from rural areas of Peru to Lima. The sheer quantity of traders passing through the district inspired the nickname, "La Parada" (the Parade). Cerro San Cosme, one of Lima's oldest shantytowns (the hillside slums visible to the east of Gamarra), was settled by these rural immigrants to Lima. The Gamarra tradition is a story of immigrants new to Lima. There were notable entrepreneurs hailing from Italian, Arab, Jewish, and Chinese backgrounds, in addition to those from the rural provinces. The district spawned famous stores like Monterrey, Tia, and Lau Chun.
By the 1960s, Gamarra established its reputation for clothing and textiles but zoning laws limited the number of formal, legal businesses that could be opened. So illegal businesses proliferated, some with no more than a door to the street. In 1972, the city changed the zoning laws, allowing many already established businesses to formalize their operations.
But legally registering the huge number of informal businesses in Gamarra remains a challenge for the city of Lima as well as the national government of Peru. For now, Gamarra is still the largest informal market in the Americas.
Independent manufacturers with lower production costs supply big businesses. Street vendors buy in La Gamarra to sell throughout greater Lima. Retailers sell directly to consumers. Much of Gamarra's production is exported to North America and Europe. The scale of textile commerce is unbelievable.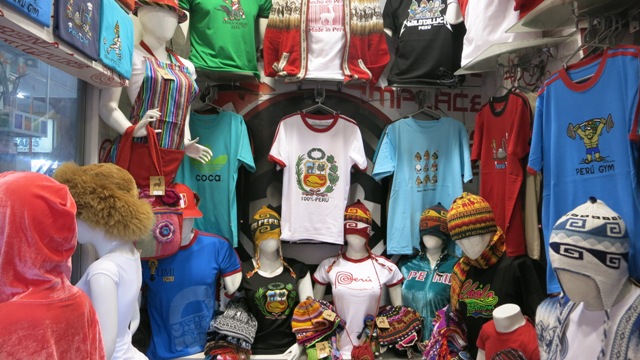 Visit the Gamarra website at gamarra.com.pe.
Like Gamarra on Facebook.

Pictures
For slideshow viewing, see the Gamarra album on the Lima City of Kings Facebook page.