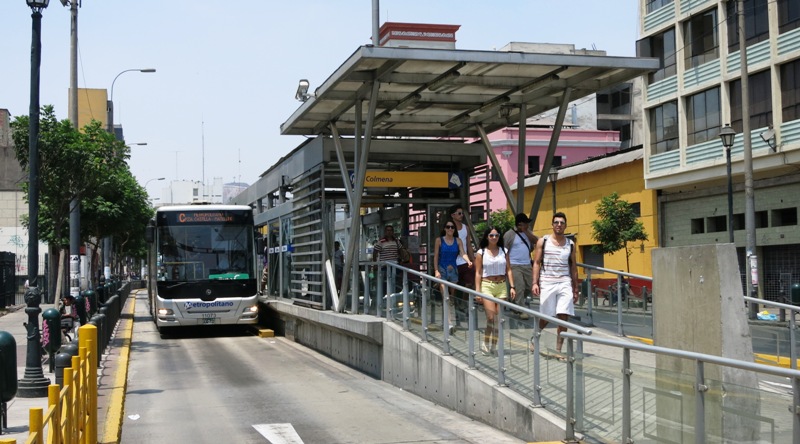 The combis and micros are the buses flying along most of Lima's avenues with somebody hanging out the side shouting out destinations along its route. This article is not about those buses. This article is about Lima's Metropolitano bus system.
Inaugurated in 2010, El Metropolitano was the first rapid transit system in Lima. It is a bus rapid transit system, which may seem odd to a foreigner. Bus rapid transit systems look like subways because you pay the fare before entering elevated platforms. The platforms feature several entrances from automatically opening doors as in a subway, but you're going to be getting on a giant, bi-articulated bus.
The Metropolitano links 12 Lima districts from Chorrillos in the south to Independencia in the north using dedicated bus lanes that exclude regular traffic, cutting the travel time for commuters in half. Each end station also serves as a terminal with feeder buses fanning out to the really isolated districts, like the one where I live.
The 120-maximum-capacity buses leave the main stations every 5 minutes during peak hours. 650,000 commuters travel on the Metropolitano every day.
How to use Lima's Metropolitano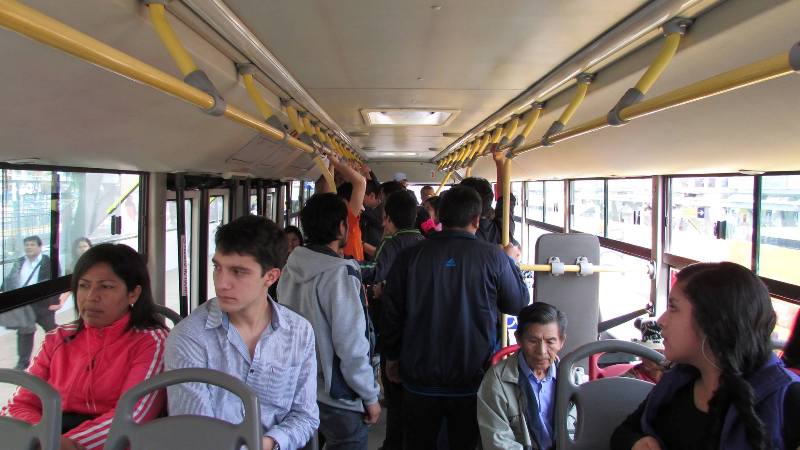 You first have to purchase an electronic card for 4.50 soles ($1.40), which you can refill at the vending machines located in every station. A single fare is 2.50 soles ($0.80), but you can put as much credit on your card as you think you'll need and avoid waiting in line to recharge on your next trip. The vending machines accept cash and coins only — no credit or debit cards.
Once your card has credit you enter the main platform by swiping it and passing through at the turnstile.
Veteran tip: When topping up your Metropolitano card, be sure to select print receipt ("Imprimir Recibo") when prompted, so in the event the card doesn't register the transaction you can then bring the card with the receipt to the customer information desk to resolve the issue. This happens.
The route

For practical purposes, the Metropolitano has only one line. From the southernmost Matellini station in Chorrillos, the line goes north to the Naranjal station in Independencia.
Moving south to north, from Chorrillos the line runs through Barranco before following the Via Expresa highway (aka "Zanjon") through Miraflores, Surco, San Isidro, Lince and La Victoria into downtown Lima.
At the underground Estacion Central (Central Station), the line briefly splits into two lines serving the historic city center and Breña for a few stations.
The two lines rejoin at the Caqueta station just north of the Rimac river. From there the Metropolitano follows Avenida Tupac Amaru through Rimac and San Martin de Porres before ending in Independencia.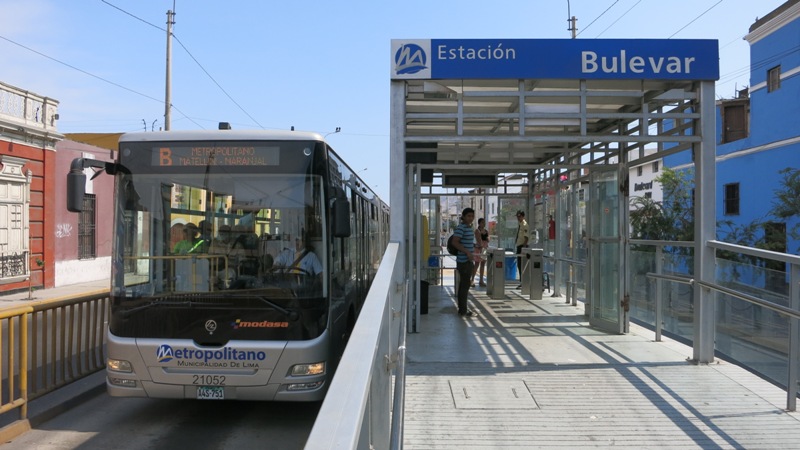 Routes: Regular vs. Express
The Regular route buses stop at every station along their routes.
The Express services are faster when traveling long distances because they do not stop at every station. So before getting on an Expreso, make sure it stops at the station you need.
Regular A
Route A runs between Lima's northern districts and downtown. It begins at the northernmost Naranjal Station in Independencia and travels as far as Estacion Central via Ramon Castilla, Tacna, Jr de la Union and La Colmena in downtown Lima. The service runs every day from approximately 5 a.m. to 10 p.m.
Regular B
Route B runs the entire Metropolitano route between the northern and southern outskirts of metro Lima. The line travels 16 miles from Matellini station in Chorrillos to Naranjal station in Independencia. The B line bypasses the heart of downtown Lima via Breña and the España, Quilca and 2 de Mayo stations. The B runs Monday to Saturday from 5:20 a.m. to 11:00 p.m. and Sundays from 5:30 a.m to 10:10 p.m.
Regular C
Route C runs between Chorrillos and downtown Lima. Route C departs from Matellini and passes through the southern tourist districts of Barranco, Miraflores and San Isidro, then Lince and La Victoria until it reaches three stations in the historic city center: Colmena, Jiron de la Union and Tacna. The C runs Monday to Saturday from approximately 5 a.m. to 10 p.m.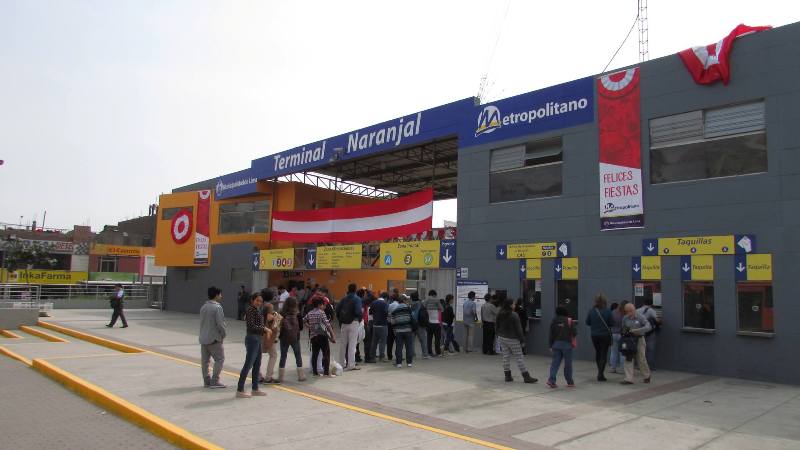 The Expreso buses are mandatory if you need to travel long distances in this spread-out capital.
Expreso 1
This route travels the full Metropolitano line from south to north, stopping at 17 of the 34 stations. Stations served by Expreso 1 include (from south to north):
Matellini
Rosario de Villa
Teran
Escuela Militar
Estadio Union
Bulevar
Balta
Angamos
Canaval y Moreyra
Javier Prado
Estacion Central
España
Quilca
2 de Mayo
Caqueta
Uni
Naranjal
This service runs Monday to Friday during morning and evening rush hours only (approximately 6 a.m. to 9 a.m. and 5 p.m. to 9 p.m.).
Expreso 2
This bus runs from Plaza de Flores station at the border of Miraflores and Barranco to Naranjal station in the north, making stops at the following stations:
Plaza de Flores
Angamos
Canaval y Moreyra
Javier Prado
Central Station
Caqueta
Uni
Tomas Valle
Naranjal
Expreso 2 is available Monday to Friday during morning and evening rush hours (approximately 6 a.m. to 9 a.m. and 5 p.m. to 9 p.m.).
Expreso 3
Expreso 3 travels between Benavides in Miraflores and Naranjal with stops at:
Benavides
Angamos
Aramburu
Canaval y Moreyra
Javier Prado
Canada
Estacion Central
España
Uni
Independencia
Izaguirre
Naranjal
Like Expreso 1 and 2, this service runs from Monday to Friday during morning and evening rush hours (approximately 6 a.m. to 9 a.m. and 5 p.m. to 9 p.m.).
Expreso 4
This Saturday-only service starts at Plaza de Flores and ends at Naranjal, servicing the following stations:
Plaza de Flores
Angamos
Canaval y Moreyra
Javier Prado
Central Station
España
2 de Mayo
Caqueta
Uni
Tomas Valle
Izaguirre
Naranjal
This service is only on Saturdays from approximately 6 a.m. to 9 p.m.
Expreso 5
Also beginning at Plaza de Flores and ending at Naranjal, Expreso 5 serves the following stations:
Plaza de Flores
Ricardo Palma
Angamos
Canaval y Moreyra
Javier Prado
Canada
Estacion Central
España
Caqueta
Uni
Honorio Delgado
Tomas Valle
Independencia
Naranjal
Expreso 5 runs Monday to Friday from approximately 9 a.m. to 5 p.m.
Expreso SX (Super Expreso)
The fastest Expreso bus runs between Plaza de Flores and Naranjal while only stopping at three stations:
Angamos
Canaval y Moreyra
Estacion Central
This service runs only during morning rush hour Monday to Friday, approximately 7 a.m. to 9 a.m.
Feeder Bus Routes (Rutas Alimentadoras)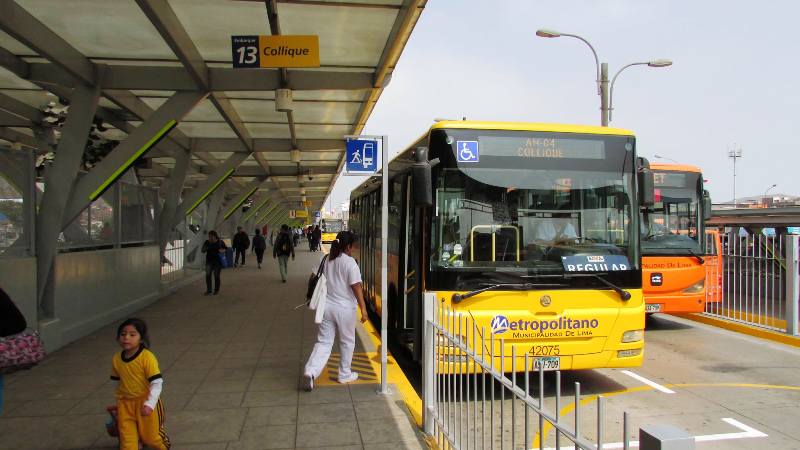 The Metropolitano provides a complementary bus service to districts just beyond the end stations of Matelini in the south and Naranjal in the north, which also serve as terminals for the feeder buses.
Feeder buses ride along the same streets as general traffic. These buses are smaller, carrying between 40 and 80 passengers. The fare is only 0.50 soles ($0.15). Catch these buses from platforms inside the Matellini and Naranjal terminals.
Southern Feeders: From Matelini the feeder buses serve Villa El Salvador and Villa Maria del Triunfo. See the Metropolitano's southern bus feeder maps here.
Northern Feeders: From Naranjal the feeder buses serve Los Olivos, Comas, Puente Piedra and Carabayllo. See the Metropolitano's northern bus feeder maps here.
Gamarra Feeder: There is also a special feeder bus servicing the Gamarra garment district, and the Gamarra station of Lima's Metro light-rail system. From the underground Estacion Central station, go upstairs to Plaza Grau, where the feeder buses depart every eight minutes along Avenida Grau. The fare is free if you took the Metropolitano. If not, one sol ($0.30). The Gamarra feeder buses run Monday through Saturday, and Sundays in December. See the Metropolitano's Gamarra bus route.
Beach Feeder: During the summer months from January to March, the Metropolitano runs a special beach circuit service "Circuito de Playas" from the Matellini terminal to the beaches of Barranco and Chorrillos. The buses leave Matellini and travel down Avenida Huaylas and the Malecon passing by the Sombrillas, Agua Dulce and Pescadores beaches as well as the Herradura viewing point before returning to Matellini. The buses run Monday to Sunday from 10:00 a.m. to 6:30 p.m. and cost 0.50 soles ($0.15).
All information regarding bus routes and timetables are subject to change. When in doubt, check the Metropolitano website.
Etiquette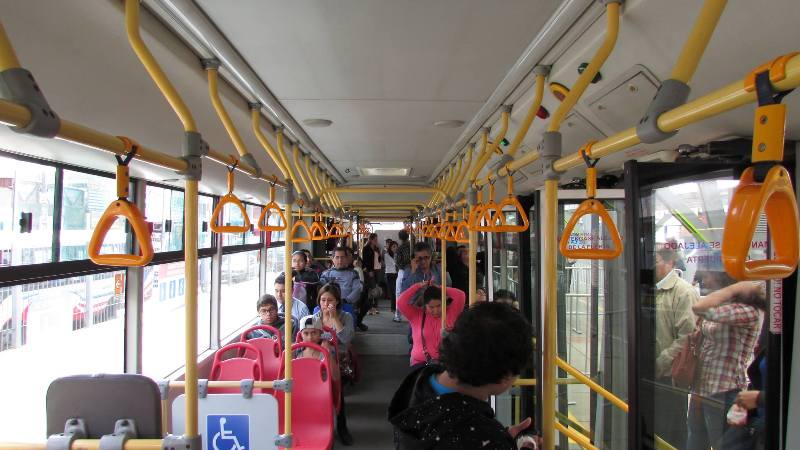 Inside the buses there are red seats reserved for the elderly, pregnant women, the disabled and parents carrying babies. However there is an unwritten rule in Peru where a young man should give up his seat for a lady regardless of her age.
My greatest irritant is when somebody is playing music or watching a movie on his phone with the volume at full blast.
Every gringo website has to pay some lip service to the risks of being robbed on the Metropolitano, but I don't think it is a huge concern. I have never had a problem besides the guys watching TV Basura on his phone. Use common sense and keep an eye on your belongings. Maybe it wouldn't be a good idea to get on a crowded Metropolitano with heavy suitcases and a backpack, but that goes back to common sense.